Baumholder fans catch country rocker Dierks Bentley up close and personal, in concert
by
Terry Boyd
March 19, 2006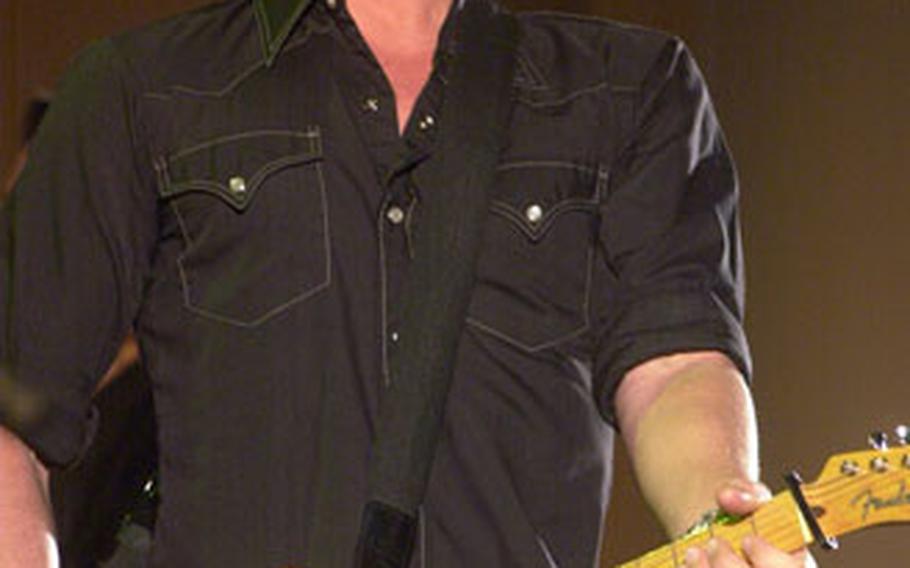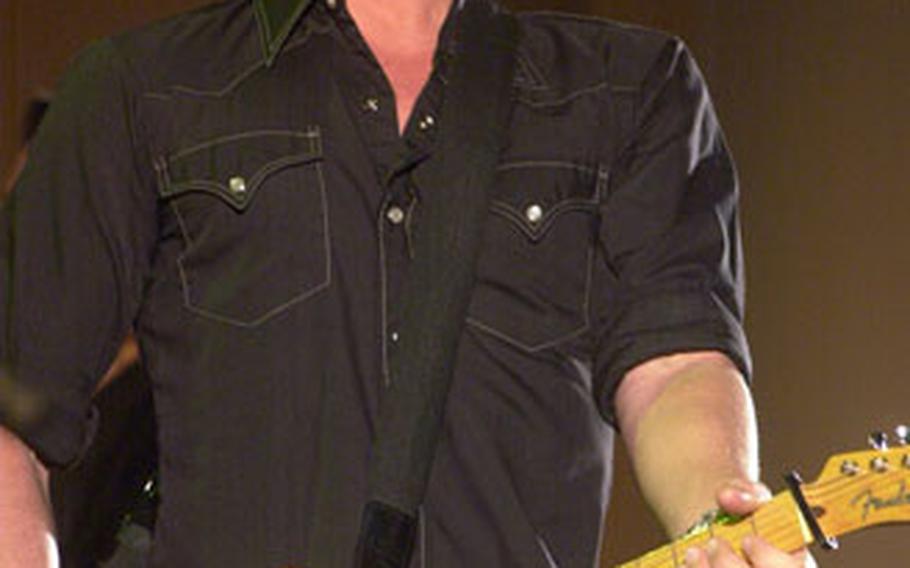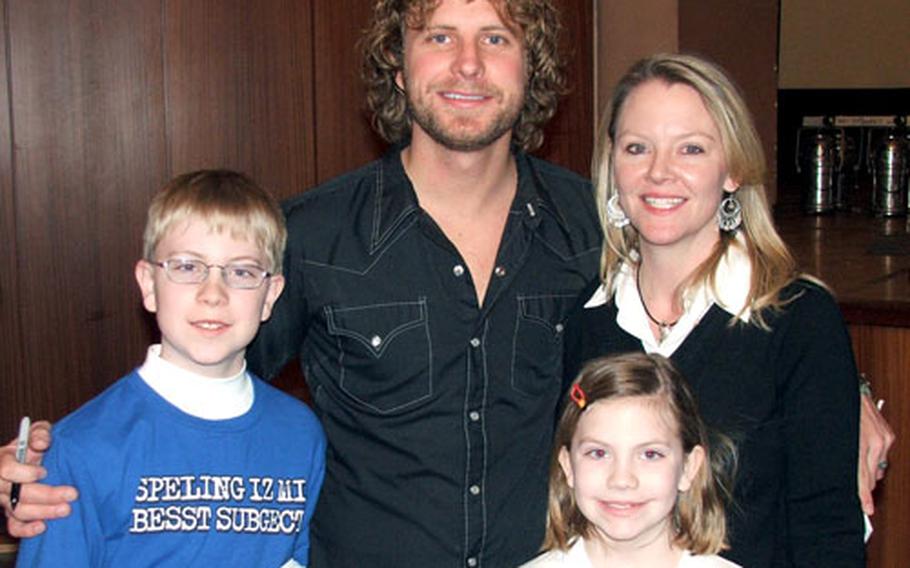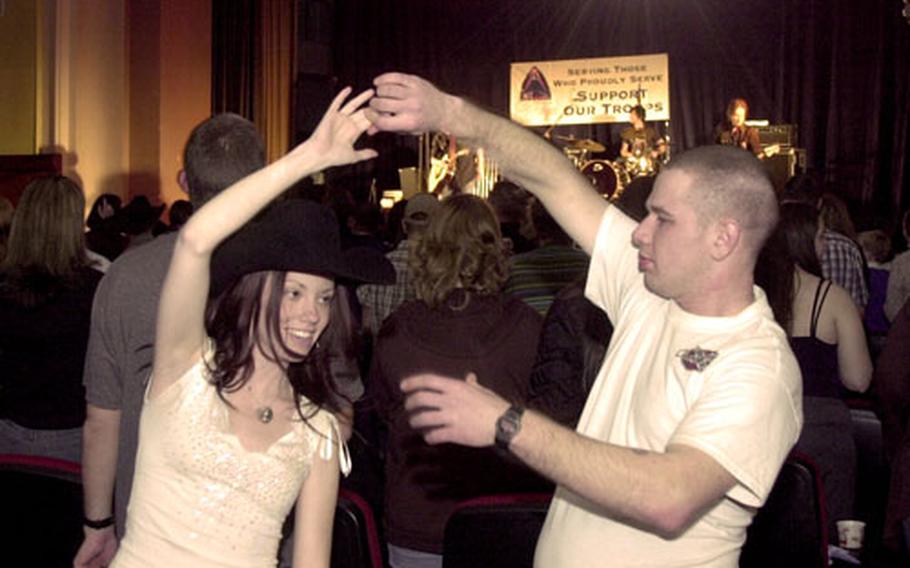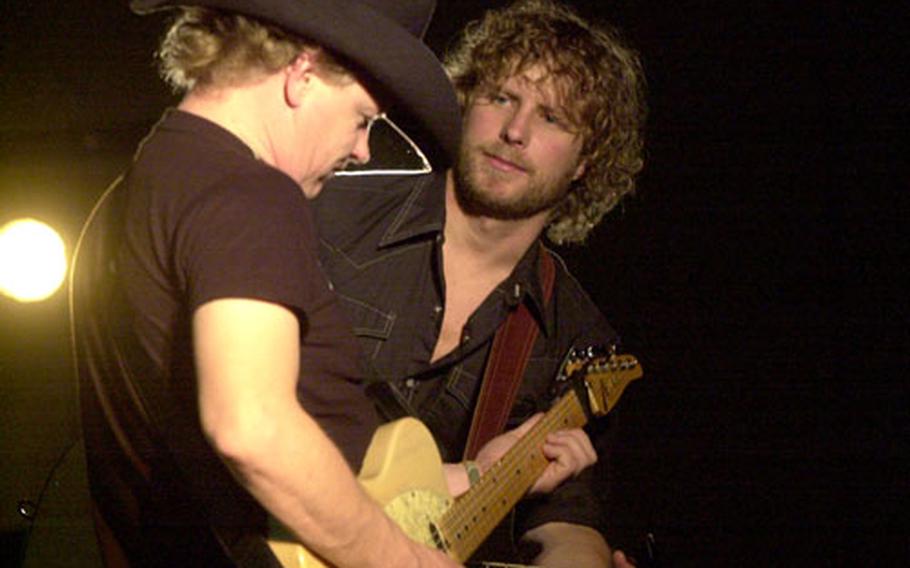 BAUMHOLDER, Germany —About a quarter of the way through his show in Baumholder, Germany, Dierks Bentley nailed that line in "How Am I Doin'?" Country music fans know the one.
"Well I don't know what you were thinkin'Runnin' round on meNow you say you're sorryWell honey I agree …"
Bang, Bentley and his band connected, setting the crowd to whoopin,' knowin' exactly what he meant. The hurt he'd felt. The sarcasm in his voice.
"Yeahhh!" yelled Spc. John Giltner of the 1st Battalion, 94th Field Artillery, 1st Armored Division, waving his black cowboy hat as he two-stepped in the center aisle with Jamie Hood.
Bentley ripped through two albums worth of material, "Dierks Bentley" and "Modern Day Drifter," then threw in some Merle Haggard tunes and a bunch of other oldies for good measure.
Three hours after the two-hour show, Bentley was still signing autographs. It was after midnight when it was Spc. David Breedlove's turn.
"I told him my favorite song was 'How Am I Doin?' I told him that's my theme song since my divorce," said Breedlove, 24, also of the 1st Battalion, 94th Field Artillery. "And he told me he broke up with the girl he wrote that for, and for a while, that was his theme song, too!"
Bentley has built a fan base one connection at a time, said Michelle Hall, senior manager of creative services and international books for Capitol/EMI Records. One autograph at a time, 200 shows per year at least, Hall said.
In Baumholder, his one-night stand on Jan. 26 was big news at a base where about two-thirds of the troops were deployed, and that doesn't get a lot of stars in the first place.
"I'm impressed MWR (Morale, Welfare and Recreation) got a top name to come to Baumholder, because we're kind of the ugly stepsister up here," said Giltner.
There will be a lot of 1st AD folks, years from now, reminiscing about that cold January night in Baumholder they saw Bentley play. For every one of the 500-plus at the concert, there will be many more who claim to have been. It may go down as not just a big night in Baumholder, but as part of a gradual shift in country music, with the rise of Bentley — more of a country-roots rocker — countering Nashville's star- maker machinery.
"Better than Toby Keith … " became kind of a catch phrase around Baumholder after Bentley's show.
"Better than Toby Keith, and I love Toby Keith!" said Liz Larson, who hosted Bentley with her husband, Lt. Col. James Larsen, U.S. Army Garrison commander. "(Bentley's) show is more intimate than TK's show" last May.
She saw Keith in Mannheim last May, but amid a huge crowd on the airfield tarmac, said Carla Foster, the wife of a deployed officer. "[Keith] was just a speck on the horizon. I felt like Dierk's show was far more intimate."
"Outstanding. Better than Toby Keith," Breedlove said. "He had no designated [cutoff] time for signing autographs … and he had an amazing attitude toward soldiers."
All that came as a bit of a shock to Bentley. When told of the "better-than-TK" line, he paused in a post-concert phone interview from Nashville: "Really? 'Better than Toby Keith?' They said that? Who said that?"
"Everybody!"
That shouldn't come as a huge surprise considering Bentley is in the midst of an unchecked breakout.
"Last year was a great year" is how the 31-year-old Arizona-born singer/songwriter put it. Bentley got the Country Music Association's 2005 Horizon Award for emerging artists, a career-changing event considering previous Horizon recipients include Garth Brooks, Keith Urban and The Dixie Chicks.
Both of Bentley's albums went platinum, and his single "Come A Little Closer," was at No. 1 on the country charts.
And yet, he hung around after a concert that had an air of a casual get-together, signing at least 500 autographs that night in Baumholder, for people who never expected it.
Foster, son Zach and daughter Megan were the third from the last in a long, long line for autographs, but Bentley "was still very, very sincere," said Foster, a fan for two years. "He was still asking people questions, saying 'God bless you, thank you for what you do. Thank you so much for being patient.'
"So we asked him if he knew what time it was, and he said no. And we said, '12:20,' and he said, 'Really!' "
She was impressed Bentley took time to talk to about a dozen recuperating soldiers from Landstuhl Regional Medical Center, said Meg O'Grady, whose husband, John, is a 1st AD officer. Bentley was "incredibly nice" to Neely, her 7-year-old daughter, O'Grady said. "He said, 'Sure I'll take a photo.' Then he brought me into the photo and asked me MY name!
"It was like he genuinely wanted to meet people in the community, to introduce himself. And he must have stood there two or three hours signing autographs."
At the behest of Jonathan Watson, special events coordinator for MWR in Baumholder, Bentley took a detour in the midst of a mini-tour of Britain, even showing up the night before for Mexican food at the Larsens'. It was not without some trepidation that she hosted a country music star, Liz Larsen said.
When she found out Bentley was coming over, "I wondered, 'Is this going to be a 4 a.m. night?' "
Entertainers, and specifically hard-livin' country singers, tend to get crazy, then write a song about it later.
Bentley, it turns out, was a perfect gentleman, she said. Not just Bentley, but also the guys in the band "were super people, all of them," she said.
"Mexican and Coronas! It was like being back home," Bentley said, describing his Baumholder reception as "really hospitable." It was a rare chance for the entire band and the record company execs to hang out, he added. "It's funny, but people think we're together all the time [on tour], but we're not. On the bus, people tend to go their separate ways."
Playing a small show was fun, too, Bentley said, noting that he goes from playing select shows of about 7,000, up to 20,000 on tour with Kenny Chesney.
"But I enjoy playing the more intimate shows. You really test yourself. You find out if you got everything right … just how good a musician you are."
In Baumholder, the crowds were impressed, but more with how decent a guy Bentley seems to be.
"I told him … no one I've ever seen has stayed till the last autograph was signed," Breedlove said.
"That shows a lot of character."
Bentley, the 2005 Country Music Association Horizon Award winner for emerging artist, was so close to the audience that the crowd could reach out and touch him.