'Battlefront II' ratchets up the galactic carnage
by
Jim O'Donnell
November 27, 2005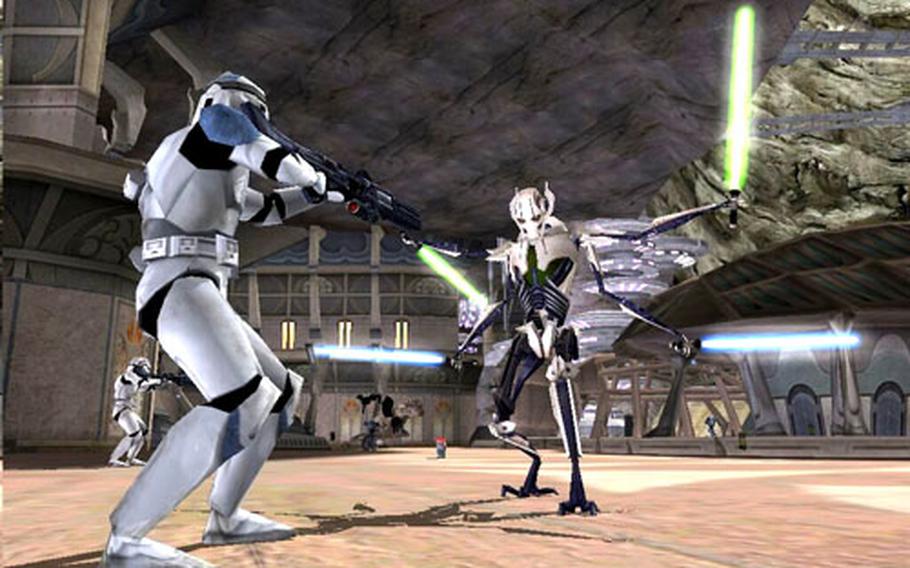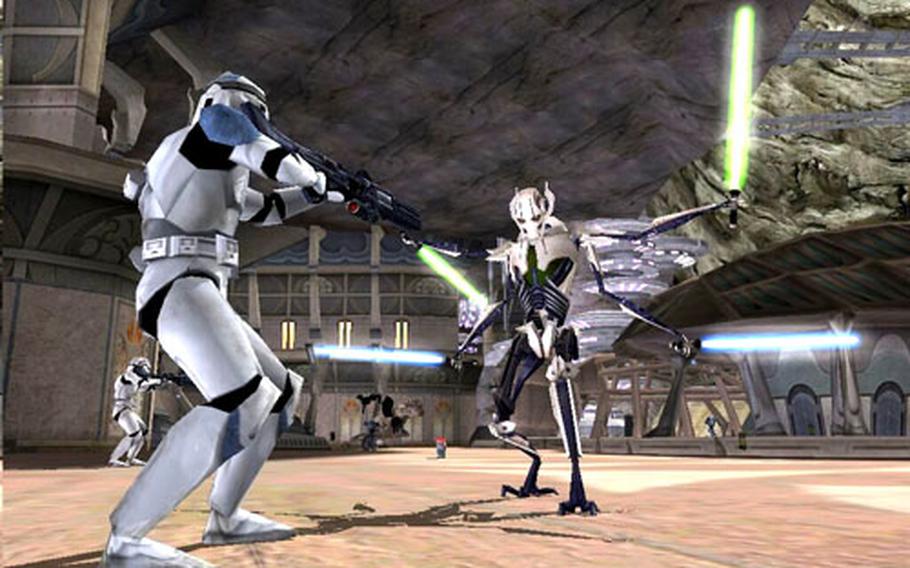 You want get your Jedi groove on? How about piloting a snow speeder over the icy tundra of Hoth? You want to see how a TIE-fighter handles against an X-wing?
Well, if you answered yes to any of these, "Star Wars Battlefront II" is the game for you. Released in the States to coincide with the "Star Wars Episode III" DVD release, I've got to say I like it.
The Light Side:In this game, you can play solo as a clone trooper voiced over by an actor from the movie or go multiplayer at home or online. It's the basic capture-the-flag and conquest game familiar to those who've played the previous version of "Battlefront" or any of the "Battlefield" franchise games. Graphics are good and controls simple.
Unlike the previous version of the game, you can now pilot vehicles like AT-AT or TIE Fighters. Also, after scoring enough points, you can unlock hero characters, such as Yoda and Mace Windu, as well as Darth Maul or Count Dooku.
Load times for maps are quick, and I lost my server connection only once out of about 10 online games. This can be troublesome, especially overseas when the majority of servers are stateside.
Music and sound: From the labored breathing of Darth Vader to the cantina musicians, a good surround system will make you feel like the orchestra is in the room with you.
The Dark Side:In the options menu, you can invert your characters' aiming reticule, so pushing up aims down and vice versa, but if you switch to a vehicle, up is up and down is down, and if you are not careful, you are up for another respawn.
Going online with multiplayer action can be a little chaotic. You choose to be Darth Maul with your dual light saber running down a street in Mos Eisley and next to you is another character playing Darth Maul as well. And the fights tended to be a bit jagged. Not sure if it was lag time or just a quirk with the map.
Playing in the third-person mode as a typical soldier can be a little frustrating. I much prefer the first-person perspective of games like "Halo" or "Battlefield." Also, prepare to die a lot. Not a problem, though. As long as there's a command post, there's always another soldier to control.
If you are like me and spent a lot of time growing up wondering what it would be like to fly the X-wing fighter in a dogfight over some planet — or were extremely jealous of your best friend because he had all the cool "Star Wars" action figures and ships and all you had was a Boba Fett with a broken rocket — this is a great chance to relive some of that childhood.
If I were to have only one "Star Wars" game in my collection, this would be it.
Star Wars Battlefront II
Platforms: Playstation 2, Xbox, PC
Rating: T, for ages 13 and older