Bar Sleuth: With pizza, music, The Peach heats up Okinawa after 1 a.m.
by
Erik Slavin
February 2, 2006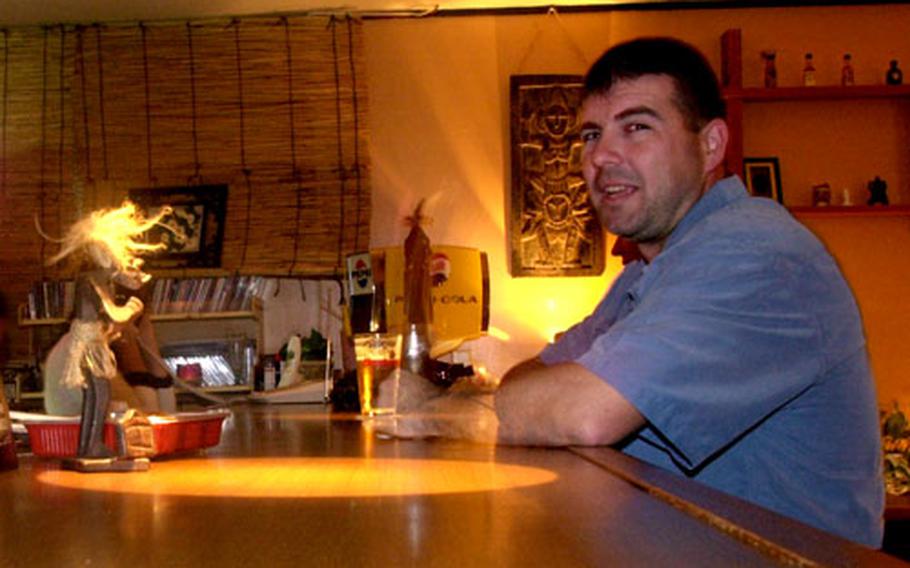 OKINAWA — From the outside, The Peach looked packed on Saturday night.
A couple of Japanese guys were using glow sticks to wave cars toward what appeared to be already occupied parking spots in the lot below the upstairs bar. They seemed to be enjoying themselves as a white, cube-shaped car rounded the tiny lot five or six times at their command.
Looking back, I'm wondering if they actually were working. Maybe they were just random Japanese guys roving the neighborhood with glow sticks.
At any rate, the full parking lot held the promise of a boisterous bar scene at The Peach.
While that may be true on some nights, it wasn't exactly the case that night at 10. No one was there except the bartender. The people parked outside were at the restaurant next door.
"We have a lot of wedding parties on the weekends, so a lot of people don't come early because they think there is a party," said Chika, the bar's English-fluent owner.
Things generally heat up after 1 a.m., when receptions at a nearby hotel empty out, Chika said.
You may want to call ahead to check if there is a private wedding party on the weekends.
When the bar is hopping, it's a good mix of active-duty servicemembers, retirees and Japanese, according to the only other two people who came in before midnight.
"They have the best pizza on Okinawa," said Melissa Strickell, a base hairstylist. "Fresh ingredients and no corn on top."
The main bar area is clean, modern and woody. The yellow lighting accentuates the bartop's sophistication — music videos, such as "My Humps" by the Black Eyed Peas showing on a corner television, play in counterpoint. The music loop that night also included Evanescence, U2 and some recent hits that this soon-to-be 30-year-old correspondent is officially too old and unhip to recognize. This is oddly reassuring.
Chika will turn the volume up or down to suit to taste for patrons who belly up to the bar. If you'd like a little more room, grab a table and enjoy the island overlook.
Fish tanks brighten up a cozier side room with couches. Yet another room has a pool table and cues.
The Peach's beer selection is limited, but you'll find mainstays such as cold Orion and Guinness. Mixed tropical-style drinks and liquor also are available.
As for parking, the glow-stick men will be happy to help you.
The Peach, on Okinawa
Drink prices: 400-600 yen, dollars accepted
Cover: None
Food: Pizza, salad, pasta, sausage, appetizers
Entertainment: Music
Clientele: Mixed, American and Japanese
Dress: Casual
Location: From Highway 330, take Route 22 through Awase Meadows Golf Course and remain on the road for a few miles. Make a left at the T in the road. The bar is upstairs, next to Bian restaurant.
Phone: 098-930-2013
Hours: 9 p.m. to 5 a.m.; closed Tuesdays