Bar Sleuth: The mature place to drink (and sing) on Sasebo
---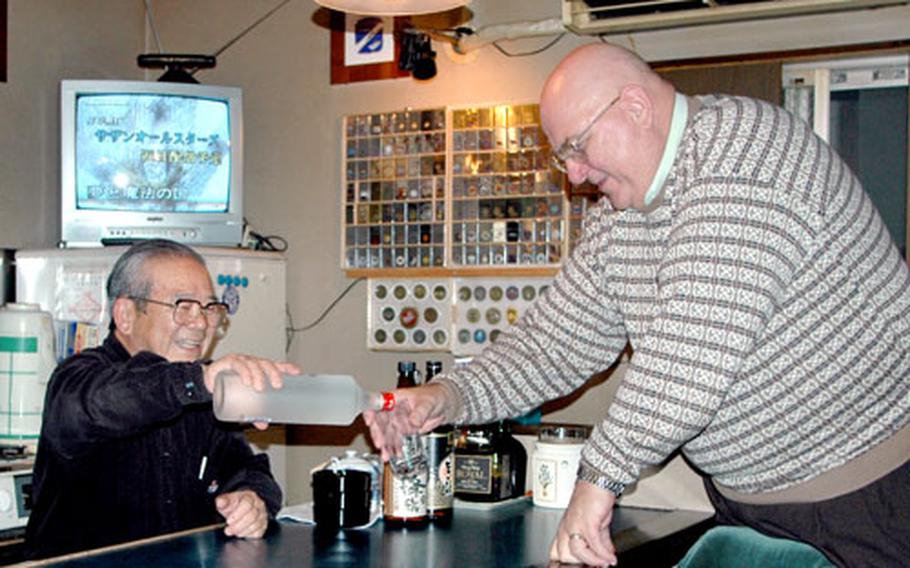 SASEBO NAVAL BASE, Japan — Sasebo's Pub Royal reminds me of my hometown Elks Club bar 20 years ago, minus the backroom card games where local businessmen and professionals took turns losing wads of cash and the occasional beach house.
Like the Elks, this is a meeting place where friendships are born and flourish. The clientele is referred to by some as "a more mature crowd."
The ambience fosters light-hearted and, at times, philosophical conversation. Japanese customers chat with Americans and vice versa, with relationships established here often continuing long past happy hour and far past Pub Royal's front door.
That's just the way owners Takehisa Seki and his wife, Toyoko, want patrons to view their place, on the outer fringe of downtown in an area known as "Sailor Town."
"We've always had Americans and Japanese customers here, even though we've moved three times in the 45 years of business," said Seki.
Seki is associate vice president of Sasebo Naval Base's Navy League Council and a former president of the Sasebo Bar Owners Association, Japanese-Australian Society and local Lions Club.
Inside Pub Royal, surroundings are comfortable and colors are dark and rich. After a few bottles of Asahi, a military customer might believe he or she is on post when looking at the walls covered by hardwood plaques and signed photographs presented to the Sekis by current and former ship commanders, base commanders and other U.S. and Japanese navy leaders.
When the Navy League magazine "Sea Power" arrives each month, said Pub Royal customer Jerry Havens, "Seki-san looks through the pages and sees names and pictures of captains and admirals stationed around the world. He says, 'I know him. I remember this one. I know that one.'"
To provide entertainment — often comical as well as musical — Seki's two female employees will crank up computerized karaoke for 200 yen per tune.
After Havens finished his rendition of "My Way" recently and yours truly oozed through "Walk on the Wild Side," the Japanese employees assure: "You are good singers."
Obviously, Pub Royal will serve a bit of flattery along with drinks.
Pub Royal
Sasebo, Japan
Prices: 600-700 yen for bar brand and specialty drinks; beer, 600 yen; sake and shochu, 500 yen; soft drinks, 400 yen
Cover: No
Food: No
Entertainment: Karaoke, 200 yen per tune
Clientele: Local businessmen, professionals, officers, base civilians
Dress: Casual
Location: Downtown Sasebo's "Sailor Town"
Hours: 7 p.m. to about 1 a.m. Monday through Saturday
---
---
---
---