Bar Sleuth: Seoul's Club Caliente gets hotter on weekends
by
Teri Weaver
February 16, 2006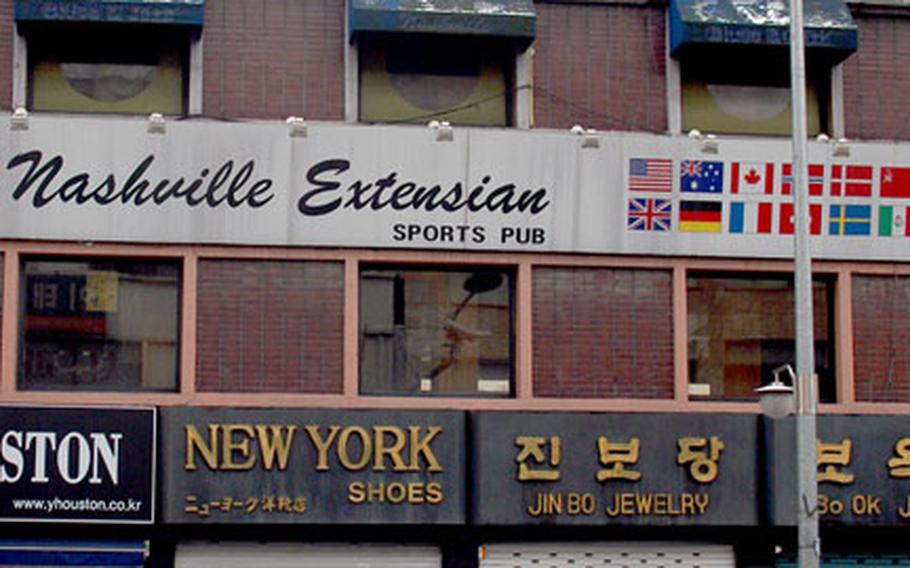 SEOUL — Even in my first few days in South Korea, people were inviting me to Club Caliente.
"Have you been there yet? It's where me and my girlfriends go salsa dancing," a Canadian woman in my Korean language class said after chatting with me for a few minutes. "And the men … it's soooo nice to be asked to dance."
That was more than a year ago, and, somehow, I still hadn't cha-cha-cha'd up the three flights of stairs on Itaewon's main drag to find a man to teach me the mambo. Invitations came and, alas, went. Something always came up: work, icy roads, monsoons, deploying to Iraq, downloaded episodes of "Lost."
So I was thrilled when, on a weeknight three days before Christmas, I was finally following the red "salsa" arrows up the stairs past the Nashville Extension and into sultry, sweaty syncopation.
My friend Brenda and I stopped at the door and peered in. There was one man at the bar, eating dinner and talking with the bartender. Not exactly the pulsating party I was hoping for.
Salsa dancing, as I've come to learn, is movement that begins on the second beat of the music and often means dancing to the music's rhythm rather than its melody. The man leads, giving his partner clues in the form of little pats or tugs to signal directions on the dance floor.
Brenda and I took a clue from the empty dance floor and retreated to another bar.
What had we done wrong? Was it too close to the holidays? Was it too early? Were weekend nights better?
Brenda was shocked, especially because she had her own empirical evidence that Caliente could make Seoul's snowy streets disappear.
"It's so much fun," she said, recalling a night when she had danced into the next day. "It made me think I was Puerto Rican," said the woman who grew up in a farming town in Colorado.
At our next stop, we found more people, including Jose, who is from Puerto Rico.
"Saturday night is the best" at Club Caliente, Jose told me. "It's like being at home. It's like family. Everyone dances, everyone kisses each other. Then you sit and talk and smoke cigars. Then you dance. You have to go with us."
And I did.
I crept back up the stairs on a recent weekend, a little surprised to find a 5,000-won cover charge (about $5, and a drink is included) but much relieved to see so many people dancing. I sat on the sidelines for a while, then began to make my moves. I'm certainly no expert, but I'm willing to learn.
As always, if you drink, do so responsibly. Don't drink and drive.
Club Caliente, Seoul
Rating: Four beers out of a six-pack.
Drink Prices: More expensive than on-base, less expensive than flying to your favorite Latin country.
Cover: 5,000 won, about $5, but you get a "free" drink.
Food: Snacks to boost your salsa stamina.
Entertainment: Your own two hips.
Clientele: A mix of servicemembers, Koreans and foreigners living in Seoul.
Dress: Whatever makes you sway.
Location: On the main drag in Itaewon, above the Nashville Extension.