Bar Sleuth: Schocken? Eh, more like Refreshing
by
Charlie Coon
December 15, 2005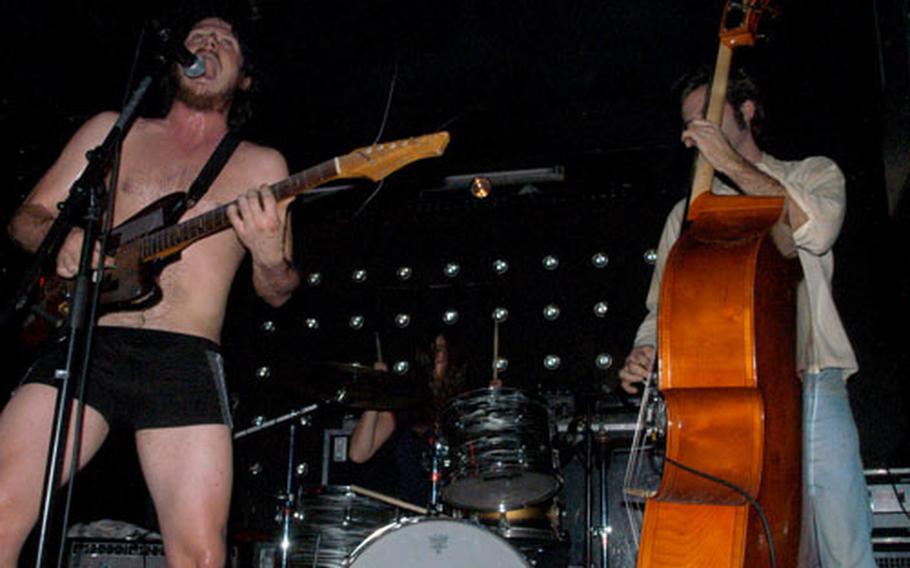 STUTTGART, Germany — A warning: Judging from the crowd, I'd guess Schocken to be a very unmilitary place. Lots of German young people with razor stubble, dress-down duds and unkempt locks, including a few of those Rasta hairdos that scream, "I smoke pot!"
But for original, live music by independent artists from abroad, an unpretentious night on the dance floor, or for just hanging out, Schocken in downtown Stuttgart is a fresh choice.
The regulars say live music during the week gives the place its soul. The DJs on weekends pack in the crowds and pay the bills.
I went on a Tuesday and caught a band from Olympia, Wash., called Old Time Relijun. About 40 people assembled in the downstairs concert room, called the Beatbox, and paid 8 euros (about $9.50) each.
Yes, it was a "room." The 40 people about filled it up.
The band was a three-piece: a singer/howler/guitarist with a beard and wearing a Speedo, a stand-up bassist, and a woman with hair flying playing the drums. Sort of the Unibomber meets White Stripes with a dash of Stray Cats.
They were entertaining and talented, and I hadn't seen anything like them. It was a refreshing change from middle-aged cover bands cranking out Huey Lewis and the News.
Which is the point.
The club's Web site lists its upcoming shows. Bands from Sweden and Canada are coming up. Pick out someone who sounds interesting and check it out. You might want to call ahead at 0711/284-6122 in case there's a limit on ticket sales.
Upstairs is one of those chill-out lounges with low-slung chairs and sofas, small tables and dim lighting. The ground floor has the main bar and small dance floor.
Stuttgart, for those who don't know, is a moneyed city of about 600,000. It was a little ironic looking out of a T-shirt bar like Schocken and seeing department store windows with mannequins wearing fancy clothes.
For indie-music lovers in Heidelberg, Kaiserslautern, or other smaller military towns, going to a cool city to see a good band might make for a decent overnighter to break the monotony.
For Stuttgart-based folks, the excellent public transportation system will bring you right there. Get off at the Rotebuhl Platz stop of the U-bahn.
If the laid back, left wing Euro-atmosphere doesn't do it for you, then there's an Irish pub a few blocks away called Biddy Early's. Lots of Americans hang out there.
Schocken
Address: Hirschstrasse 36, Stuttgart, Germany.
Drinks: Well-stocked bar. Nothing fancy. A half-pint of beer costs 2.50 euro (about $3).
Food: I didn't notice any, but there are restaurants all over the place.
Ambiance: Friendly. Sofas, chairs and cushions. Black-and-white tiger stripes on the wall. Dim lighting.
Service: The two bartenders were nice. Both spoke English and, unlike some places, seemed happy to serve.
Web site:www.club-schocken.de
---
---
---