Bar Sleuth: Sasebo saloon brings a bit of the Wild West to the Far East
by
Greg Tyler
March 16, 2006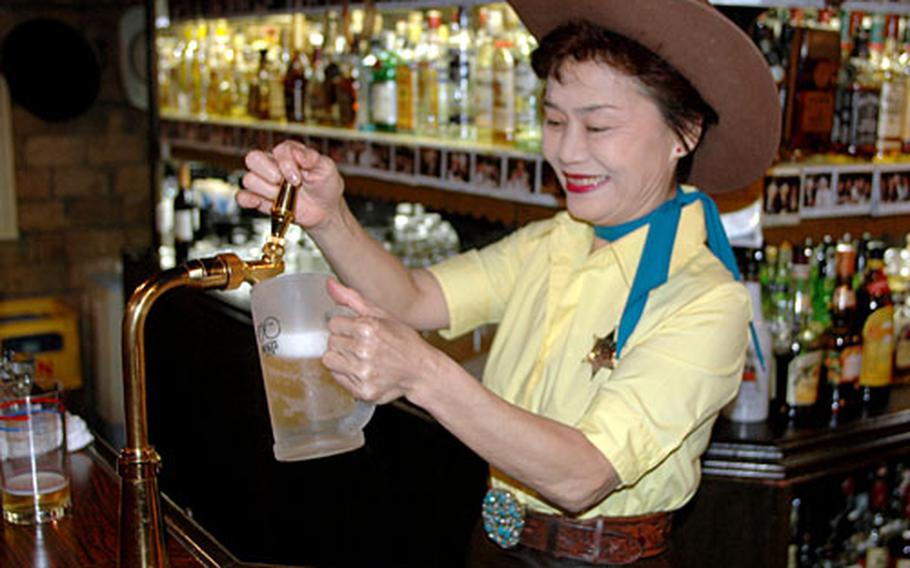 SASEBO NAVAL BASE, Japan — After straddling a leather saddle-styled barstool and soaking in the atmosphere at The Westerner in downtown Sasebo, I began to wonder where they'd hidden the mechanical bull.
I've learned to associate visions of the unexpected with this small southern Japan city. When you walk in The Westerner, you start to wonder: "Am I in Japan?"
Walk into the bar on a Sunday afternoon and you'll find barmaids wearing deputy's badges, sporting Stetsons and serving cocktails in miniature cowboy boots.
Keiko Tamano has worked at The Westerner more than 30 years. She said year-to-year repeat customers from the United States who return to visit Sasebo stop in the roadhouse of a bar for a quick "howdy" and a draft.
"They can't believe it when they look in here and see that I'm still here," she said.
The walls are plastered with plaques given to Tamano by Sasebo sailors and other employees in appreciation of The Westerner's hospitality.
"When all the ships are here, almost all the customers in here are the Americans from the base," she said. "But when the ships are away, it's about half Americans and half Japanese."
The dimly lit bar features large exposed wooden beams crossing the ceiling and walls with a log cabin look. There's even a large map of the Old West on one wall, photos of cowboy movie stars, mounted longhorns around the bar and plenty of spurs and horseshoes to catch your attention.
"Most of the customers — the Americans and the Japanese — really like the country-and-western style in here and we have a lot of fun with it," Tamano said. "The main thing I've noticed is that people don't take very long to begin to feel really comfortable in here."
Aiding the illusion of stepping into the American West are various country-and-western karaoke selections. For 200 yen per song, you can sing until you're hoarse to Johnny Cash, Charlie Pride and Merle Haggard tunes, among others. Tamano is particularly fond of "Crazy" by Patsy Cline.
When I heard one customer belting out Tammy Wynette's "Stand by Your Man," I realized my bottle of ice-cold Kirin was empty and it was time to head back to the Ponderosa.
The Westerner, Sasebo, Japan
Rating: Five beers out of a six-pack
Drinks: Bottled and draft beer brands Kirin, Asahi, Suntory and Corona for 650 yen. Mixed drinks are 800 yen and house specialty Tequila Slammer is 600 yen. In keeping with the Wild West theme, patrons can have a small drink served in a mini-cowboy boot for 1,000-1,500 yen. Sodas and some juices are 350 yen.
Food: Snacks only.
Clientele: American and Japanese
Dress: Casual
Hours: Tuesday through Sunday, 6 p.m. to about 2 p.m.
Location: The Westerner is about a 10-minute walk from Sasebo Naval Base's Nimitz Park. It's in the middle of the downtown Sasebo area, next door to the Holiday Inn.
Phone: 0956-25-2826, English is limited.