Bar Sleuth: Okinawa's new NiCHe may just be the place you fit in
by
David Allen
April 13, 2006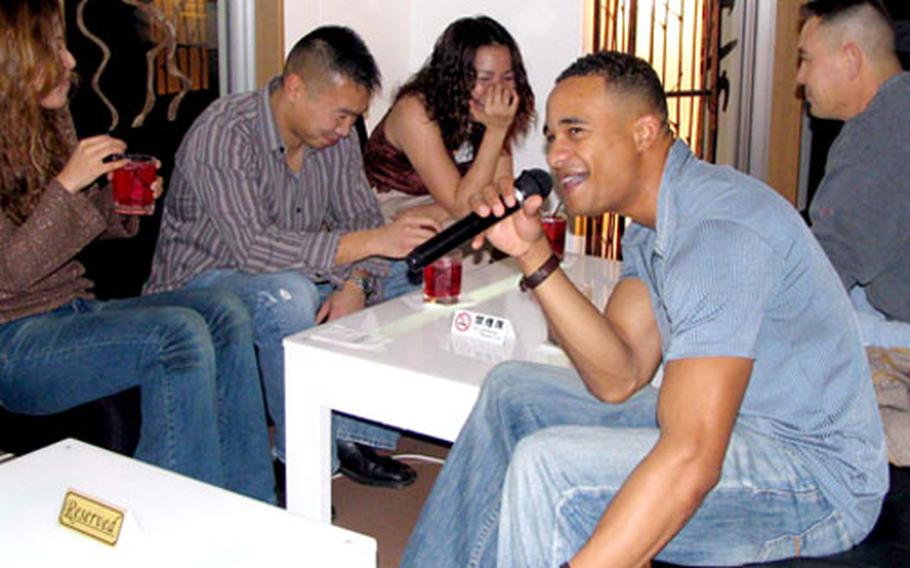 CHATAN, Okinawa — There's a new bar here that just might be the place you'll fit in.
It's called the "NiCHe," natch, and it's the brainchild of 23-year-old Miko Liggayu, an Filipina of Okinawan descent who longed for the kind of trendy bars she visits whenever in Hong Kong, Manila or Honolulu.
"I struggled to find a place on Okinawa where I felt comfortable," she said on a rocking Saturday night. In one corner a Marine captain clutched a karaoke mic and sang badly off key to an '80s pop hit.
The NiCHe Bar and Café stands out among the bars near Camp Foster. The interior is painted white, with cool blue track lighting and lots of neon. On two walls the videos playing on two large, flatscreen televisions pulsate with whatever music is playing — modern pop, trance, house, jazz, or hip-hop — when the karaoke machine's off.
The customers on this Saturday night were a scattering of young Marines, a couple of college teachers and Japanese and foreign businessmen.
At the long, sleek, white bar, a British defense contractor for the U.S. military spoke of how the NiCHe was the one place on Okinawa where he really felt at home.
"The fact that there's no smoking is a huge plus for me," said Martin Freeman. "It's modern, trendy without being pretentious."
Second Lt. Michael McFarland, the Marine with the microphone, had just one word for NiCHe — "cool."
His buddy, Marine Capt. Dave Kim, from Queens, N.Y., sat nearby. The two Marines are assigned to Marine Corps Air Station Futenma.
"It's not far from base and it's not like the typical GI bars just outside the gates," Kim said.
"We try to make everything real friendly, real personal," said Liggayu as she made the rounds of the patrons sitting on the low couches and tables scattered along the wall.
The bar opened last fall. Plans in the works call for making it an Internet café during the day and a club at night.
"Eventually, we'll have a businessmen's night, ladies' nights, special dance parties," said Liggayu. "It's something different."
And something that offers a NiCHe for just about anyone.
As always, if you drink, do so responsibly. Don't drink and drive.
NiCHe Bar and Café
Chatan, Okinawa
Drink prices: A bit higher than the "GI bars." 500 yen for a big mug of draft Kirin, 400 yen for bottles of Budweiser and Orion, 600 yen for bottled Guinness and other imports. Shots range from 300 yen to 500 yen and a "premium cocktail" will cost 600 yen.
Cover: None
Food: Bar food — peanuts, finger foods, wasabi cheese and crackers, and Japanese karaage chicken
Entertainment: Karaoke
Clientele: Mix of servicemembers, locals, foreign teachers and businessmen
Dress: Casual
Location: The Hamby Town section of Chatan, one block west of Highway 58 and Camp Foster
---
---
---