Bar Sleuth: Naples watering holes make unique atmosphere work
by
Sandra Jontz
April 13, 2006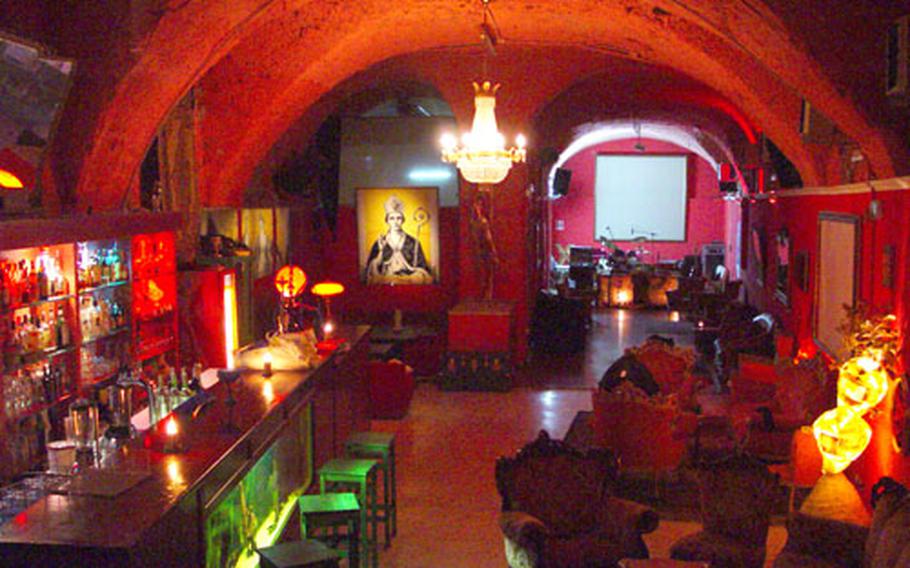 NAPLES, Italy — In a bustling city with countless night clubs and bars each beckoning for partiers, being cutting edge is what sets apart the good from the great.
And brothers Eduardo and Nicholas Albrecht have capitalized on that. The dynamic duo own and run two bars in the heart of downtown Naples: Mutiny Republic and Rising South.
Each provides a unique ambiance for their partying patrons, from hip modern music and dancing at Rising South to sipping cocktails while lounging on couches at Mutiny Republic.
Mutiny Republic is more the type of bar where one would go to socialize with friends, engage in stimulating conversation, or even gain some social enlightenment. On Thursdays, for example, Eduardo Albrecht likes to feature a bit of the bizarre, and has hosted "performers" ranging from people who hang from the ceiling on meat hooks to the "Ladybugs," a group of singing Neapolitan transvestites.
"I want to bring awareness of world issues to little Naples, and do it in a place where people can come and enjoy themselves," said Eduardo, 28.
Rising South, on the other hand, has a more traditional ambiance, a place to belly up to the bar for a cocktail or beer, or hit the dance floor to the meshing of sounds from disc jockeys who come from all over Europe to flex their skills on the wheels of steel.
Rising South is physically underground, and before becoming the club it is today, it used to serve as a book repository. And before that, it was a place where coffins were built, Nicholas Albrecht, 24, proudly points out.
The bar is seemingly ordinary on first glance, but take a peek at the content of the books on the shelving unit at the entrance, or search out the statues strategically blending in with the bottles behind the bar.
Both clubs, within walking distance from each other downtown near Piazza Dante, open from 10:30 p.m. until closing, usually about 3 a.m.
Italian law requires some establishments to have patrons sign up for membership, which can be done at either club for a 7 euro annual membership fee.
As always, if you drink, do so responsibly. Don't drink and drive.
Mutiny Republic and Rising South
Naples, Italy
Drink prices: Beers; cocktails starting around 5 euro
Entertainment: Runs the gamut from modern music and dancing to sipping cocktails while lounging on couches. Periodically, there are shows at Mutiny Republic that tend to bring attention to social matters.
Clientele: International crowd, mostly Italians
Dress: Casual
Location: Mutiny Republic is at Via Bellini, 45. Rising South is at Via San Sebastiano, 19.
Web site:www.risingsouth.it. Mutiny Republic is developing a site.