Bar Sleuth: It doesn't get much better than Ratskeller in spring
by
Sam Amrhein
March 16, 2006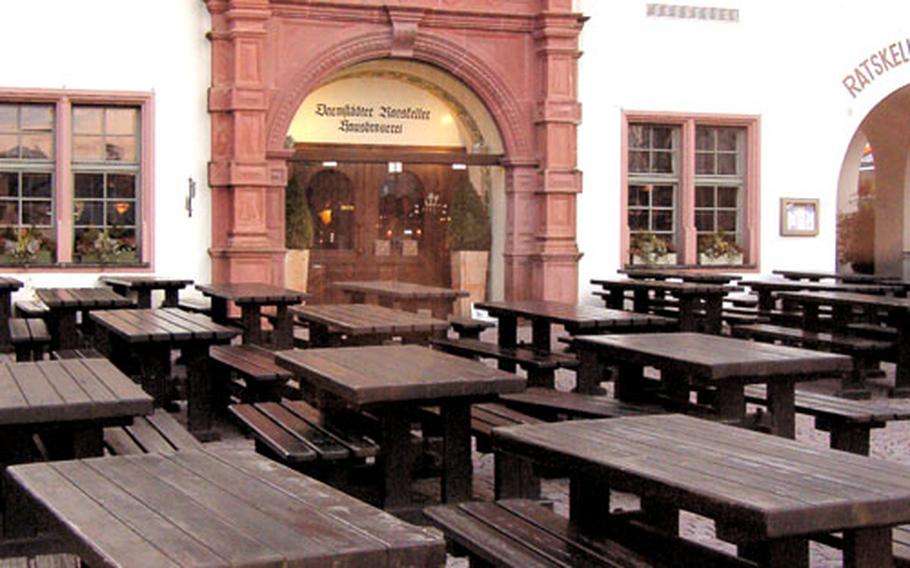 DARMSTADT, Germany — Chances are, if you've been to such university towns as State College, Pa., Madison, Wisc., or Miami, you may have stumbled across a Ratskeller bar on one of your nightly pub crawls.
Chances are, if you've been to any major city in Germany, you may have stumbled across a Ratskeller here, too.
In English, Ratskeller translates to "council cellar," because many German city council houses used to have a bar/restaurant in the basement. Now, it's mostly just a good place to have a good German beer and with some good German food.
Darmstadt's Ratskeller — located in the Markplatz, just off of the Luisencenter — is a popular early evening hangout for Americans until the more popular hangouts open later in the night.
But from the moment you step in the door, you know this is a place that takes its beer seriously. The bar area is a bit cramped thanks to the two huge beer vats that dominate the room. And from those hulking copper-colored receptacles flows some of the finest beer around.
Ask the barkeep for a pils, a dunkel, a kristalweizen or a hefeweizen. It doesn't matter, they're all good. As any true beer connoisseur will tell you, one of the secrets to a good beer is its freshness (think Budweiser's born-on date). When it's coming straight from the vat that you're sitting next to, it doesn't get any fresher.
There is a dining room area off the bar, and the food is typical light German fare, with the most popular dish seeming to be a good bratwurst with bread. The bar and the dining area sit on the street level, but the Ratskeller does indeed have a bar in the cellar. It's just not open unless the crowds are too big for the main floor.
The Ratskeller is open daily from 10 a.m. to midnight, and it gets crowded on Friday and Saturday nights.
But the absolute best time to visit the Ratskeller is on a warm spring or summer evening. In the spring, the Ratskeller will pull out the picnic tables and the Markplatz will fill with Germans enjoying good conversation and good beer.
And as you sit back watching the sun disappear behind the buildings of Darmstadt, you'll realize — to steal a line from a beer commercial — it doesn't get any better than this.
As always, if you drink, do so responsibly. Don't drink and drive.
Ratskeller
Darmstadt, Germany
Location: In the Markplatz, just off of the Luisencenter
Hours: 10 a.m. to midnight daily; be ready to navigate the crowds on weekends