Bar Sleuth: Have a 'Git 'Er Dun' at George's Country Bar
by
Allison Batdorff
December 22, 2005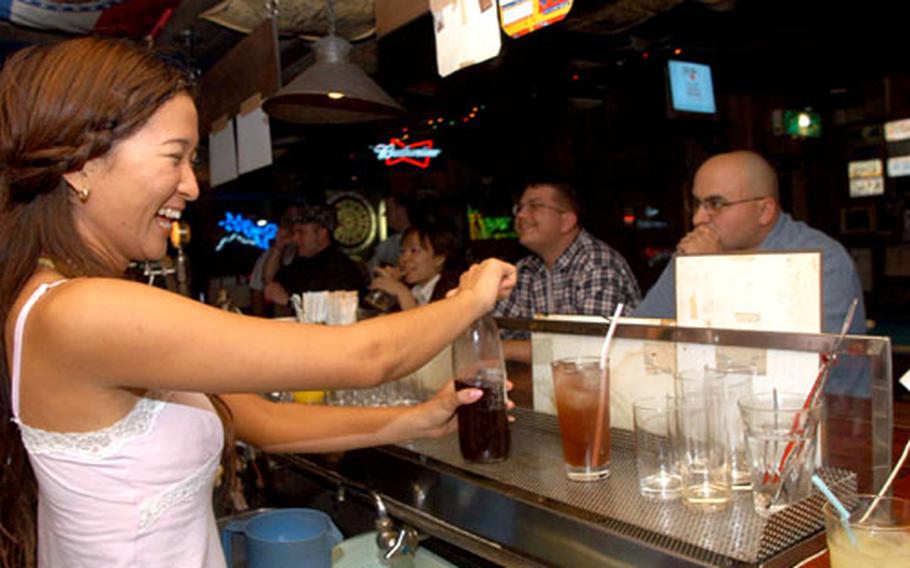 With no water in sight, you can go fishing at George's Country Bar — so long as you don't mind a little bumpkin and grindin'.
The Nitty Gritty Dirt Band song "Fishing in the Dark" starts playing. Fishing buddies — usually male and female — pair up and run to the dance floor. One person gets horizontal. The other rides him or her like a bronco.
And so goes a George's tradition.
"My mom and sister saw 'Fishing' when they visited," said Petty Officer 3rd Class Jared Salmi, a George's regular. "They laughed their butts off."
Would you expect anything less from a bar where the signature shot is the "Git 'Er Dun" and a jackalope is mounted to the wall?
When I happened into George's the other night, Wyoming dust still clung to my dirt-kickers. I stared, awestruck. Where was I? Tight-jeaned cowboys tipped their hats to me. A feller with a Loo-siana drawl took me two-steppin'. Severely disoriented, my girlfriend brought me a suicide chu-hi and, consequently, back to Japan.
George's is more than a little bit country — that's its draw. Owner Katsutoshi "George" Kawase is country, too — right down to his mullet hairdo and his music collection.
"I'm from Sasebo, I grew up in the country," Kawase declares. He owns a lot of joints in Yokosuka's Honch bar district — Buffalo's, Cantina and Rock City to name a few — but during his 29 years in the business he's always had a county watering hole, he said.
His clientele is devoted, calling Kawase "Papa-san," cook Anna Yapp "Mama-san," and likening bartender Akiko Tachibana to a big sister.
George's is like "family" and "the closest thing to home" around Yokosuka Naval Base, said petty officers third class Chris Hansberger and Robert Spangler.
Airman Antonio Navarro agrees. George's has its fights and drama, but it's the kind of place where someone will always listen to you cry and complain, Navarro said.
And, perhaps most importantly, if your horse is nowhere to be found "there is always someone there who will carry you home if you get too drunk," Navarro said.
George's Country Bar
Yokosuka, Japan
Rating: Five beers out of a six-pack
Most ordered drinks: Jack and Coke, Budweiser.
House shot: The "Git 'Er Dun" — the hayseed answer to a Long Island Iced Tea.
What you'll pay: No cover. Cocktails cost 500 yen. Beers run 600 yen. Play your favorite country song for 200 yen or tips.
Hours: About 5 p.m. to 4 a.m.
Where to go: Yokosuka Honcho 2-14
If you get lost: Call George's at 824-2027
---
---
---