Bar Sleuth: Go out on a limb … explore Landstuhl's Tree Bar
by
Steve Mraz
February 16, 2006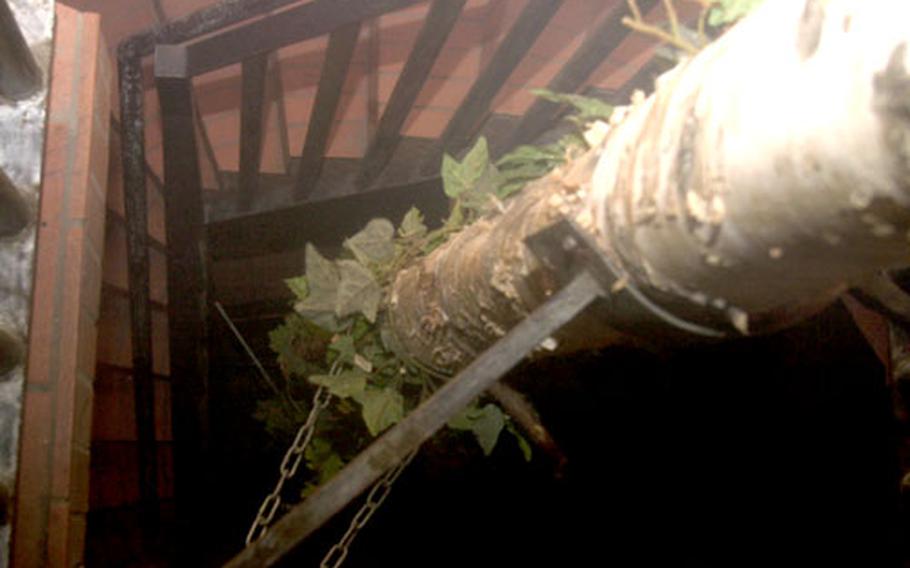 LANDSTUHL, Germany — A more appropriate song could not have been playing on a recent Friday night — actually early Saturday morning — to describe Landstuhl's Tree Bar.
Garth Brooks' "Friends in Low Places" blared from speakers positioned around the cramped, crowded and subterranean bar. The only thing louder than the music were the U.S. troops singing along with the modern-day country music standard.
Friends in low places are exactly what you'll find at the Tree Bar. A 2 euro cover gets you in the door, from which you descend a spiral staircase around a tree. The staircase ends at the bar from which a series of tunnels and rooms branch off in different directions for you to explore.
With low, arched ceilings in places, the bar has the feel of a World War II underground bunker. The decor is rural German with wagon wheels and horse collars adorning the walls. The atmosphere reminds you that you are in Germany despite 99 percent of the people around you being American.
But by the time you make it to the Tree Bar, which doesn't really get going until the Irish pub in Landstuhl closes, its finer points are probably lost on you.
Around midnight, a procession of partiers can be seen shuffling, stumbling and strolling down Landstuhl's main drag toward the alley where the Tree Bar awaits.
Once you make it down the stairs, buy a drink from one of the friendly female bartenders. Three euros will get you a half-liter of beer. Now you're set to explore the nooks, crannies and underground maze that is the Tree Bar.
In one room off the bar, pool tables can satisfy your billiard itch. Crossing through a low-clearance hallway takes you to a room that sports an electronic dartboard and a computerized shooting game that came out about the same time as the Commodore 64.
If you're just at the bar to hang out and drink, bar space is limited. Actually, just making your way around the bar without spilling your drink is a challenge. Side rooms up a flight of stairs from the bar do provide a quieter and more spacious haven, if needed. The bar's bathrooms — at least the men's — aren't as bad as you might imagine.
So if you're looking for a place to keep the party going until the wee hours of the night, climb on down to the Tree Bar in Landstuhl. You'll have plenty of friends in this low place.
As always, if you drink, do so responsibly. Don't drink and drive.
Tree Bar
Location: Downtown Landstuhl, Germany
Hours: 9 p.m. to 4 a.m., Friday and Saturday nights
Drinks: Beer and mixed drinks; specialty drinks include the Green Zombie
Ambiance: Drunken underground bunker for the late-night crowd