Bar Sleuth: Friends, fizz on tap at Misawa City's Zero One
---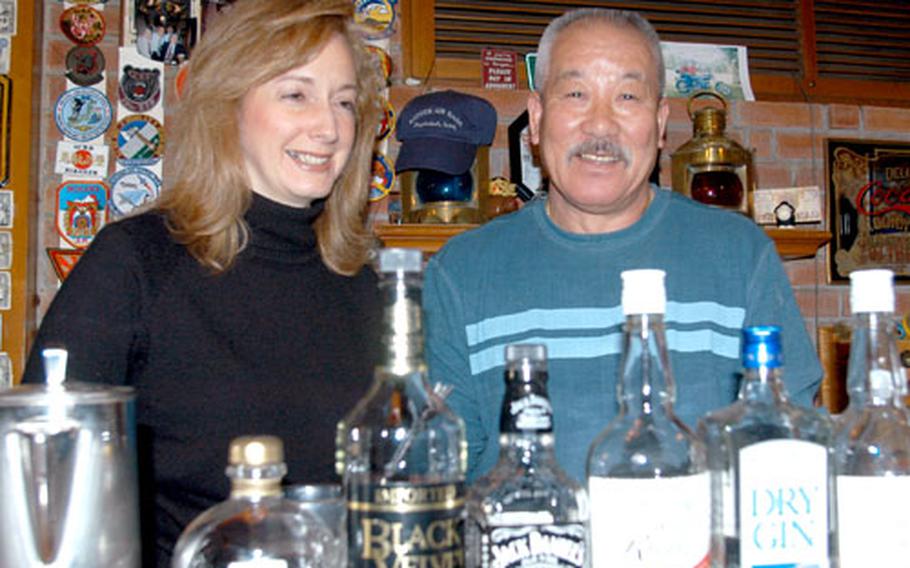 MISAWA, Japan — Especially on the snowiest of nights, Zero One Pizza House is a welcome haven, best known for its violet fizz and home-cooked pizza.
But what keeps patrons returning to this cozy little pub a stone's throw from White Pole Road is the feeling that, like the "Cheers" of sitcom fame, everyone in the bar seems to know your name.
Serving up spirits and hospitality six nights a week are Akira "Aki" Akanuma and his wife, Brenda, a civilian employee at Misawa Air Base. Brenda discovered Zero One the second night she was in Japan — 26 years ago. She was in the Navy working on Security Hill with Marines. They invited her out. It didn't take long for her to fall in love with Aki's infectious laugh and offbeat sense of humor.
Brenda told the story as I sat at the bar with a hot cup of coffee, my fingers and toes still chilled from a five-minute walk from the base's main gate in pelting snow. Aki was in the back, whipping up one of his famous pizzas for two Japanese customers.
Masaru Kameda, 33, and Atsushi Kamitaira, 46, local nationals who work on base, said they enjoy the relaxed environment, the homey interior and the pizza, of course.
Clientele is usually an even blend of American and Japanese, but Zero One tends to appeal to the 30-and-older crowd — there's no karaoke, no dark rooms, blaring speakers or fancy disco lights. Conversations flow just as easily as the beer.
Brenda and Aki's CDs and tapes keep the place lively; lots of '70s music, some blues, some Motown. The eclectic mix includes Stevie Ray Vaughan, Nickelback, Elton John and ZZ Top.
"They play music we can remember," said Cheryl Cameron, who frequents Zero One about three to four times a month with her husband, Master Sgt. Charles Cameron. "They make you feel so much like family. It's just a good feeling, a good atmosphere."
The Camerons count their name among the autographed dollar and yen bills papering the walls behind the bar and ceiling beams — many attesting to friendships forged over the years on bar stools: "May '94-99. Good-bye Brenda and Aki. Thank you," wrote an American named Steve.
Another says: "Zero 1, where everyone knows your name."
As always, if you drink, do so responsibly. Don't drink and drive.
Zero One Pizza House
Misawa City, Japan
Drinks: Best-known for its a violet fizz, made with a sweet-smelling Japanese liquor, for 600 yen. Most other drinks, such as whiskey sour, gin fizz and tequila sunrise, as well as beer, also cost 600 yen. Nonalcoholic drinks include coffee, tea, cola and orange juice for 350 yen.
Food: Zero One's homemade pizza costs 1,000 yen. It's also available for takeout.
Clientele: American and Japanese
Dress: Casual
Hours: Monday through Saturday, 8:30 p.m. to about 1 p.m. Open later on weekends.
Location: 2-6-6 Chuo-Cho, Building Hamanasukan. Walking from the Main Gate at Misawa Air Base. Go three blocks down White Pole Road. Turn left at a taxi stand. Zero One is on the second floor of a pink building about half a block down on the left.
Phone: 0176-57-2177
---
---
---
---