Bar Sleuth: Done with cars, Jimmy turns to cocktails
---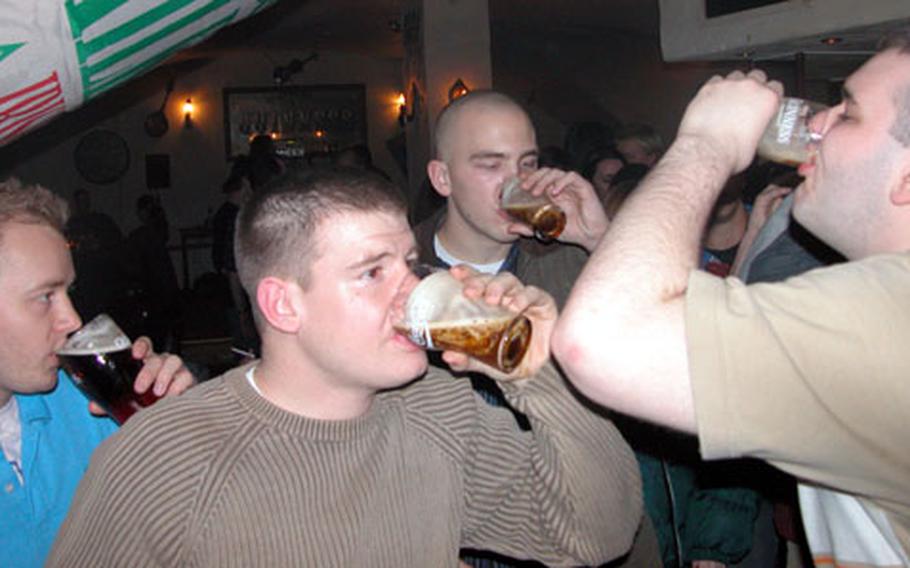 WüRZBURG, Germany — A few years ago as troop sizes began to shrink in Europe, Jimmy Wagner didn't see much of a future in selling cars to soldiers in Würzburg, Germany.
"I figured I'd better do something, because I wanted to stay here," said Wagner, a Florida native.
So about two years ago, Wagner bought and opened Jimmy'z Irish Pub, a cavernous bar that is the perfect place to get lost for a night. The rounded ceilings of the subterranean pub and its winding nature hold a surprising number of people without a crowded-bar feeling.
Situated in downtown Würzburg, Jimmy'z hosts a variety of nationalities, from Germans and Brits to Americans. Wagner said he makes a special effort to get Americans in and to give them a good place to hang out.
"We cater to Americans," he said last week, as soldiers and nationals alike drank around him. "Somebody at the bar is always going to speak your language."
Wagner got hellos from several patrons in between helping bus tables and cooking up standard bar food, including some quality pizza. At one point, a cute brunette walked up and gave him a big hug.
While serving up pints of Guinness and a local beer called Würzburg Hofbrau, Wagner and his bar staff also concoct all types of drink specials.
For instance, there's a wicked blend called a frostbite cocktail. Electric blue and chock-full of tequila, Wagner said it was the perfect antidote to a cold winter night.
"It's a cold drink, but the tequila warms you up," he said with a smile.
Some nights, a DJ plays music ranging from Tenacious D and Sublime to The Steve Miller Band. And on other nights, Jimmy'z hosts live bands.
On the first Tuesday of each month, the pub puts on an Irish folk music session.
Wagner said he works to provide a safe place for American soldiers to drink and let loose.
"They can party here and enjoy themselves in a very safe environment," he said, adding that the soldiers know not to do anything stupid in the pub. "They don't mess around in here, because they know they'll ruin it for everybody."
As girls danced near the stage and shots kept getting poured, Wagner said a good time is what he wanted when he opened Jimmy'z a few years ago.
And that translates well in any language.
"People understand what Jimmy'z is all about," he said. "It's a party place."
Jimmy'z Irish Pub
Würzburg, Germany
Address: 26 Karmelitenstrasse, Würzburg
Drinks: A full bar featuring pints of Guinness and local brews. The owner and his staff also concoct drink specials every week or so.
Food: Bar fare, good pizza.
Ambiance: Cavernous. Live music and DJs each night, with a mix of nationalities.
Service: Friendly bartenders who speak German and English.
---
---
---
---