Bar Sleuth: Beer, guns and good fun? Check out Tokyo's Hollow Point
by
Juliana Gittler
April 6, 2006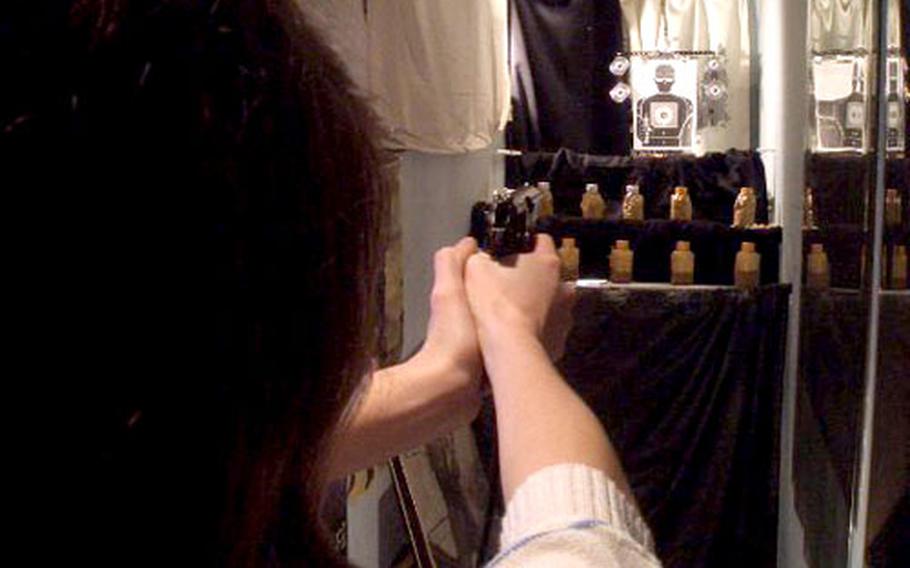 TOKYO — It's pretty much a dream come true.
Beer, not too badly priced for Roppongi. Rockin' '70s and '80s music.
And guns.
That's right. A childhood passion for toy models gave Yoshihisa Takahashi the idea for a new Roppongi bar about six years ago. To stand out from the legions of other bars in the area, he thought man's fascination with guns, and especially the kinds that go "pop," would be a nice niche.
He was right. Hollow Point attracts all kinds of people. Men, who make up most of the patrons, come for the toys, Takahashi thinks. It's the women who show up to blow off steam.
It's probably worth noting that laws in Japan mean there aren't actually metal slugs in the chambers. You shoot air guns with small plastic pellets. It still offers some of the realism — the adrenaline, the quick pops, the bragging rights after tearing the heart and guts from the paper target, which you get to keep.
The bar has a cover charge of 500 yen (about $4.50) and you can't just come in to shoot. You have to buy at least a drink, but at 650 yen ($5.75) for a draft beer, it's not too pricey by Tokyo standards.
The bar itself is pretty cool. There's a large screen on the wall that alternates between movies with lots of guns and rock videos from the days when MTV played videos.
But it's the guns that people come to see.
In the back of the bar, an enclosed shooting range about 15 feet long gives the trigger-happy the choice of a human-shaped target, cans or small discs to shoot at.
At the bar, choose your weapon. There are about three categories — guns cost 100, 300 or 500 yen for a magazine, which ranges from a dozen shots to about 40 depending on the weapon.
Small guns include the classic James Bond PPK Walther. There's the submachine gun used by Japanese police units (MP5J), a Glock 26 and a Beretta M92F.
Others come from famous movies including "Robocop," "Terminator II," "Rambo" and "Biohazard."
The most popular gun is the heavy Desert Eagle, which has the strongest recoil and was fashionably hoisted by Trinity in the movie "The Matrix," Takahashi said.
In the six years the place has been shootout heaven, no one's been injured, Takahashi said. Because the guns use air to function, they are tethered by their air tubes, so a customer can't take off shooting across the room.
As always, if you drink, do so responsibly. Don't drink and drive.
Hollow Point
In the Roppongi area of Tokyo, Japan
Hours: Monday through Thursday and Saturday, 6 p.m.-1 a.m., and Friday from 6 p.m. to 5 a.m. Closed Sundays and holidays.
Drink prices: 650 yen and up
Cover: 500 yen
Food: Light snacks
Entertainment: Shooting air guns
Clientele: Mostly businessmen
Address: Rokuwa Bldg., B1, 5-1-4 Roppongi (on Gaien-Higashi Dori between U. Goto Florist and Excelsior Café, across from TGI Friday's)
Phone: (03) 5411-3123
Web site:www.hollowpoint-jp.com (Japanese only)
---
---
---