Bar Sleuth: Beer, BLTs reason enough to visit Yumi's Bar near Yokota
by
Vince Little
November 17, 2005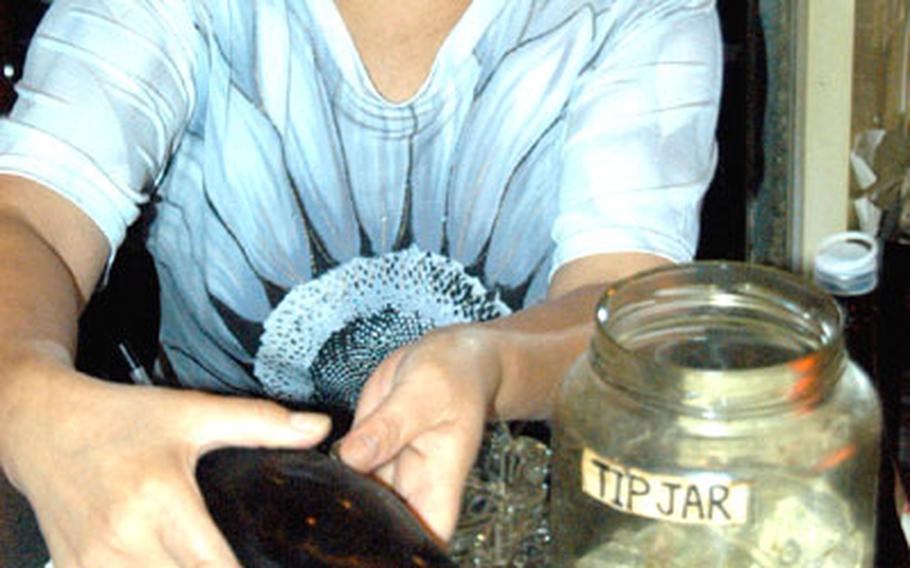 FUSSA, Japan — The first thing you'll notice about Yumi's Bar is its size. Twenty of them could easily fit into a sports pub back in the States.
That's hardly unusual by Japanese standards, but here at Yumi's there's a special coziness about the place. It's certainly among the top destinations on Fussa's infamous "Bar Row" — the entertainment district that's been off-limits to U.S. troops from 1-6 a.m. each night since May.
Yumi's was the first place in the bar district outside the main gate at Yokota Air Base to open its doors to my wife and me during our first venture into the area more than three years ago. At least three other establishments wouldn't.
Owners Katsutoshi and Yumi Yasumoto have been serving drinks and cooking up various favorites for U.S. troops since 1967.
It was a popular hangout for servicemembers on their way to and from the war in Vietnam. Many would sign $1 bills, perhaps thinking they might not make it back, Katsutoshi recalls. He started plastering them on the bar's walls, and some remain today.
Yumi's is where I discovered my affinity for a cold Kirin beer — or maybe two. Never thought I'd hoist anything but Bud Light — with maybe the occasional shot — in my post-collegiate era.
Plopped down at the Tetris machine in the center of the bar — with Yumi never allowing my beer glass to approach empty — I'm reminded of the days when Nintendo's Gameboy was practically glued to my palm.
Toto's "Roseanna" is on the jukebox. But with a dose of liquid encouragement — for me, there's not enough booze anywhere to get a microphone in my hands — some patrons will take a crack at crooning with the karaoke machine.
On a little stove tucked away behind the bar, Katsutoshi whips up what's got to be the world's best BLT sandwich. He once made 60 in a single night. It's the perfect remedy for those late-night, alcohol-induced munchies.
Now 61, Katsutoshi isn't as busy as he was before the Bar Row restriction took effect. But he says he's not going anywhere.
"I'm too old to change," he said. "I've been here for 38 years. If I was young man, maybe. But this is my life. I've been here too long to change now."
Yumi's Bar, Fussa, Japan
Drink prices: 600 yen (about $5) for beer, cocktails and shochu. A bit more if you're in the mood for a double shot.
Cover: One-drink minimum.
Hours: It's open 8:30 p.m. to 5 a.m. Monday through Saturday.
Food: The world's best BLT goes for 600 yen. Noodles, gyoza, sandwiches, salad and snacks are among the other munchies.
Entertainment: Karaoke for 200 yen a tune. Between songs, images of scantily clad women pop up on the two overhead screens. The bar has a TV with English-speaking channels, upon request. There's a jukebox and Tetris machine.
Clientele: Catering to the GI crowd.
Dress: Casual at best.
Location: About a 10-minute walk outside Yokota's Fussa Gate, tucked away on a narrow backstreet a block east of "Bar Row." Look for the purple neon sign.
Web site: www.yasumoto.biz/yumi
Telephone: 042-551-3524