Bar Sleuth: Bartenders keep drinks, fun coming at Uijeongbu's No.10
by
Erik Slavin
April 20, 2006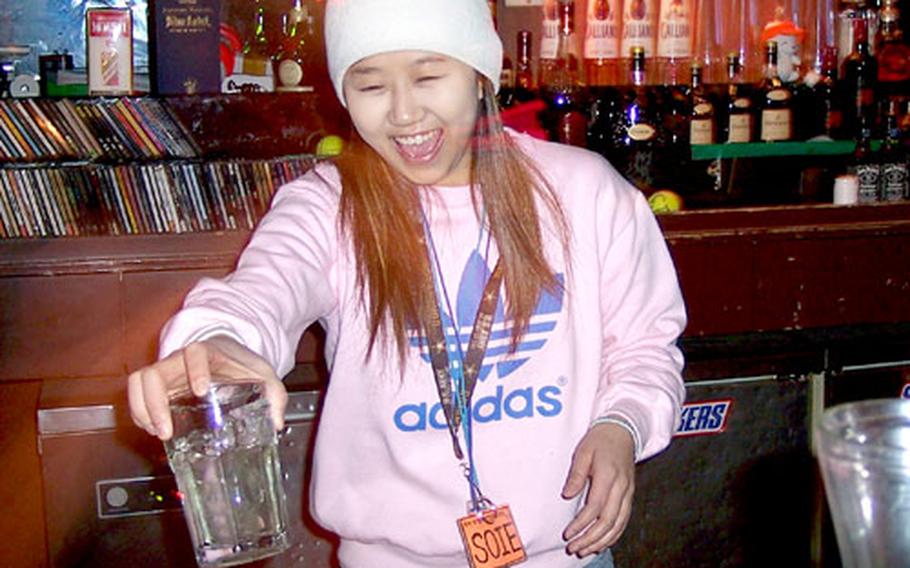 UIJEONGBU, South Korea — On the second floor above a sushi restaurant, you'll find a bar named after a British prime minister's residence and decorated in a Western motif, playing Korean boy-band music that makes The Partridge Family look "gangsta" in comparison.
Colorful contrasts aside, No.10 Western Bar's strengths are its English-speaking bartenders and its stiff drinks.
Bartender Nicky greeted the bar's only 9 p.m. Friday patron with a re-enactment of the drink-slinging acrobatics in the 1988 Tom Cruise semi-hit "Cocktail." The glasses weren't full and the bar floor was padded, which was a good thing. Nicky's juggling improved as the night continued.
Nicky also had a few card tricks up his sleeve, but they were later trumped by bartender Benny. The tricks would have been just as impressive without beer goggles.
By 11 p.m., Korean pop hits like "South Side, Let's Ride!" sounded a little better. Clearly, that was influenced by beer.
But while discussing music, Benny showed there was more to him than just the K-pop band of the month.
"Run DMC, I like them," he said.
I give any 25-year-old Korean bartender credit for old-school rap knowledge.
Each of the four bartenders said they were in their mid-20s. Female bartenders Soie and Sean reminded me that in Korea, an extra year is added to your age to count the year you were born.
Coincidentally, this is when I switched from beer to liquor.
The bar is well-stocked with American whiskey mainstays and liquors from around the world, and the pours are fairly generous. The beer list includes imports such as Hoegaarden and Guinness among mainstays like Cass and Red Rock. The bar snacks include a free bowl of imitation Funyuns, the round snacks that pretend to taste like onions.
Bar patrons usually are a mixed crowd, as evidenced by the Polaroid pictures on the wall. A few of the Koreans drinking that night were eager to practice their English, and any attempt to speak Korean was welcomed and appreciated.
As always, if you drink, do so responsibly. Don't drink and drive.
No.10 Western Bar
Uijeongbu, South Korea
Drink prices: 5,000 won (about $5) for domestic beer, more for imports and liquor
Cover: None
Food: Bar snacks
Entertainment: Television, music
Clientele: Mix of Koreans and Americans
Dress: Casual
Directions: The bar is located near Uijeongbu Station. On Highway 3, turn at the Head One Hotel. The bar is three blocks ahead on the left-side corner.
Hours: 5 p.m. to 4 a.m.