Bar Sleuth: At this Okinawa bar, they know it's 'Up To You'
by
Fred Zimmerman
December 8, 2005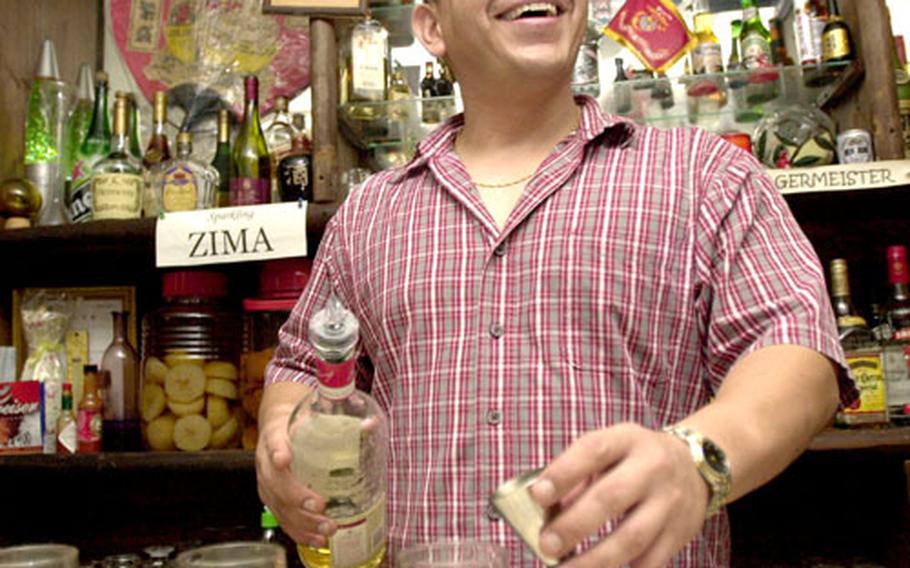 GINOWAN, Okinawa — "Damn," I screamed silently. My lips and mouth were on fire as I pulled the juicy, sweet-yet-spicy meat off a chicken wing.
"Ah, my savior," I thought as I reached for my frosty mug of cold draft beer. As I took a swig, the heat quickly turned icy, nearly to the point of a brain freeze. The game continued, the wings so good I couldn't help have another and repeat the whole process.
Maybe that's why this small bar in Ginowan is named Up To You.
Not only does it offer the best wings I've ever had, it also serves the coldest draft beer I've ever had. It even says so on the bar's menu: "Coldest beer on the damn island."
Up To You is owned by Tony, a former Marine of 11 years who kept his last name to himself.
Tony got out of the Marine Corps in 2000 and opened the bar in August 2004. He said owning a bar is in his blood.
"It's a family thing. My dad and all my cousins own bars. Besides, I spend a lot of time in bars, so it's my calling."
Along with the cold beer, Tony offers up plenty of other drinks, including homemade plum, apple and grapefruit fermentations. He mixes the 30-proof alcohol with club soda to make a sweet, spritzy drink.
Shots also flow plentifully, especially for the handful of regulars who take turns buying rounds. (Warning No. 1: Buyers have to raise a toast.)
A bar favorite is a "Flaming Vaporizer" — a mixture of Bacardi 151 rum and amaretto. The mixture is lighted, then a hand goes over the glass to snuff out the blue flame and the drink is swirled around.
The lucky drinker — or unlucky depending on how one handles one's liquor — then takes the glass with his hand over the top. To drink, you slightly break the seal and quickly down the shot and cover the glass back up. You then inhale the fumes.
Up To You also offers free pool and karaoke for 200 yen ($1.65) per song. (Warning No. 2: House rules require losers at pool buy the winners a shot.)
Up To You is a great place if you want to relax and have a few drinks with friends. You don't have to scream over music to talk, and it's not so crowded you can't move.
Up To You, Ginowan, Okinawa
Location: On Highway 58 about halfway between camps Foster and Kinser. In the same complex as Sam's Anchor Inn restaurant.
Drink prices: $5 for a draft, $6 or $7 for most mixed drinks.
Cover charge: Never.
Food: Everything from awesome chicken wings to quesadillas.
Entertainment: Free pool, karaoke, televised live K-1 fights.
Clientele: Active duty and retired military mixed with locals.
Dress: Hey, like the bar name says, it's up to you.
---
---
---