Bar Sleuth: An American bar in Aviano
by
Geoff Ziezulewicz
March 2, 2006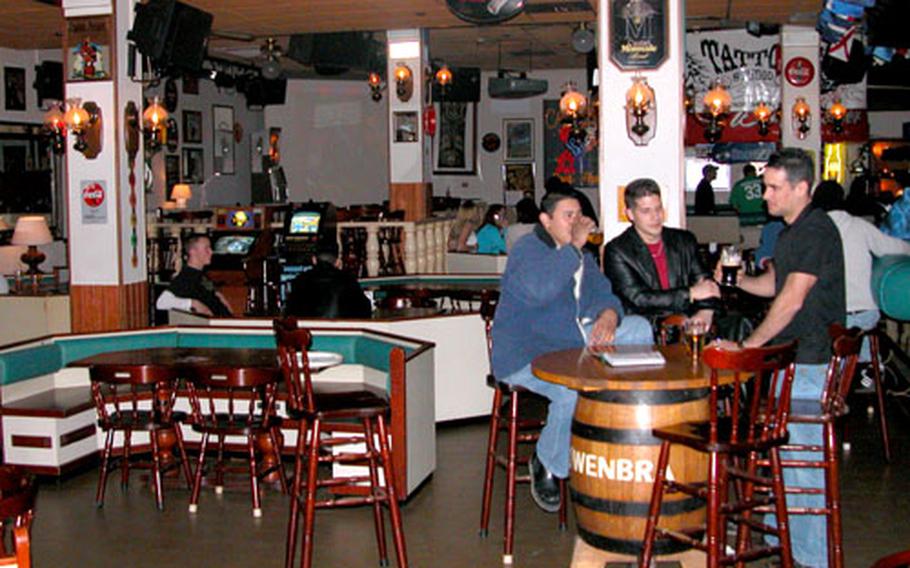 AVIANO, Italy — For many Americans, this small town is the epitome of northern Italian charm. The streets are narrow, the pace is slow and the restaurants are personable and delicious.
But try being an airman here. Better yet, try being a young airman and getting a beer here. A drinker's town Aviano ain't. And while the nearby Aviano Air Base provides plenty for Air Force personnel to do during the day, nocturnal diversions fall short.
But when asked about the local watering holes, those in the know point to the California Beer Parlor, a spacious establishment that gives Americans a place to kick back in an American way.
The bar has been open for about 20 years, said Antonella Pillinini, one of the owners. Decor in the bar has a decidedly American or English twist. Guinness signs coexist with American totem poles, pool tables and slot machines. Beers ranging from Guinness and Lowenbrau to German wheat beers are available on tap. The bar also features a drink called the California Zombie, which has seven kinds of alcohol in it and clocks in at about a liter when juice is added.
"The first owner made it with the American style, he knew of the American bars," she said. "He made it the same way, as a comfortable place."
While the place fills up on the weekends, there are tons of seats and space to mill about with other servicemembers and the occasional local national who stops by.
Pillinini estimated that her clientele is about 60 percent American and 40 percent Italian.
The Parlor features standard bar food and a live band once a week.
"Most of them are rock, sometimes we are doing country music," Pillinini said.
A special van owned by the bar runs from Aviano Air Base to the bar every hour on Friday and Saturday nights, she said.
"This is born for them," Pillinini said of the Parlor and its service to Americans.
On a recent night, while everyone stared transfixed at Olympic figure skating on the bar's big screen TV, Airman 1st Class Desaree Payne was the epitome of cool as she relaxed at the bar sans drink. That night, she was the designated driver for her group.
"It's better on Saturday, because we have more people to hang out with," Payne said. The 20-year-old Colorado native admitted she hasn't done much bar hopping in Aviano, but she likes the Parlor and the middle-age Italian gentleman who works there. "That one Italian guy is cool as hell."
California Beer Parlor
Location: A few blocks east of Aviano's Area Two.
Drinks: A variety of tap beers for about 3 euros, mixed drinks.
Food: Standard bar fare, served with distinctive European touches.
Ambiance: Spacious and relaxed, with nary a hair of pretension. An easy place to walk in and get familiar.
Service: Reliable, familiar and friendly. The patrons seemed to be on a first-name basis with the staff, and drinks were fetched in a timely manner.