Bali Noon Bali Moon in Okinawa City offers a fine taste of Balinese cuisine
---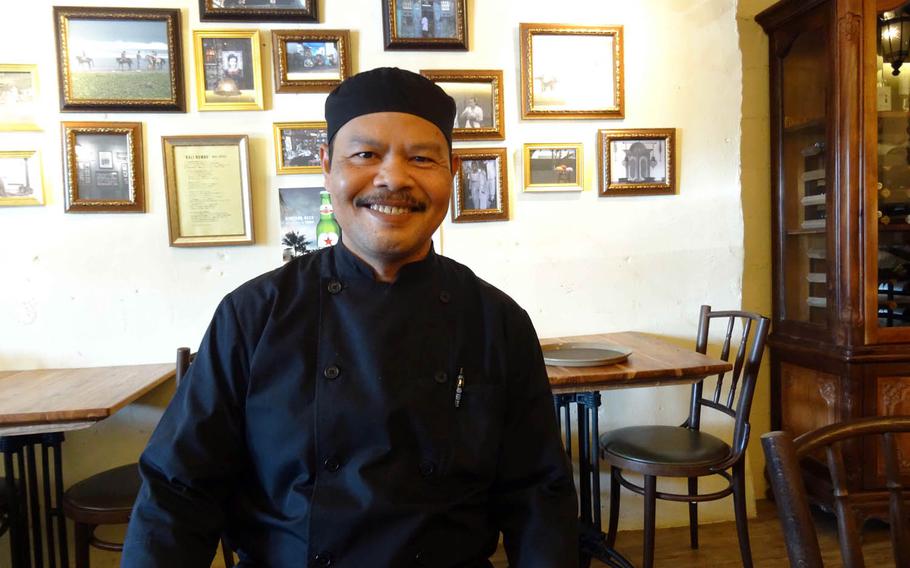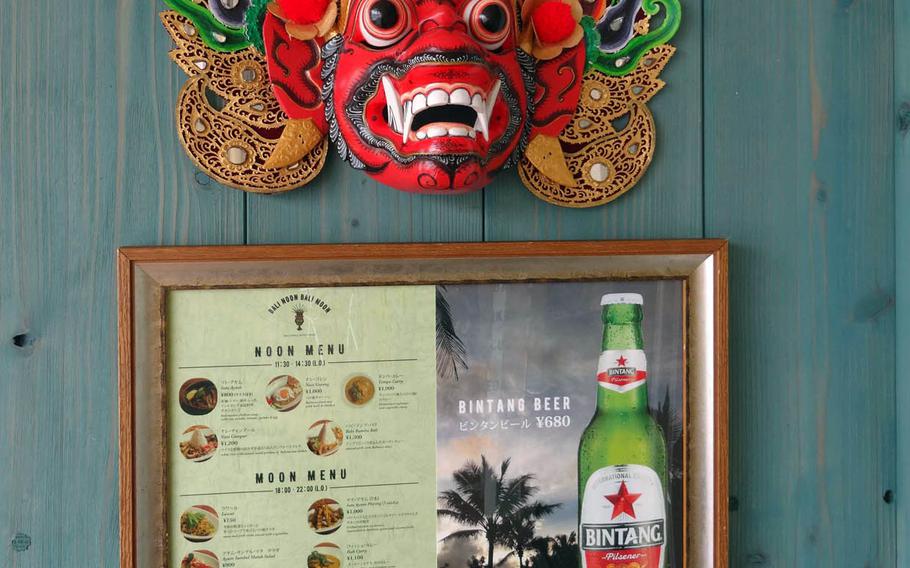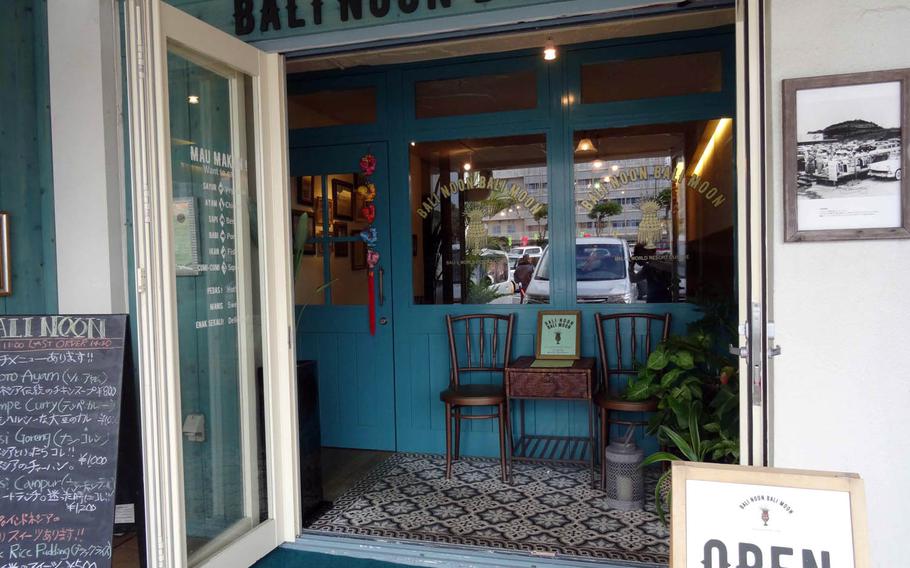 A sure way to learn about any country and its people is to eat the cuisine it takes pride in. My recent visit to Bali Noon Bali Moon, Balinese restaurant in Okinawa City, renewed that belief.
While Okinawa and Bali are about 2,500 miles apart as the crow flies, this neat-looking, cozy eatery offers a great alternative to the Indonesian tourists' paradise.
Bali Noon Bali Moon, which opened a year ago, is a tenant of Plaza Shopping Center, Japan's first shopping mall, built 63 years ago to cater to Americans in Okinawa's military community.
I have to confess, though, that I am not a big fan of spicy food. Still, my curiosity about the exotic island and its cuisine overrode my fear.
The menu was all Greek to me, but the waitress kindly recommended Nasi Campur for a first-timer. This 1,200-yen dish (about $11) is a sampler of Balinese dishes. Timidly, I took a bite of shredded chicken with red paprika. No harm to my mouth; in fact, it was delicious.
I was encouraged to move on to the next item, fish curry, which was tasty, too.
Then the waitress returned with a small jar filled with a reddish sauce called sambal. It sounded too good for me to pass up. But, as I had anticipated, commotion started in my mouth and it cleared my nasal passages. However, I did not regret trying the indescribably deep and rich taste. For those who love spicy, hot stuff, sambal might become addictive.
The restaurant's chief chef, Wayan Purwacita, told me the crucial seasoning for Balinese cooking is Bumbu Bali, a paste consisting of 18 fresh spices, including cinnamon, ginger, cloves, lemongrass, shallot, candlenuts and turmeric. It's no wonder Balinese cuisine is considered one of Asia's medicinal foods.
Purwacita, 50, has worked as a chef for more than 20 years at major resort hotels in Bali, including the Club Med Bali. He also co-owned a restaurant on his home island. His culinary career, however, started much earlier. At age 7, under the mentorship of his grandfather, he began to cook sausages and skewered meats.
In Bali, it is the men's role to prepare food for traditional ceremonies and festivals, and a good cook is admired by the people, he said.
"My grandfather was the best cook with a very good hand to make a perfect mix of spices, and he was well respected in our community," he said.
Here in this small, comfortable restaurant, Bumbu Bali marinated and grilled chicken or pork are served, along with curry and stew. Tempe curry is made with fermented soybeans and vegetable, a good choice for vegans.
"We are ready to customize the dish so that vegetarian people, too, can enjoy our dish," Purwacita said.
Hearing this pleased me because I remembered one of my vegan friends once told me that it is not easy to find vegan-friendly restaurants on Okinawa.
I finished my meal with black rice pudding (500 yen), which I had for the first time in my life, though it had a somewhat familiar taste. It was delicious and soothing like the Balinese music played there.
Visiting Bali Noon Bali Moon turned out to be a treat — and even a brief retreat.
Bali Noon Bali Moon Location: 3-1-12 Kubota Okinawa City, Okinawa. From Kadena Air Base's Gate 2, turn to the right at the Goya Intersection and take Highway 330 as if heading for Camp Foster. Shortly before you reach another big intersection, RYCOM, there is a shopping mall, Plaza Shopping Center, on your left. Bali Noon Bali Moon is in the central area of the single-story building of the complex.
Hours: Open daily. Lunch hours: 11:30 a.m. to 3 p.m. (last order at 2:30 p.m.). Dinner: 6 p.m. to 10 p.m. (last order at 10 p.m.)
Prices: The lunch menu ranges from 800 yen (about $7) for tomato soup and rice to the lunch special set for 1,500 yen. The dinner menu includes grilled chicken or pork priced between 1,000 yen and 1,800 yen.
Dress: Casual
Information: 098-933-1144
---
---
---
---