Bagels in Naples? Yep, and they're good at Hoop Bagel and Salad
---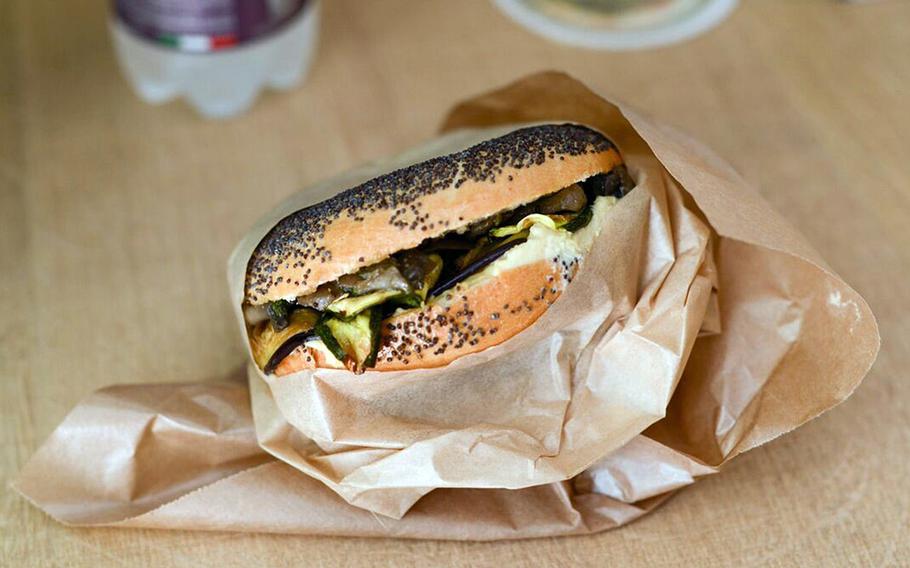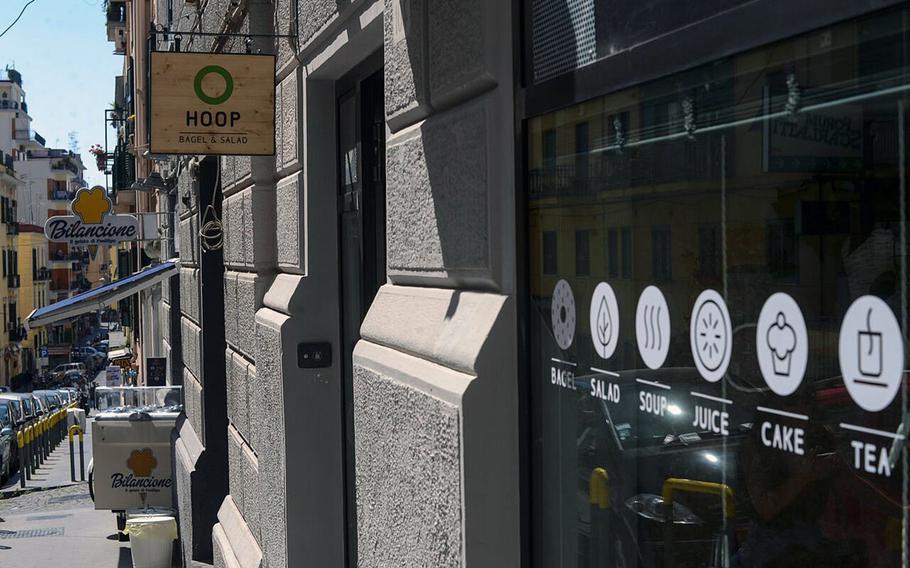 Add bagels to the list of new food offerings in Naples, a city still dipping its toe into non-native fare.
Hoop Bagel and Salad is a self-styled "bagel bar" that opened a month ago in a small, one-table storefront in the middle-class Vomero neighborhood. The reception so far appears positive: The crowd on a recent Saturday afternoon spilled onto the sidewalk.
Hoop isn't doing much unusual by American standards, its bright menu a collection of bagel sandwiches, soups and salads common to the deli counter back home. Yet it's a welcome alternative to the cheesy, fried snacks that often pass for a quick and easy meal in Naples.
Try the Modena, a toasted bagel sandwich with cream cheese, mortadella and pesto made from pistachio. Or the New York, with cream cheese and smoked salmon. Other sandwiches combine fresh ingredients like hummus, eggplant and prosciutto to good effect.
There's a daily soup (on Saturday it was Borscht) and beer on tap. Several fruit juice options are good and fresh; my wife enjoyed the carrot, cucumber and mint. The service is relatively quick, although things can slow down during a crush. Don't expect a place to sit inside; head out to the nearby piazza for benches.
Prices are on the high side for Naples, with each sandwich averaging around 6 euros (just under $7). I'd feel a little better paying a euro or two more if each sandwich came with fries or a bag of chips. But no dice there — I didn't see any small sides on our recent visit.
One final quibble: The cream cheese here doesn't match what you get back home. Fluffy instead of creamy, it barely qualifies as a reminder of the little things from the States.
That's not a complaint, just something to ponder while waiting for a pretty decent bagel sandwich.
Hoop Bagel and SaladAddress: Via F.Solimena 102/104, 80129 Naples
Hours: 10 a.m. to 9 p.m. weekdays, 11 a.m. to 10 p.m. Saturday. Closed Sundays.
Cost: Sandwiches go for about 6 euros (about $6.80), juices about 3.50 euros.
Phone: (+39) 338-525-3216
Online: www.hoopbagelesalad.it
---
---
---
---