'Assassin's Creed: Brotherhood': Roman holiday
by
Brian Bowers
December 3, 2010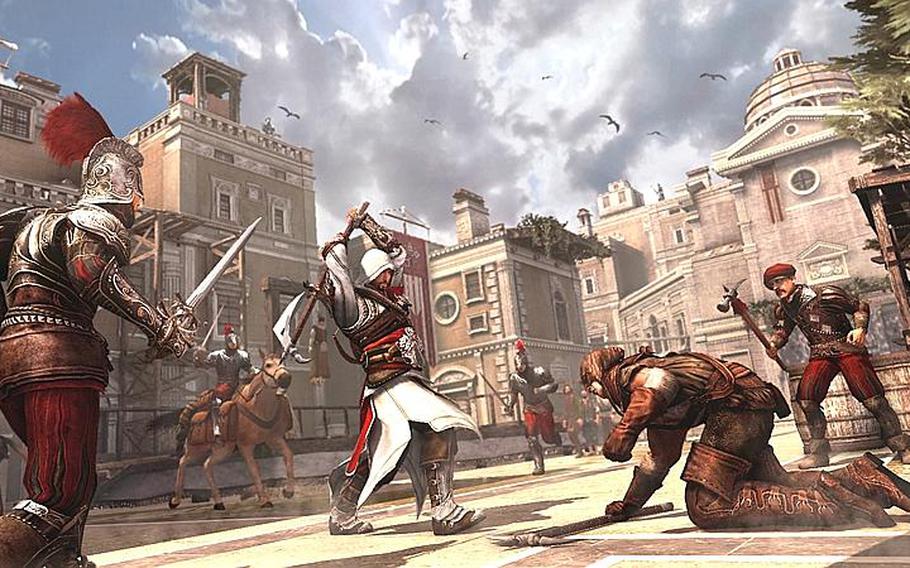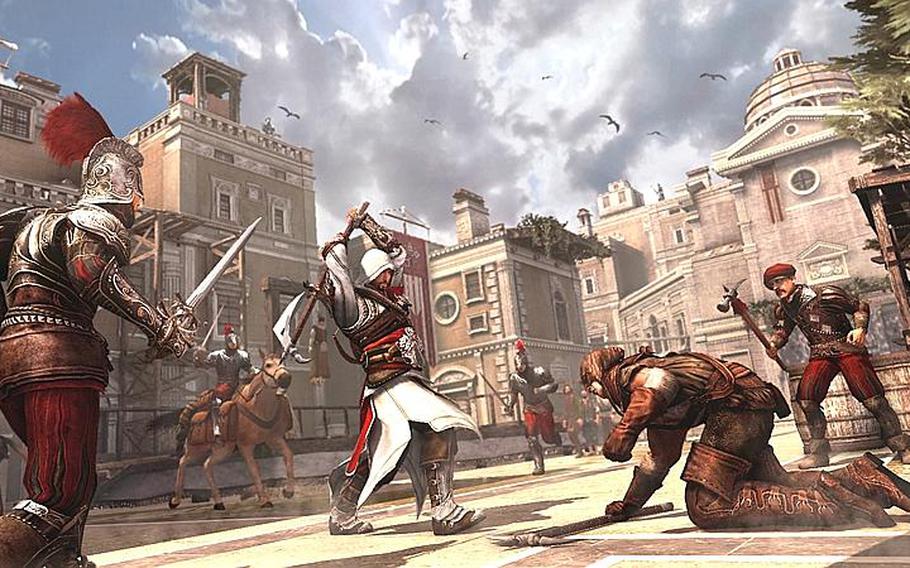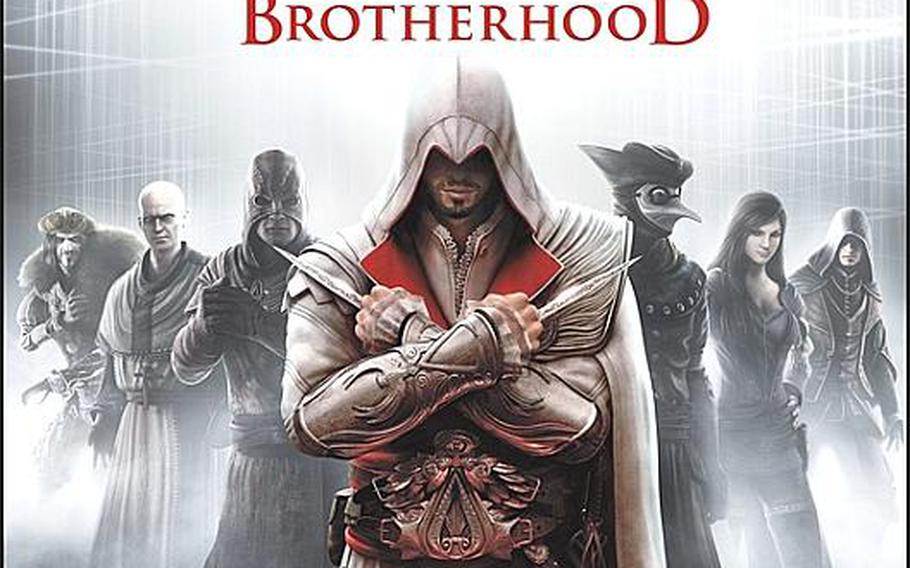 When in Rome, Ezio Auditore does what he does best — dispatches foes with efficiency and a bit of flair.
In Ubisoft's "Assassin's Creed: Brotherhood," Ezio takes the centuries-old battle between the assassins and the Templars from Renaissance Florence and Venice to the Eternal City. And, while the M-rated sequel offers many new options, it still focuses on Ezio's ability to run, jump and climb almost anywhere on his way to a kill.
Ezio's main mission is to reclaim the mysterious Apple of Eden, which has been stolen by the infamous Borgia clan. Before he can accomplish this, Ezio needs to strengthen his allies — the courtesans, thieves and mercenaries — and determine whether there's a traitor in their midst.
As in the previous two "Creed" games, the main character is actually the ancestor of a present-day guy named Desmond Miles. Desmond is strapped into a high-tech gizmo called the "Animus," which allows him to experience the memories of his ancestors. These are being used by present-day assassins to locate artifacts that can help them defeat the evil plans of Abstergo Corp., the descendants of the Templars, Borgias and other nefarious foes of freedom. Although you can pop in and out of Ezio's memories to visit the present — or, actually, 2012 — there's never really much of a reason to leave the Renaissance.
"Creed" veterans will notice quite a few changes.
The game seems to be a bit easier to play than previous editions. The platforming elements — running, climbing and leaping — feel like they've been refined so that Ezio moves more freely and effortlessly. In addition, the game frequently offers a bit of help in the form of falling columns or masonry, which provide easier paths for second attempts at climbing to difficult locations. If you need to travel long distance, you can pop into the Roman sewer system and reappear closer to your destination. If your trip is a bit shorter, you can whistle for a horse, which quickly appears.
In addition to the main mission, the game offers two major side quests and plenty of quick missions from the three allied factions. One major quest involves finding lairs of a mysterious group that wears wolf skins and looks to the legendary hero Romulus for guidance. The others involves seeking and destroying fantastic weapons designed by Leonardo da Vinci, including a tank and glider-bomber that are very fun to use.
Another line of missions involves recruiting assassin trainees. You can then use them to help you eliminate foes, or send them on out-of-town missions that earn you additional cash.
Cash is important because you can use it to upgrade weapons and armor and purchase the deeds to shops, artwork and historic sites.
One of the coolest aspects of the "Creed" series is the settings. The original game offered a glorious depiction of medieval Jerusalem and other cities in the Middle East. The second game offered breathtaking portrayals of Florence, Venice and other Renaissance cities in Italy. "Brotherhood" doesn't disappoint with its depictions of the Colosseum, Castel Sant'Angelo, Diocletian's baths and many other ancient structures. It's a thrill to play in a tremendously detailed representation of one of my favorite cities.
The game is rated M for violence and sexual themes. You might not use their sexual services, but you do spend a lot of time with courtesans and you do have to crash a party with scores of scantily-clad Romans. However, I suspect more people are likely to be offended by the game's unflattering depictions of the Renaissance Catholic Church and other religious themes.
With "Brotherhood," the series also enters the world of multiplayer gaming. It offers several different game styles that involve stalking and assassinating online opponents. Generally, you navigate through a crowded setting, trying to figure out which of the figures is your designated target or a member of the enemy team. It's a much more deliberate game than the frantic shootouts offered by other titles.
Overall, "Brotherhood" is a visually stunning game with terrific game play and plenty of new options. It's a good thing that all roads lead to Rome.
Platforms: Xbox 360 (tested), PlayStation 3
Online: http://assassinscreed.us.ubi.com/brotherhood/