Andria Williams speaks to the heart of military life in novel 'The Longest Night'
---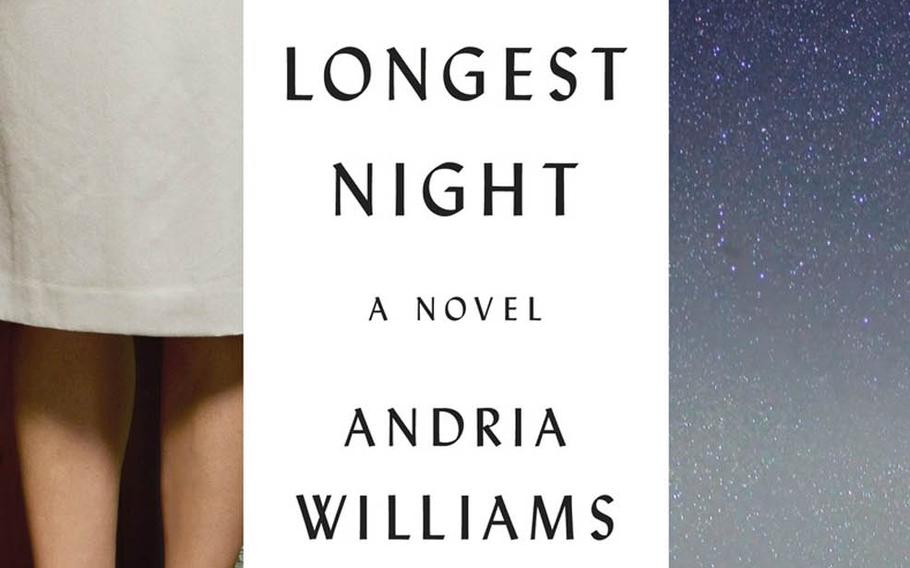 When Nat Collier makes her first appearance, she's headed for the edge of a cliff, and she is a woman on the brink throughout "The Longest Night," a novel by Andria Williams.
Williams is a storyteller with an affinity for doo-wop tunes and forgotten moments in history. Music wafts from the pages as the author builds a fictional narrative around an actual event: the only fatal nuclear disaster on American soil. The 1961 explosion of an Army nuclear reactor, which killed three soldiers at the National Reactor Testing Station in Idaho Falls, Idaho, has all but faded from memory, but Williams brings the event to light and to life through well-plotted fiction, populated with deeply drawn characters.
Nat is a California girl and a free spirit, married to Paul, a soldier from rural Maine, who has rigid ideas about duty and home life. A young wife and mother, Nat is learning to navigate military life, along with her own desires. She is drawn to the unknown and to adventure, just as she is drawn to the rocky cliff as her story opens.
Paul prefers firmer ground, a man driven to create the secure family he never had and to conceal the family he did have. The volatility of the nuclear material he and his fellow soldiers must keep in check mirrors the roiling emotions Paul suppresses and the secrets he keeps.
Williams traces her interest in the seminal story to childhood visits to her grandmother in Seabrook, N.H., home of a large nuclear power plant now defunct.
"On hot summer nights we'd drive out to the Dairy Queen and get our ice cream," Williams remembers. "On the way back we'd always pass this big blinking dome out in the middle of the marsh. As a kid I'd stare at it and wonder, 'Why is it there?' "
Those Dairy Queen trips and her mother's love for 1950's music were the sparks that brought this, her first novel, to life, Williams said. When she discovered the true story of the Idaho Falls accident, she recognized a story that could be rediscovered through fiction. In her hands, the lives of mid-century military wives stationed in rural Idaho are believable and compelling.
Williams' writing is not spare, but she uses nothing extraneous. Each word does the work she put it on the page to do, moving the reader toward total immersion in time and place as events unfold. She doesn't over-explain, even in complex situations and relationships. With a balance of description and restraint, Williams lets the story breathe, allowing readers to make their own realizations about events and the characters.
The author, a Navy spouse, speaks to the heart of military life in any era, when she describes Nat covering her kitchen clock to hide the slow progression of time when Paul is on a remote assignment. Yet, Williams writes, Nat still hears the "dish-cloth covered clock on the wall ticking quiet, desperate seconds."
Williams fully depicts each of her characters and the circumstances that shape their lives. She creates empathy, even with her less savory characters, giving context for their personalities and actions without making excuses for their behavior. Even the man who might be the villain of the piece is shown in his fallibility to be a loving father – and the victim of both his own dishonesty and his wife's low expectations.
"The Longest Night" is a compelling depiction of mundane events on the surface of life and the mysteries simmering just below. It's about disappearing girls, some looked for and some overlooked. The story explores the appearances that are important — particularly in military life — and the pitfalls of believing appearances are all important.
It would be easy for Williams, as a modern military spouse, to be contemptuous of the lives of military wives on the cusp of the sixties; to be dismissive of the supporting roles that were their only choices. In those days, a military career gave little quarter for the personal or professional needs of spouses. Williams doesn't fall into that trap. Instead, her perspective allows the reader to come alongside her characters, meeting them where they live, not looking down at them from a higher plane.
As a military spouse, I found this particularly satisfying. Our way as modern military spouses was paved by thousands of women like Nat, Jeanne, Patrice, and Brownie, who did the best they could for themselves and their families in the social climates in which they lived. They built bridges in their time that we take for granted in ours. Williams' excellent book brings this and other truths to light and will give readers food for thought long after the last page is turned.
Terri Barnes is the author of "Spouse Calls: Messages From a Military Life," and a book editor for Elva Resa Publishing.
---
---
---
---