American muscle on the quarter-mile
by
Steve Mraz
July 3, 2005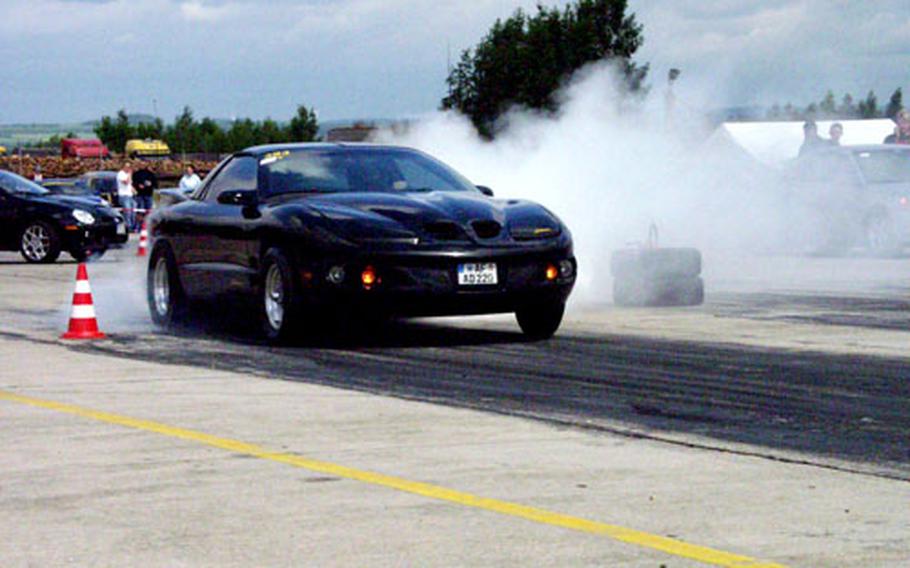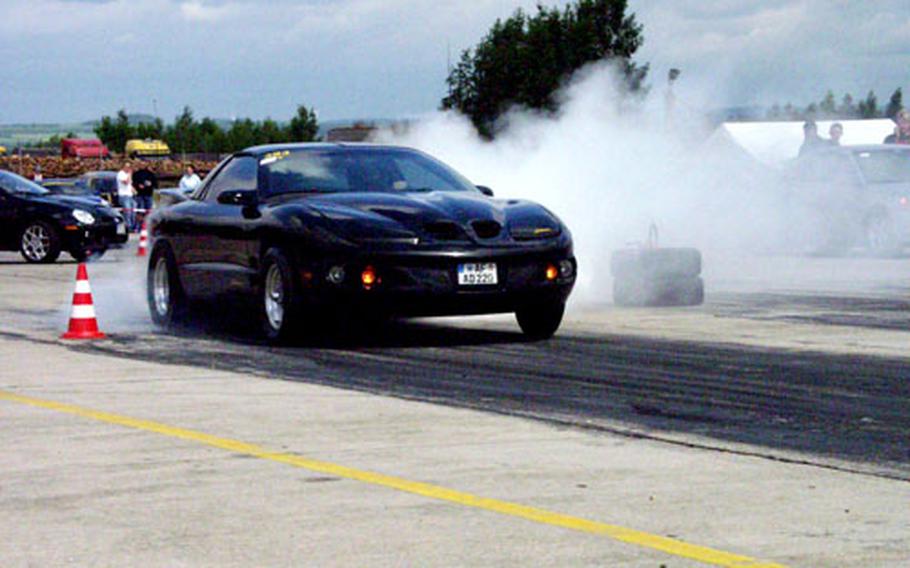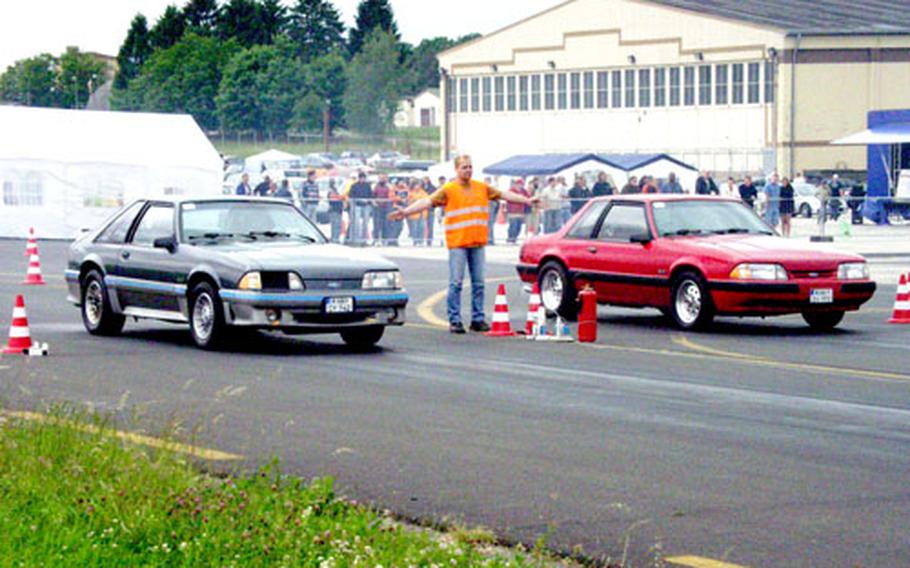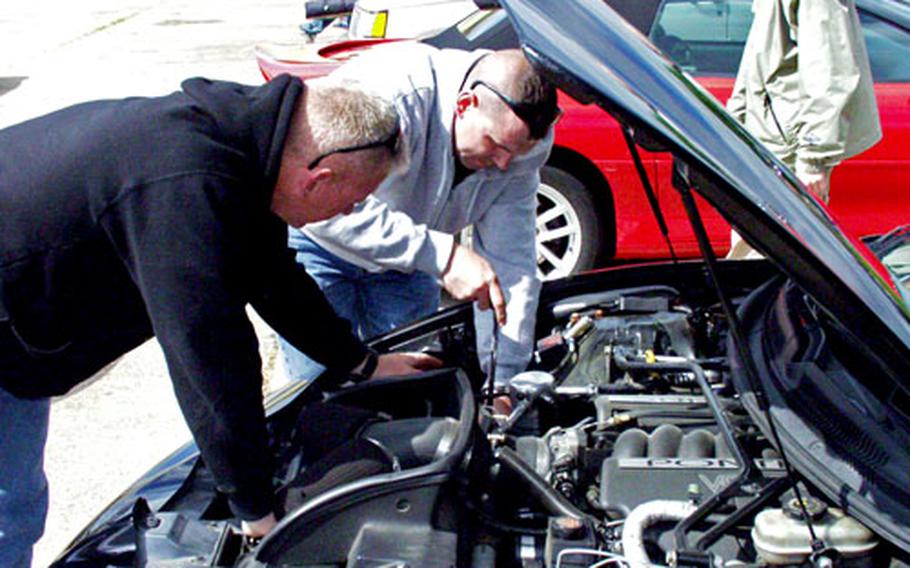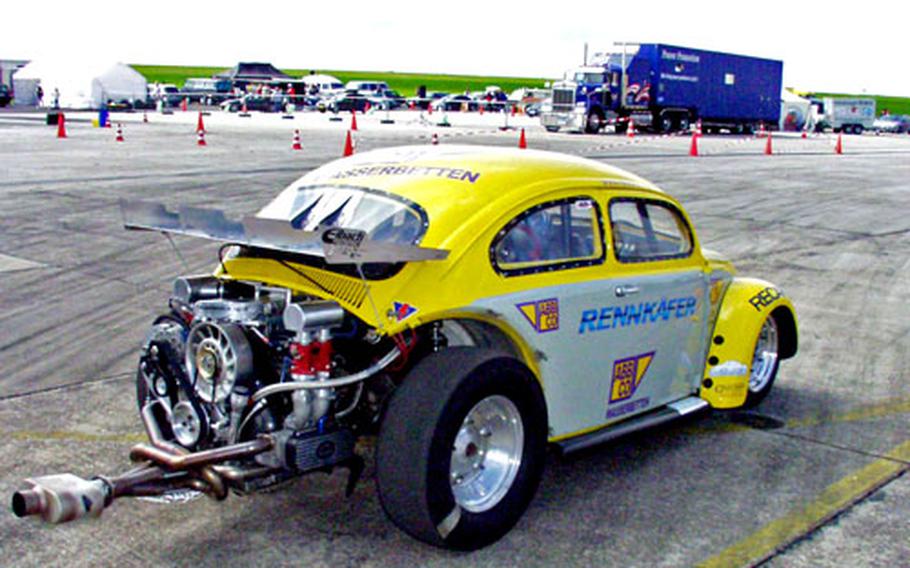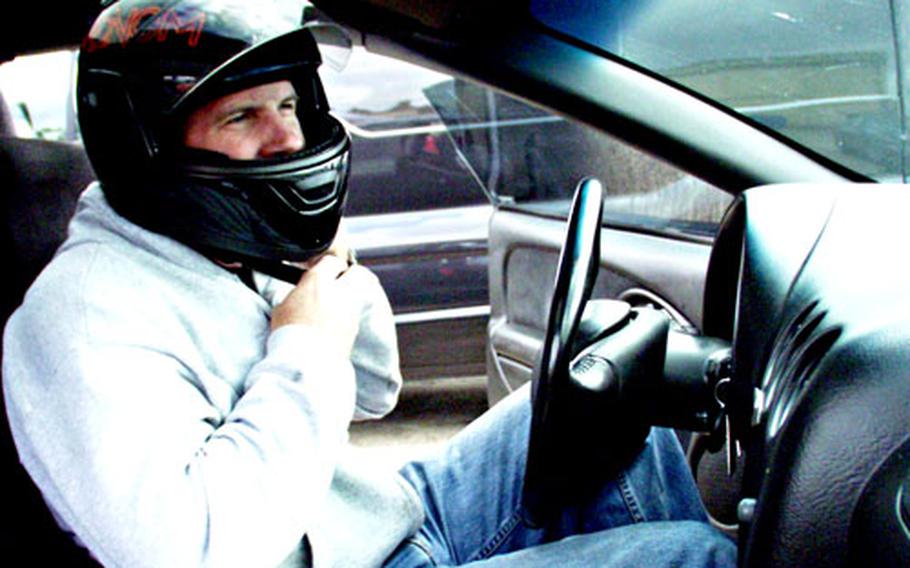 Brutal American power.
In three words and a German accent thicker than the Black Forest, Alex Schmittner described why Europeans drove hundreds of miles last month to see, hear, smell and — in some cases — feel American-made muscle cars drag racing.
Of course, the Germans, Belgians, French and Luxembourgers, who journeyed to Bitburg airport — a former U.S. Air Force base in western Germany — for two days of drag racing, also came to see their brethren zip around in Volkswagens, Audis and BMWs.
But there's something about a VW bug resting at the starting line that doesn't shake you to your marrow like a red, white and blue road beast smoking its tires and vanishing into the horizon.
That's what Schmittner summarized so concisely with his comment about brutal American power. In drag racing, Camaros, Mustangs, Trans Ams, Corvettes and their super-charged siblings have earned a worldwide reputation.
And on a cold, windy Saturday, a crowd of a few hundred gathered around a taxiway off a Bitburg runway for the chance to pay their respects.
The engine killerAround the drag strip, Master Sgt. Bruce Sweeney with the 615th Military Police Company in Grafenwöhr, Germany, is known as Hawk. Around the repair shop, he's known as Engine Killer for the three engines he has blown racing.
By the end of his first race Saturday, Sweeney would live up to his engine-killing moniker.
In the lead-up to the day's warm-up runs, Hawk tinkered with his engine and talked with his buddies about changes he could make to produce more speed for a car that is capable of reaching 180 mph.
Able to generate 600 horsepower with nitrous oxide, his 2000 Pontiac Firehawk was one of the most-anticipated cars at the event. Unfortunately, his weekend of racing would last fewer than 15 seconds.
As the drag racing began, hot, new European and Japanese cars hummed and whizzed off the starting line evoking memories of "The Fast and the Furious," the 2001 movie that helped popularize import car racing and modifications.
Then came Hawk's turn to fly, and everyone watched.
With only 11 pounds of air in each of his rear racing slick tires, Hawk sent a cloud of tire smoke across the crowd after heating up his tires in the burn-out zone. He eased his Firehawk up to the starting line for the quarter-mile run opposite a Honda that might as well not have even been there.
As the lights on the "Christmas tree" starting grid clicked green, Hawk slammed on the gas. Both front tires lifted off the ground. A deafening screech filed the air along with more tire smoke.
"That's our crazy American," said race starter Rick Castille without missing a beat.
Hawk sped down the track, but as he hit third gear, something went wrong. He glanced in the rearview mirror and saw white smoke billowing out of the exhaust. Hawk knew his car had problems, and his race was finished.
Not until he was towed back down the track and into the pit area did the crowd learn the same.
"It'd be cooler if I could do it all weekend," said the Engine Killer. "Oh, well."
From Florida to GermanyThe fact that U.S. servicemembers and Europeans find themselves drag-racing down an airport taxiway in the extreme western reaches of Germany is the result of Silke Beer's trip to the United States in 2001.
Castille, a lifelong drag-racing fan, took Beer to a drag racing event in Crestview, Fla., a speck on the map in the state's panhandle that has more in common with Alabama than the Sunshine State.
Castille prefers pure, old-fashioned drag racing to NASCAR, or Formula One racing. "It's the nostalgia of the cars," he said. "They don't have the technology involved. It's old school, and I'm old so I like it."
Once Beer, a native of Germany, got a sampling of the American dragsters, she was hooked.
She returned to Germany with a vision of organizing racing events. She bought some equipment and made other pieces necessary for drag racing, including the starting lights and timers. She rents the taxiway from the airport.
In 2003, Beer organized her first event. Since then, she's had six events each year. This year's remaining four are scheduled on weekends in July, August, September and October. Last year, about 2,500 spectators attended the August event, she said.
Events begin Friday evenings and continue through Sunday afternoons with inspections, time trials, fun races for children and bracket eliminations.
For those not into the sheer speed of drag racing, events also include slalom racing, which involves navigating around obstacles and negotiating curves. The top three finishers in each division are awarded trophies, not money.
And that's fine with those involved. The races are more about bragging rights and having a slice of Americana in a far-off land than about cash.
"I just want to provide something for the U.S. soldiers stationed here so they have a little piece of home," Beer said. "It's just fun."
---
---
---
---