American contractor in Kuwait doesn't let location keep him from fishin'
---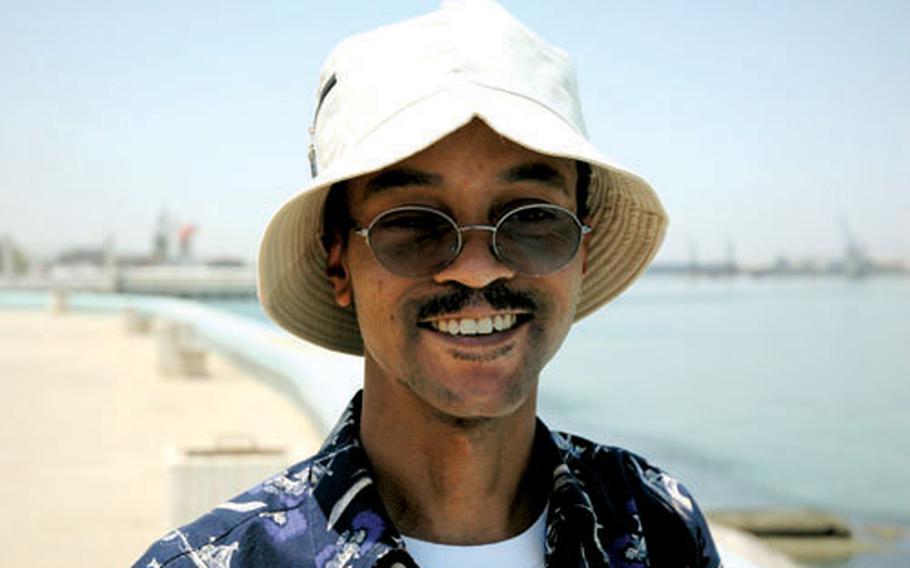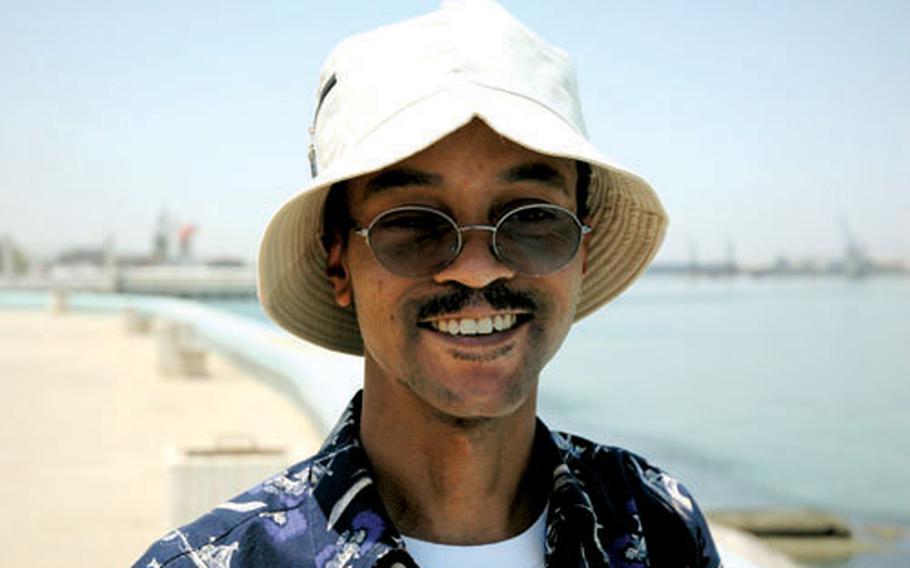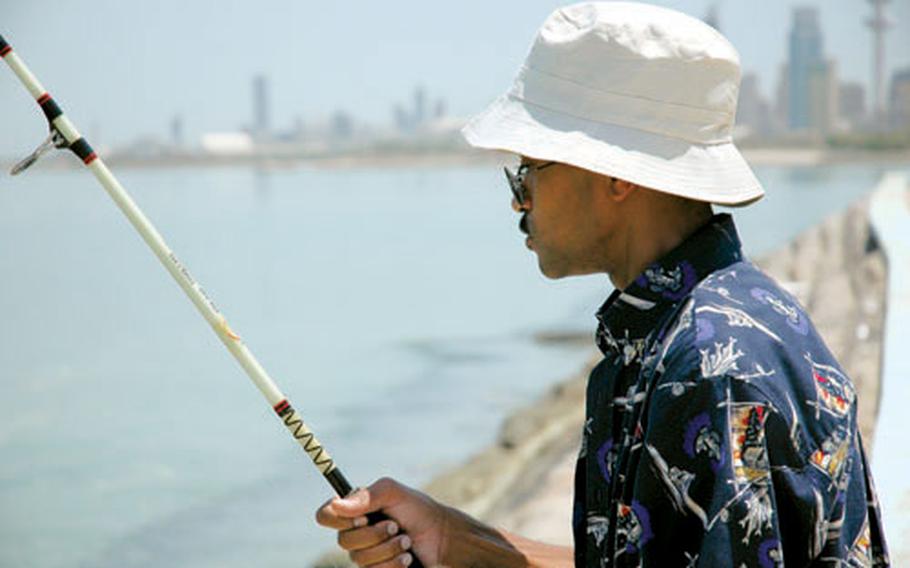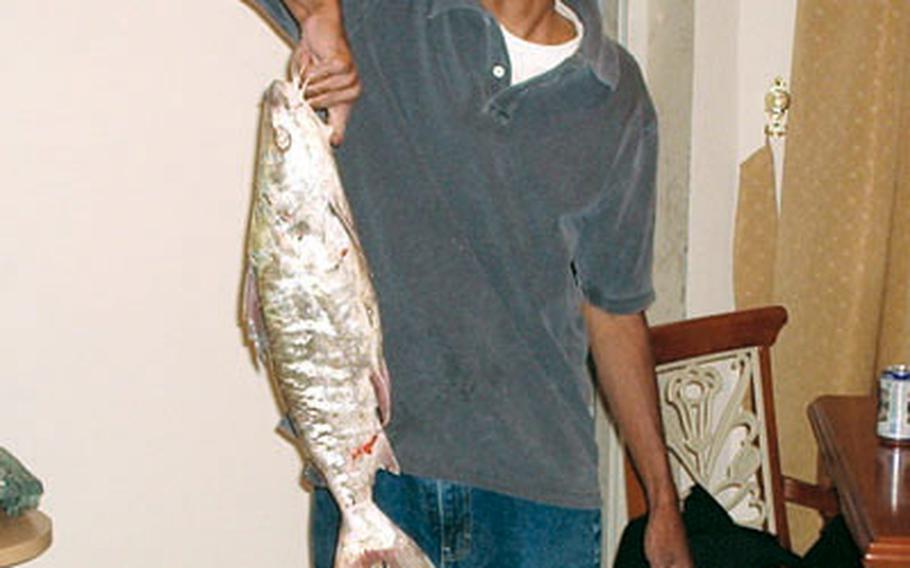 Brian Quarles lives by one simple mantra.
"I see water. I see fish."
The New Jersey native, now in Kuwait for two years as a contractor at Camp Arifjan, says he has been fishing all his life.
Actually, fishing, Quarles makes clear, is his life — a hobby turned passion when he was barely old enough to walk and his grandfather took him to the ocean in Virginia to "teach me the basic tricks of the trade," he says.
Now fishing in Kuwait, Quarles has found, is no disappointment. The country thrives on fish, the main source of both food and income along its 180-mile coastline. Annually, fishermen here haul in more than 8,000 tons of seafood, and Quarles, 38, and his friends, all contractors, have made it a priority to make sure they bring home their fair share.
Of course, they've had to make a few concessions.
There is no such thing as spending a lazy summer day fishing in Kuwait. Summer temperatures surge to 120 degrees and above, so Quarles prefers to fish in what he calls the region's "Indian summer," March through May when the heat is bearable.
His favorite spot is anything but hidden — a concrete, seaside walkway near Shawaikh Port in Kuwait City.
Sometimes it's not the heat that drives Quarles away, it's the local children who try to make off with his poles after he leans them against the seawall.
"It's just too irritating," he says with a sigh. "We usually have to pack up and leave."
After finding a quiet, and deserted place to fish, there are two tricks to the trade, he says.
The first is squid, squid and more squid. That's the secret to catching just about anything.
"Everything out there bites squid. Squid is your secret," says Quarles, who buys it at the local fish market, the same place he bought all of his gear.
Second, cast far, as far as you can muster. The fish, at least the big ones, cluster around a dropoff, roughly 75 yards from shore. And whoever casts the farthest, gets the fish.
"I had a friend, you would think he was in the Olympics, he would take a running start, had a long surf pole and just threw it out there," Quarles said.
"I just cast and hope I get something," he adds, grinning.
Quarles says he's caught several 10-pounders that look a lot like freshwater catfish, except that they are beautiful. The fish glitter in the sunlight and change colors, from pink, to silver, to blue, much like they have a mother-of- pearl coating.
And, they're delicious.
"They're better than American catfish because they're saltwater," he says. "I guess the saltwater seasons 'em."
Quarles and his friends have also caught what they believe was sea trout, the best tasting of the fish they've caught, and an ugly, 4-foot-long creature that looked like it had the head of a string ray and the body of a shark.
"We were scared of it," he says. "We held it down with the net and tried to take the hook out and send it back."
Quarles later learned that the creature, actually a fish and not a ray or a shark, was a type of tasty and award-winning trophy fish.
Today, he's firmly planted in his favorite fishing place. It's early enough and hot enough that the kids who run off with his poles are nowhere to be seen. He's donned his dark blue "fishing shirt" decorated with — what else? — fish.
It looks like he can barely see out from under his floppy, beige fishing hat, but he's watching the waves, closely.
Beneath the seawall where his pole rests, a thick vein of water, darker than the rest, rushes past — a giant school of fish, Quarles explains. There are a few splashes. If you turn quick enough, you can see something plop out and then back into the waves.
Despite the activity, the line on Quarles' pole is still limp. But he can wait.
"This is what I love about it," he says. "My grandpa taught me patience. You can sit out here and gather your thoughts. I'm the type of person who can go out and fish all day and not catch anything but still be happy.
"But when I do catch something, it's a natural high," he says. "I don't care if it's a guppy. Your adrenaline gets flowing, and when you're reeling 'em in … it's awesome."
Good eatin'
Brian Quarles' favorite fish recipe, for catfish, or anything else he catches."
Catfish, both freshwater and saltwater, have an underside that is all dark meat. So when you skin them, and cut a filet off, leave the dark part off. Only cook the white meat.
Soak the filet in milk overnight — this takes away what Brian calls the "murky taste."
The next morning, season the fish to your taste, and dip in batter. Brian's batter is ¾ cup flour and ¼ cup cornmeal, seasoned with salt.
Dip the filets in the batter, and fry until golden brown.
---
---
---
---