'Ambush Alley' lives up to 'extraordinary' claim
by
Jason Chudy
October 9, 2005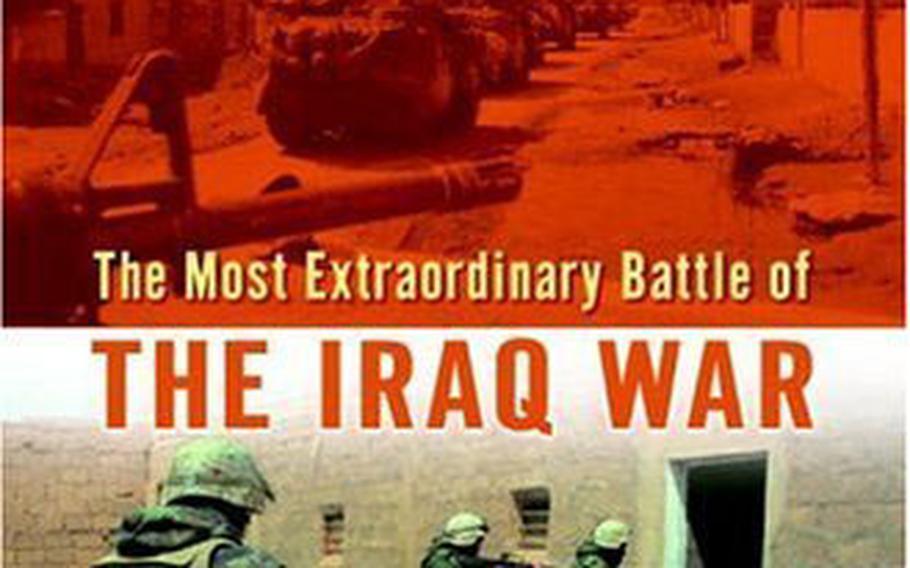 Tim Pritchard makes a weighty claim by entitling his latest book "Ambush Alley: The Most Extraordinary Battle of the Iraq War."
With large, multiple battalion fights like those in Najaf and Fallujah last year alone, it might seem that Pritchard and publisher Presidio Press took a little artistic liberty by labeling the daylong battle between 1st Battalion, 2nd Marine Regiment, and Iraqi fighters on March 23, 2003, as the "most extraordinary battle" of the war.
But by the end of the nearly 300-page book, there's little doubt that "Ambush Alley" lives up to the "extraordinary" title.
Pritchard skillfully weaves the words and thoughts of Marines ranking between private and general to walk readers through an 18-hour period in which the actions of this Marine battalion is turned from providing an offensive tip-of-the-spear punch to being forced into a defensive fight for battlefield superiority in literally a short few minutes.
This change comes not from the strength of the enemy reaction alone, but additionally from the discovery of the remnants of an Army maintenance company that was ambushed in Nasiriyah. Then-Pfc. Jessica Lynch was a member of this company.
Pritchard thankfully only mentions Lynch's name once in the body of the book, using it to put the company in perspective, as many readers probably wouldn't recognize the unit designation — the 507th Maintenance Company — without her mention.
But this book isn't about the Army company; it's about the Marines and their bravery and adaptability in a battle that they weren't expecting to fight.
It's also about the day in which this battalion suffered 18 men killed and more than 55 wounded — many of which were caused by American fire — and was the deadliest day of the war for U.S. forces.
Pritchard balances the Marines' personal backgrounds with their day-of- battle dialogue and the overall historical picture of this fast-paced conflict in a way that might be tough to follow for those who have never worked with the U.S. military in a combat environment.
Pritchard himself was wounded by a roadside bomb in Baghdad six months later as he patrolled with U.S. troops, so he had an understanding of the nastier side of combat that, thankfully, many people won't ever experience.
The book explores the thoughts, feelings and actions of individual Marines and reads as more of an action- thriller than history of this battle.
But although the action is the main pull, it's the thoughts and dialogue of the Marines before and during the battle that really carries "Ambush Alley."
Pritchard also makes clear Napoleon's case that an army marches on its stomach, with descriptions of how, before the battle, the Marines bickered and bartered inside their assault amphibian vehicles based on what type of meals, ready to eat, they pulled out of the box.
He also makes the case that a modern army also marches on a full tank of gas, as the battle's early dynamic being heavily influenced by the need for its Abrams tanks to back out of the fight to refuel.
Pritchard also graphically illustrates how the fog of war directly caused the deaths of up to 10 Marines who were attacked by American aircraft. "Ambush Alley" realistically shows how too much communication, not enough communication and communication equipment breakdowns brought on the fog that led to the deaths.
But despite this fog of war, Pritchard accurately explains how small groups of Marines turned to their training, breaking themselves down into smaller and smaller fighting units rather than just breaking apart, as their command and control quickly fades away.
Both the writing style and the chaotic ferocity of the Nasiriyah battle are reminiscent of Mark Bowden's "Black Hawk Down," and late in "Ambush Alley" Pritchard writes about soldiers' worries that their coming change of fighting positions would be like the running street battle in Mogadishu, Somalia.
Like "Black Hawk Down," "Ambush Alley" is a hard book to put down. Those dog-eared pages that I made were more from the exhaustion brought on by trying to digest the battle's ongoing action rather than a desire to get up and do something else.
And whereas the soldiers from "Black Hawk Down" and Jessica Lynch have already had their 15 minutes of fame, one can hope that Pritchard's "Ambush Alley" is only the first time these Marines will be in the public eye. The rest of the attention should be doled out by movie directors and Marine Corps historians alike.