Alsace: French region yields fresh, fruity wines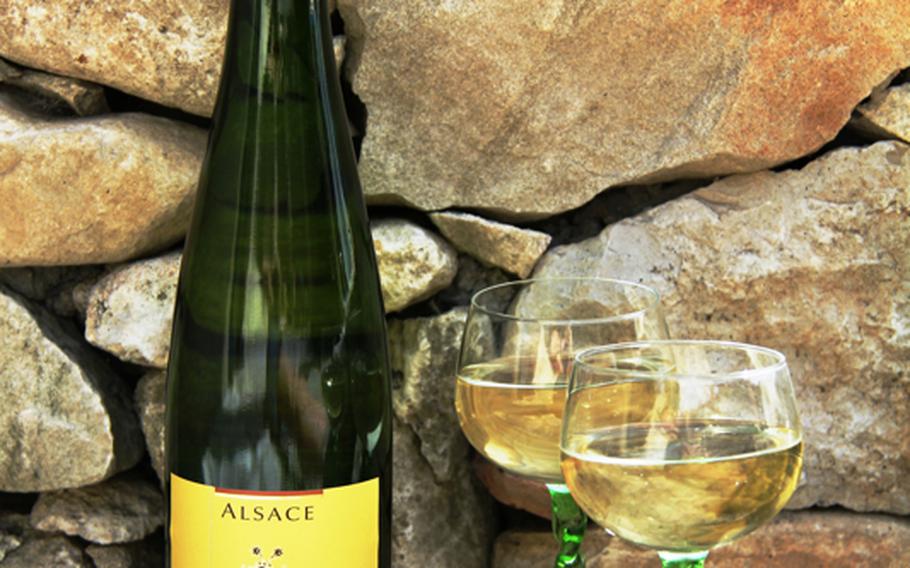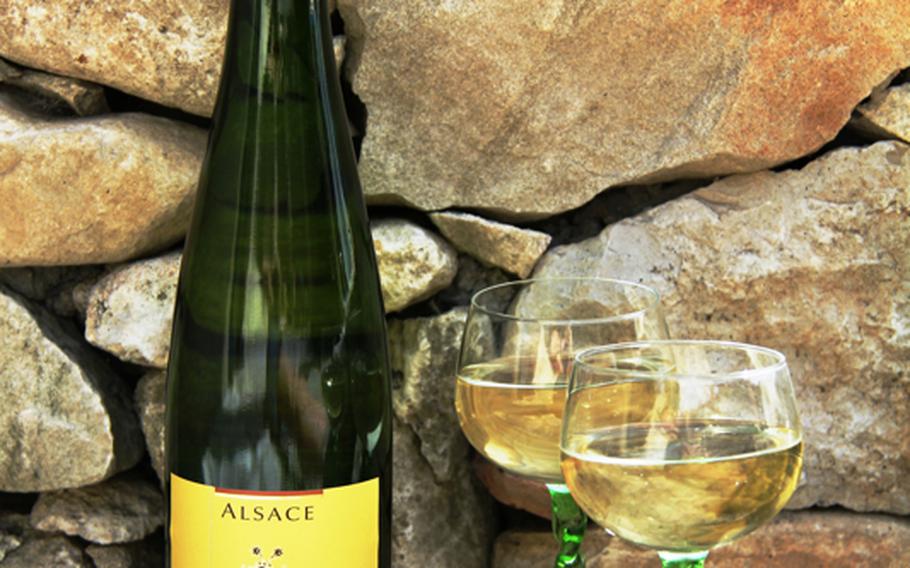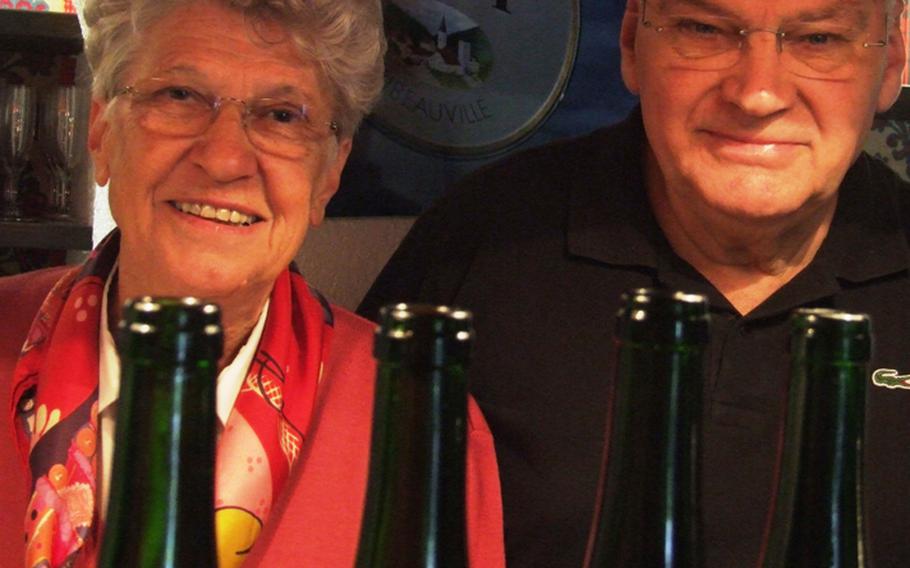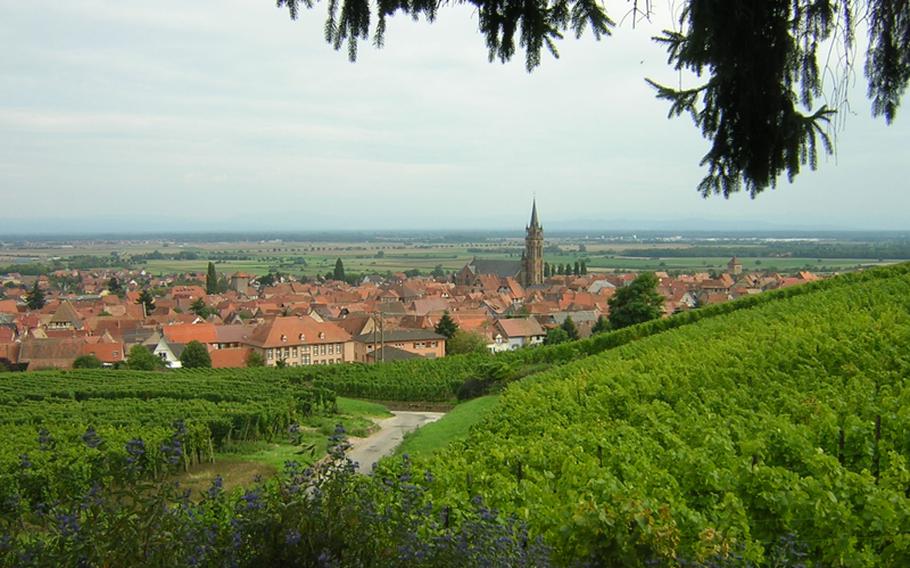 "It's hard to find a bad wine in Alsace today," Thierry Gilg said as he served samples at his family's winery in Mittel- bergheim, a town on the wine route in eastern France.
I would agree. My husband and I traveled along the Alsatian wine road last spring and stopped for many a degustation (tasting). Wineries along the route often display signs, beckoning passers-by to stop for a sip or more. In warm weather, wine-tasting tables often are set up in the pretty courtyards of half-timbered houses owned by vintners. Wooden wine barrels, old wine presses and hanging geraniums decorate the courtyards and create the perfect ambience. Keep in mind that tasters are expected to buy at least a few bottles.
Alsace is an ideal place to intersperse travel with wine tasting. Its wine road, the Route du Vin, extends 105 miles from near Strasbourg in the north to Thann in the south, almost at the Swiss border. It twists through a rolling landscape of vineyards stretched along the foothills of the Vosges mountains, from one charming village to another.
You could tour the area in a day, but that would be a pity. It's best to drive through the region at a leisurely pace and linger.
We lingered in Mittelbergheim where Gilg, whose family runs the Domain Armand Gilg, told us that 20 years or so ago, there were many Alsatian vintners producing mediocre wines. But, he says, climate change has made it easier for all to produce quality wines.
"Grapes look for sun and warmth. They ripen earlier now. We gain a month," he explained.
Alsace produces mainly white wines, both dry and sweet, although the majority are dry. They are made primarily from aromatic grape varieties.
"Our wines are different from the other white wines of France, such as Burgundy and Bordeaux," said Simone Sipp, who runs a winery called Louis Sipp with her husband in Ribeauvillé.
"Our grape varieties are fresher and fruitier, and we make our wine in a different way. Our grapes are all cultivated by hand. Very little wine in Alsace is aged in oak."
The main Alsatian grape varieties are Riesling, Pinot Blanc, Sylvaner, Muscat, Pinot Gris, Pinot Noir and Gewürztraminer. The wines generally are named after the grape variety from which they are produced.
Alsatian dry Rieslings are some of the most noted in the world. Gewürztraminer, another renowned Alsatian wine, is characterized by the Conseil Interprofessionnel des Vins d'Alsace (regional wine body) as "intense, complex and offering an explosion of exotic fruits and spices." It's more expensive than most of the others because the grapes are tiny and fragile, yielding less juice. Edelzwicker is an Alsatian wine blended from several varieties.
For historical reasons, Alsatian wines have a strong German influence. During the past 100 years, Alsace went from France to Germany, to France to Germany, and finally back to France again. Some say the region has a German character with a French soul. Its two most important grapes, Riesling and Gewürtztraminer, are German.
The Pinot Noir grape produces the red wine of Alsace, which is pale in color and usually classified as a rosé. The Alsatian sparkling wine is Crémant d'Alsace, produced with the Champagne winemaking method, and can be produced from several grape varieties.
The climate and soil in Alsace are ideal for producing fine wines. To the east beyond the Rhine River, the massive Black Forest protects its towns and vineyards from the bleak east winds. To the west, the Vosges mountains provide a barrier to the Atlantic storms that sweep across northern France. Alsace is one of France's sunniest wine regions with a warm, dry, semi-continental climate. Its vineyards are situated on foothills, taking advantage of maximum exposure to the sun.
Alsace's wine culture dates to Roman times. By the end of the first millennium, 160 Alsatian villages were cultivating vines. And during the Middle Ages, its wines were among the most highly prized in Europe.
Alsatian wines are labeled Appellation d'Origine Contrôlée (certificate of origin), or Alsace Grand Cru Contrôlée. The latter is used to designate a wine from a specific vineyard site with lower than average yields and strict vineyard cultivation rules. There is a third label for the sparkling wine: Crémant d'Alsace Contrôlée.
The wines should be served cool but not chilled (45-50 degrees F.). They should not be stored in the refrigerator as it may spoil the bouquet. In Alsace, the wines are served in special glasses: tulip shaped with a rounded bowl and long, colored stem.
The wines are best drunk young, from six months to five years. Sipp pointed out that a good-quality wine can rest for three to four years, giving it time to develop.
A drive along the wine route can be enriched with a stop for a hike in the vineyards. Marked trails plunge deep into the vine-covered slopes, offering wonderful photo opportunities, as well as the chance to see vine cultivation up close. There are 26 trails in the region, and each has informative signs explaining the work of the winegrower and the character of each grape variety.