After Hours: Zum Domstein in Trier, Germany
by
Kevin Dougherty
December 7, 2011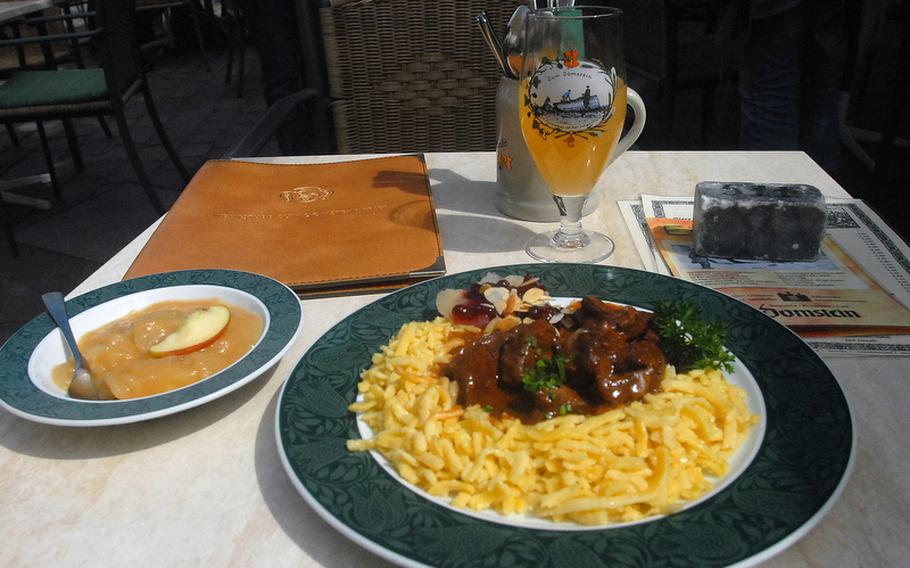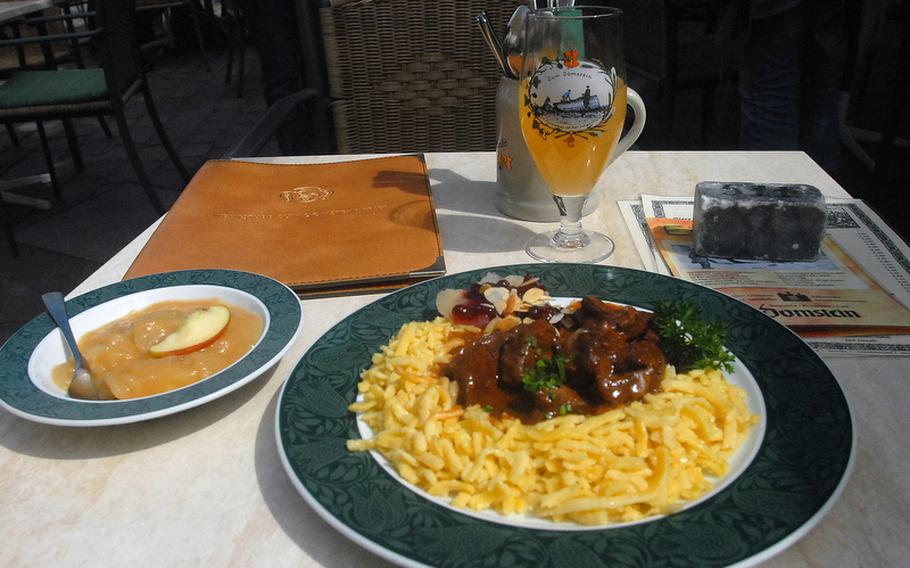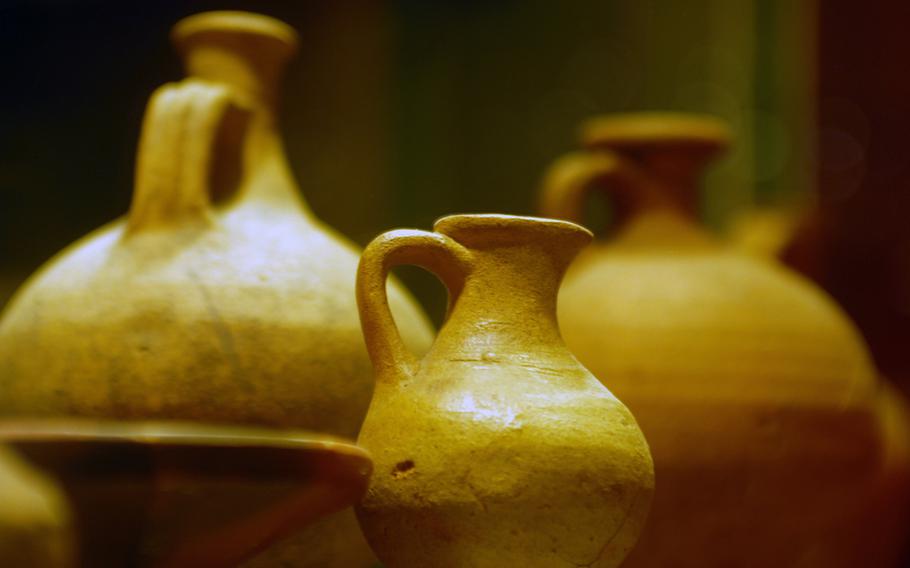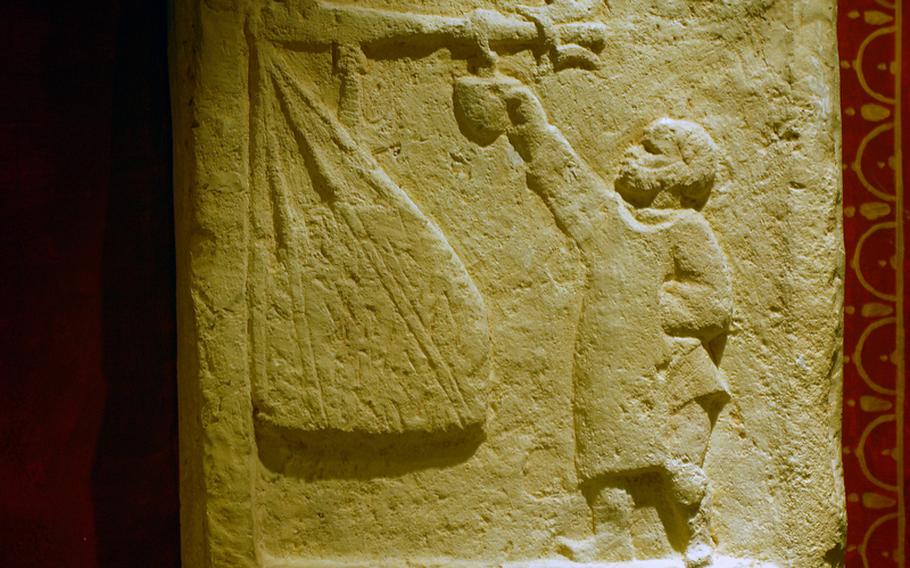 Though necessary to life, it was the ancient Romans, perhaps more than anyone before them, who came to view food as a means to enhance the daily routine.
They are credited with compiling the first cookbook and, fairly or not, associated with gluttonous feasts.
So for some people, the chance to sample dishes not unlike those that once graced Roman tables of yesteryear is an appetizing prospect.
In the heart of Germany's oldest city, Trier, Zum Domstein regularly offers evening meals prepared from authentic Roman recipes, said restaurant manager Thomas Lohr. It also serves traditional German food and has a popular wine bar.
The establishment was constructed 150 years ago — unknowingly — over a Roman cellar nearly 1,700 years old. Part of the cellar now is used as a dining room for parties and special occasions.
The cellar, or basement, displays one of the largest private collections of Roman artifacts, certainly in Germany, Lohr said. Among the items on view are bottles, pottery, vases, lamps, mirrors, coins and stone relief sculptures, all discovered during a past renovation. Most of the sculptures are replicas, but a few are authentic Roman works.
While the artifacts are quite interesting, "it's the Roman food that attracts most of them," Lohr said of his patrons.
An edible experience at Zum Domstein could start with a Roman aperitif of dry wine, honey and spices followed by an appetizer of green beans and sausage flavored with pine kernels. Main courses run the gastronomical gamut, from chicken in a sauce seasoned with fish guts to a cut of lamb bathed in herbs, wine, onions and dates.
Situated on Trier's main square, the restaurant uses Roman recipes attributed to Marcus Gavius Apicius, the first culinary gourmet of historical note. The meals are prepared in a second, specially equipped kitchen, Lohr said.
Though Zum Domstein enjoys special notoriety for its Roman cuisine, Lohr said the soul of the place remains its German offerings.
Zum Domstein also has an extensive collection of wine from the Mosel and Saar regions. Some of the bottles are on display in the basement, and wine tasting events are common.
"The wine is mostly from small, private vineyards in the region," Lohr said.
Zum Domstein has two areas — in front and out back — for outdoor dining. When the weather isn't agreeable, the interior is as good a place as any to stay warm and dry, with a stately yet rustic look that is emblematic of an old German restaurant.
If you goLocation: Hauptmarkt 5, D-54290 Trier, on the main square in the oldest part of the city.
Directions: Situated along the Mosel River in the older section of town, or "Altstadt," Zum Domstein is best reached on foot since it's located in a pedestrian zone. There are parking garages and various means of public transportation, particularly bus. The main autobahns feeding into Trier are autobahns 1 and 64, with highway 602 running directly into the center of the city along the Mosel. Follow signs to Centrum and parking near the Hauptmarkt.
Hours: Breakfast served from 8:30-11 a.m. to 11. The regular kitchen opens at 11:30 a.m. and closes at 10 p.m. The Roman kitchen is available from 6-9:30 p.m, or can be ordered in advance for lunch.
Food: Traditional German food plus an assortment of dishes prepared using authentic Roman recipes.
Prices: Moderate. A regional dish of potato dumplings stuffed with meat and a green salad cost 9.40 euros, while a plate of venison in juniper sauce and German noodles (Spätzle) goes for 16.80 euros.
Dress: City casual, with no sports caps or offensive T-shirt.
Contact info: Call (+49) (0)651-74490 or visit www.domstein.de (also in English)