After Hours: Yoogane in Pyeongtaek, South Korea
by
Franklin Fisher
June 11, 2010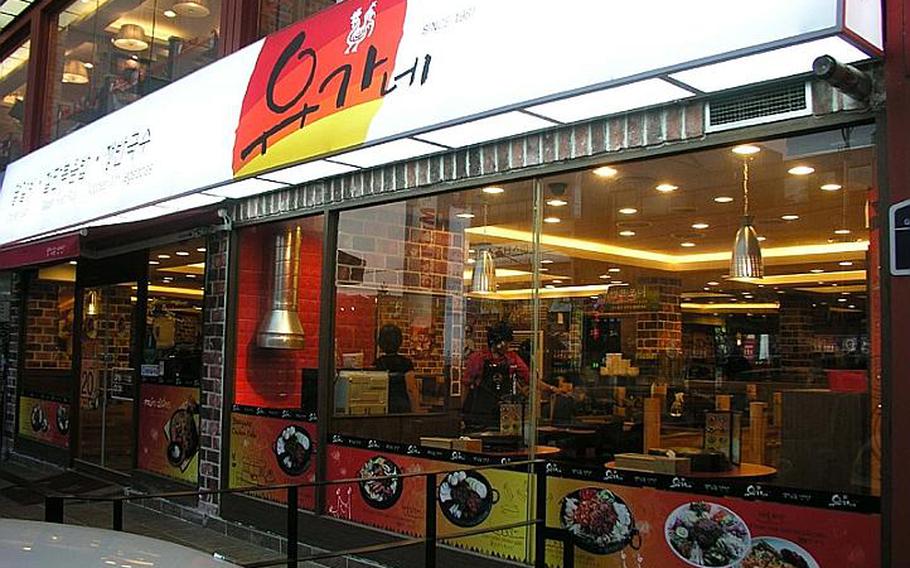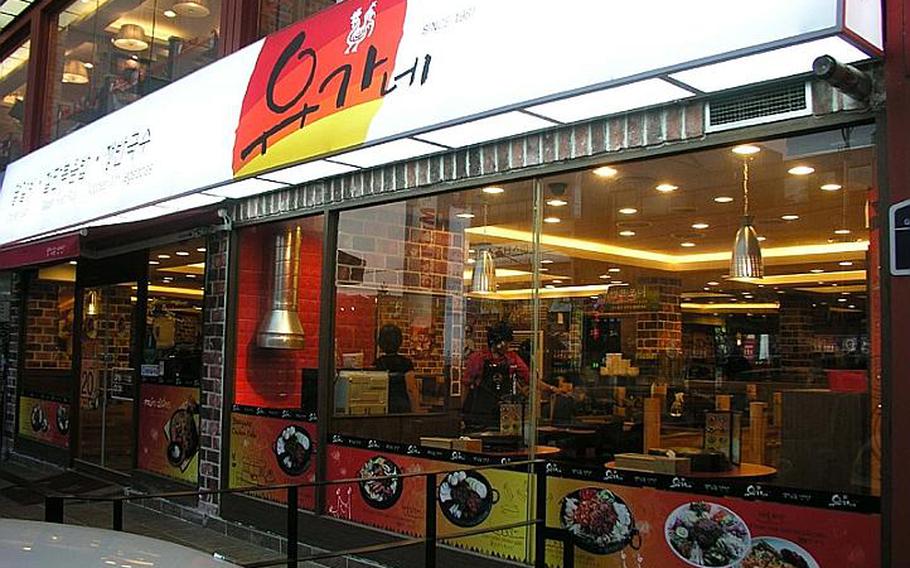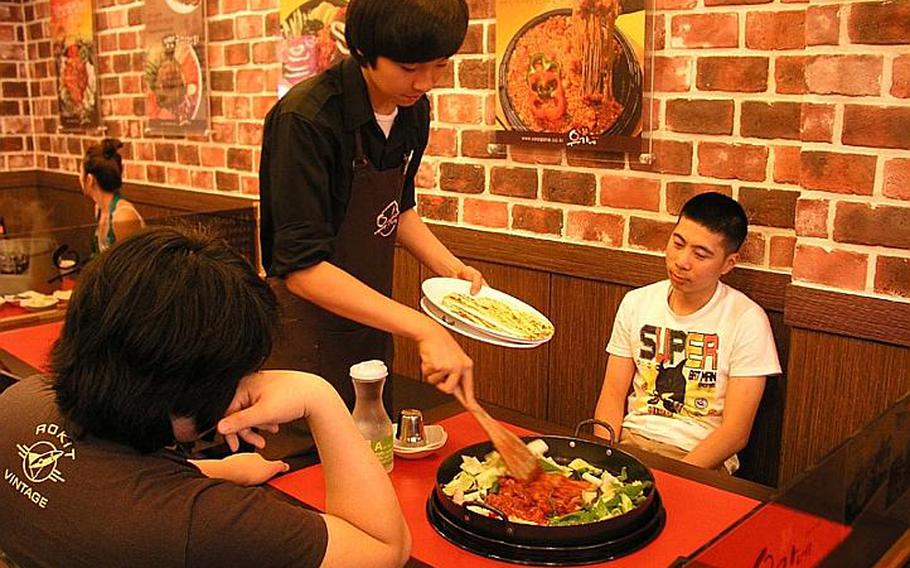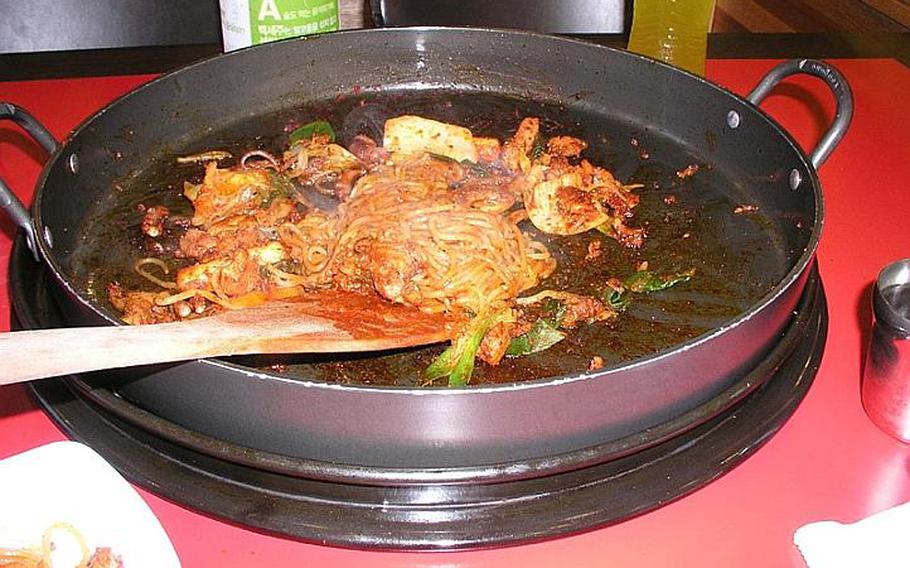 PYEONGTAEK, South Korea — In South Korea, a country where spicy food is the norm, it was no surprise that a restaurant chain opened one of its no-frills, spicy chicken restaurants this spring in Songtan, the section of Pyeongtaek that houses Osan Air Base.
We were glad to find that there was a very good and simple meal to be had at Yoogane (pronounced yoo-ga-nay).
It specializes in spicy chicken dishes, cooked at your table by the serving staff. But it wasn't just the food that was good. The restaurant was bright and clean, the service prompt and the staff friendly, and the prices were eminently reasonable.
The two-page menu was in Korean, Japanese and English. Yoogane has no bar, but beer and other alcoholic drinks are on the menu.
The red-topped wooden tables are set within an arrangement of cubicle-like spaces, and we were comfortable throughout. Korean pop music played over the speaker system.
A taxi ride at evening rush hour from Osan to Yoogane took under 10 minutes and cost about $5.50.
Yoogane features a spicy chicken that in Korean is called "dak galbi." Also on the menu were marinated chicken galbi and assorted seafood, spicy braised chicken, and marinated seafood fried rice.
We ordered a dish that mixed octopus and chicken galbi, (7,000 won) and added a side order of noodles, which were 3,000 won.
We asked that our food be only moderately spicy, and they got it just right: far from fiery yet pleasantly pungent.
Both the chicken and octopus were fresh, moist, tender, and rich in flavor. Other ingredients — pieces of cabbage, slices of potato — were equally fresh and tasty.
The customers were mostly Koreans in their early 20s as well as what looked to be a handful of junior high school kids. There was a family or two with toddlers. Also a middle-aged couple.
Owner Kim Hyun-ju told us that her store opened in March and is the 77th of 85 Yoogane restaurants in South Korea.
We're glad it's there. We'll be back, maybe this time for the seafood fried rice.
fisherf@pstripes.osd.mil
Yoogane
Pyeongtaek, South Korea
Hours: 11 a.m.-midnight daily
Prices: Dishes range from 3,500 to 25,000 won; side orders from 1,000 to 3,000 won; alcoholic beverages are 3,000 won; non-alcoholic drinks, 1,000 won.
Specialties: Marinated spicy chicken, chargrilled spicy chicken, marinated spicy chicken and assorted seafood
English menu: Yes (English, Korean, Japanese)
Dress: Casual
Clientele: Mostly South Korean
Location: From the Pyeongtaek City Songtan branch office building, walk about two blocks downhill; on the right you'll see a two-story building with the Mr. Pizza sign. Yoogane is on the first floor.
Phone: (031) 664-9233
Website:www.yoogane.co.kr
---
---
---
---