After Hours: Yakitori Tenkai, Chatan, Okinawa
by
Chiyomi Sumida
March 29, 2009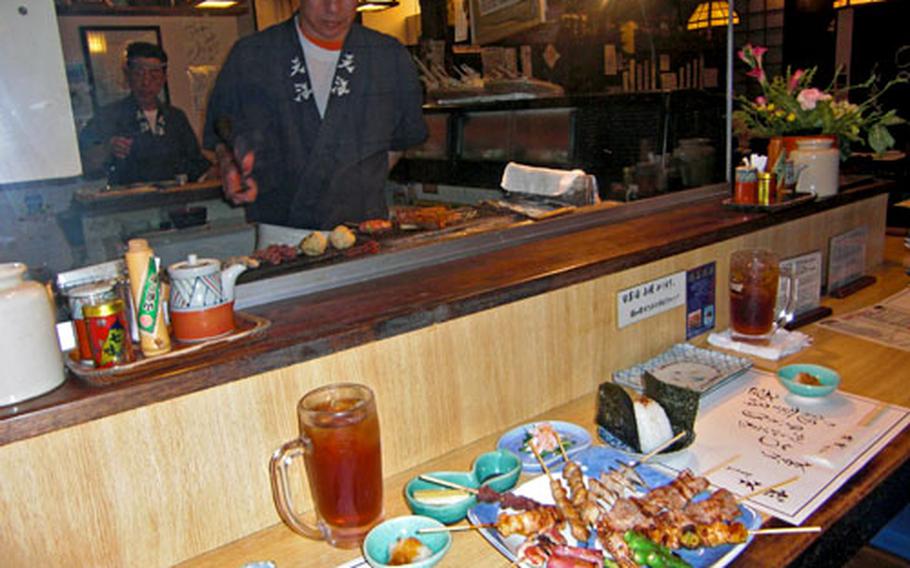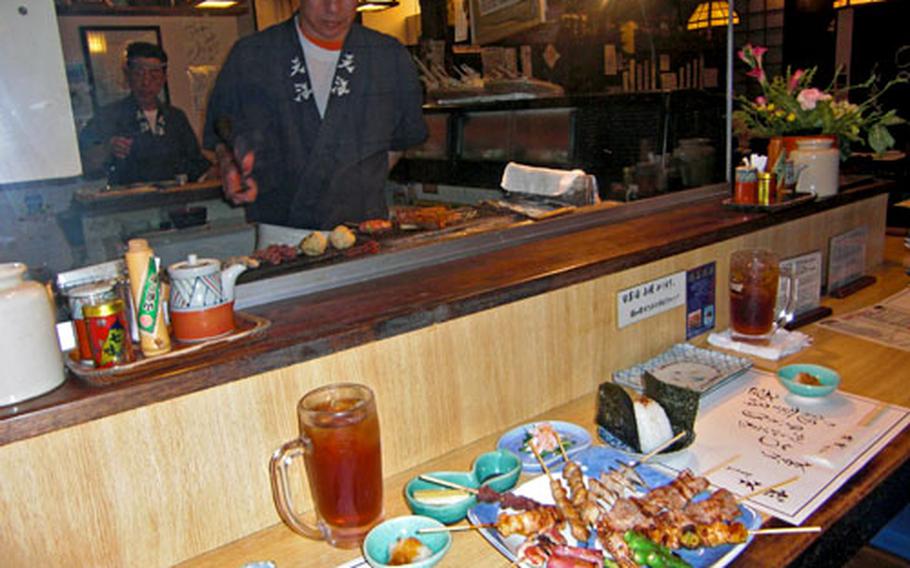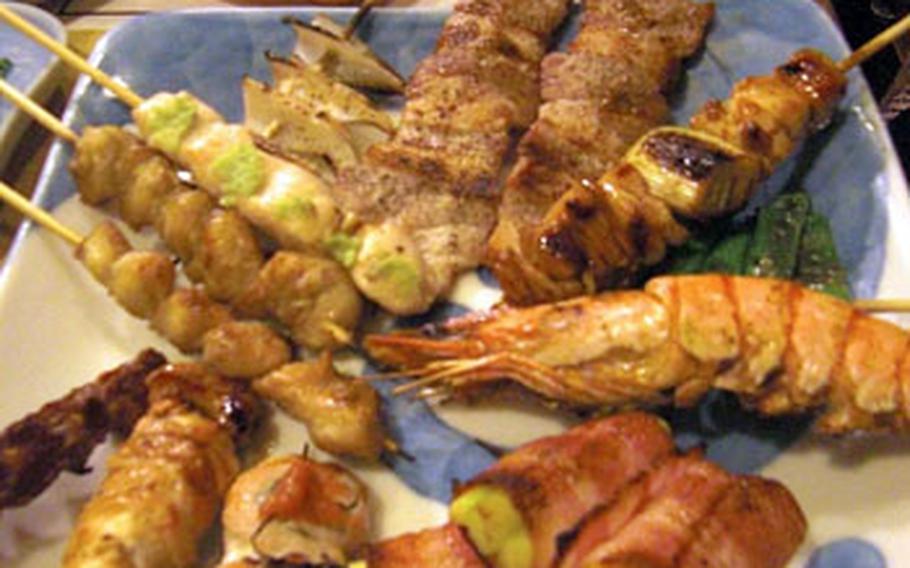 It's been a while since I last came to Yakitori Tenkai. Nothing has changed, except for some new menus. The working-kimono-clad owner cheerfully welcomed us with his penetrating voice. It always makes me wonder which I enjoy more, the authentic yakitori food here, or his deep bass voice that puts professional opera singers to shame.
I ordered a course meal, Chatan Course, while my friend, who has recently been "crazy about yakitori," ordered from the a la carte menu. After a cold oshibori hand towel was brought by Kenzo Kanamori, the opera singer disguised as a yakitori bar owner, a cup of chicken soup and an appetizer were served.
The first dish was a huge, perfect grilled chicken meatball, with a crispy surface and juicy inside. Dipped in yakitori sauce and fresh egg yolk, it offered an exquisite taste that melted in the mouth.
The next entry was chicken and green onion on a stick, followed by thinly sliced pork back ribs, prawn, sweet peppers and gizzards. Our eyes popped when Kanamori brought us a plate of barbecued pork ribs. The yakitori sauce-marinaded ribs had a rich flavor, yet they left a very light and pleasant aftertaste.
Kanamori, who is originally from Gifu prefecture in the mainland, opened the yakitori bar 16 years ago after he quit his office job. As an employee of a hotel in Tokyo, yakitori bars were one of his favorite places to drop in on his way home from work, he said. So it was only natural for him to choose a yakitori bar when he decided to open his own business.
As what appeared to be a slow weekday evening went on, people started to come in one after another. Friends, couples and groups of co-workers, some still in uniform, began to occupy the tables and the counter. Quickly, the small place was filled with people's exuberant conversation and laughter.
In the relaxing atmosphere, people seemed to let off the day's stress, restoring energy for the next day. It is no wonder yakitori bars are one of the most popular hangouts for Japanese salarymen.
My friend, a connoisseur of yakitori, gave a big nod of approval to Tenkai.
"This is certainly one of the best yakitori bars on Okinawa."
Yakitori TenkaiHours: 5 p.m. to 1 a.m., closed Mondays
Prices: Skewers of grilled chicken, shellfish or vegetables range from 130 to 190 yen; pricier options include scallop (270 yen) and prawn (210 yen). A plate of pork spare ribs is 450 yen.
Recommended: Especially for the first-timer, it's best to try a course meal. Chatan Course is 1,600 yen for one person, which comes with appetizer, onigiri (rice ball), eight sticks of yakitori, and dessert. Tenkai Course is 2,700 yen with appetizer, kamameshi (rice cooked in an earthen pot with meat, seafood and vegetables), chawan mushi (egg custard dish), 11 sticks of yakitori, and dessert. Drinks include beer, awamori and sake as well as nonalcoholic options and range from 300 to 1,200 yen.
Specialties: Charcoal-grilled yakitori meat, seafood and vegetables. Tenkai also offers a good selection of Japanese sake.
Clientele: Mix of Japanese and Americans. English menu is available.
Dress: Casual
Location: 1-21-17 Chatan, Okinawa. From Camp Foster's commissary gate, take Highway 58 north and turn left at the second signal. At the T-intersection, turn right and go north until you see a sign for Araha Beach. Immediately after passing a small bridge, turn left. Tenkai is on your right, before the seawall.
Telephone: 098-926-1717. Reservations highly recommended on weekends.
Web site: http://r.gnavi.co.jp/f261800/ (Japanese only)