After Hours: Wok Restaurant: Pride of the Eastsiders
by
Bryce S. Dubee
April 3, 2008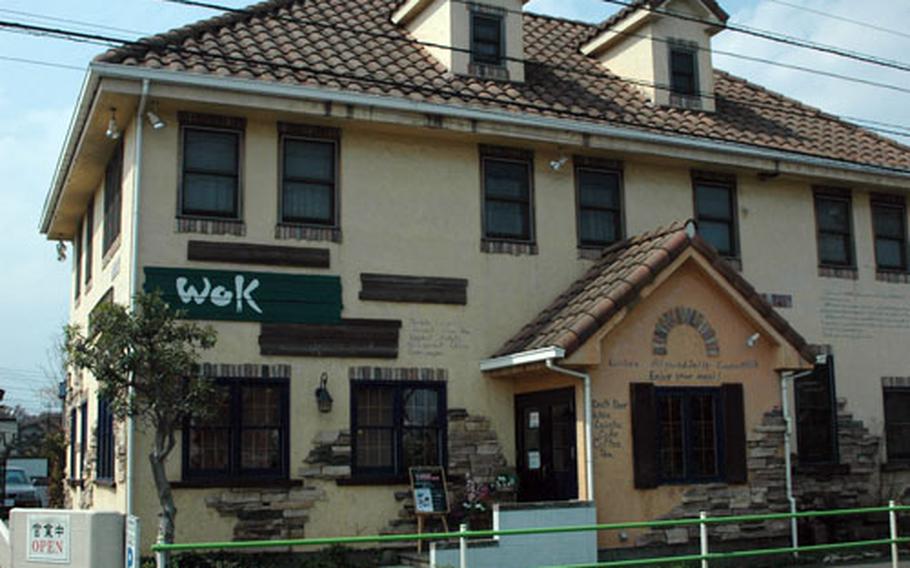 All along Route 16, down through Bar Row and all the way to Fussa Station, are plenty of restaurants within walking distance of base residents living on Yokota Air Base's South, West and North housing areas.
But what about for the Eastsiders on the other side of the flight line? Are there any good places within walking distance of their gate?
One restaurant that fits the bill is Wok Restaurant, a Chinese restaurant located about half a kilometer from the East Gate.
Wok offers a variety of stir-fry, noodle and fried rice dishes as well as a decent selection of appetizers including dumplings, spring rolls and a couple of types of fried chicken. They also offer several meal sets that, depending on the type of dish, include soup, salad, rice and dessert.
On our visit, we tried two different sets, the sweet and sour fried fish and the fried noodle with meat and vegetables.
The fried noodles were nice and crispy, but not overdone, with a generous serving of seafood, chicken and veggies. The fried fish was also good, not too oily, with a tasty but sticky sweet and sour sauce on top and an ample bowl of rice on the side.
One thing that surprised us a little was just how good the service was. Not even five minutes after we placed our order we already had our salads on the table, followed promptly by soup, then our entrees and then dessert.
Something else that has to be mentioned was that the waitress was amazingly attentive in making sure we had everything we needed, stopping by several times during the meal to top off water glasses and take away plates. She never got in the way, but I never had to sit there staring down at an empty water glass wondering when I'd get the next opportunity to flag her down.
Overall, Wok Restaurant provided a great dining experience in a comfortable atmosphere. With good food, very reasonable prices and outstanding service, Yokota's East Side residents, as well as everyone else looking for the same thing, should definitely consider checking them out.
See previous After Hours reviews here.
Wok Restaurant, Fussa, Japan
Hours: Lunch, 11 a.m. to 2:30 p.m. Dinner, 5:30-10 p.m.
Prices: Entrees range from about 700 to 1,100 yen. Meal sets cost 930 to 1,380 yen, not including drinks.
Specialties: Noodles, stir-fry, fried noodles and other Chinese dishes.
English menu: For the most part yes, a few sections are in Japanese but all the dishes have pictures and are in English.
Dress: Casual.
Clientele: Local Japanese and American crowd typical to a family-friendly dining establishment.
Location: Head left out of Yokota's East Gate. Wok Restaurant is about a half a kilometer down the road on the left next to a large green Heineken sign.
Web site: www.geocities.jp/wokrestaurant/