After Hours: Weisser Bock in Heidelberg, Germany
---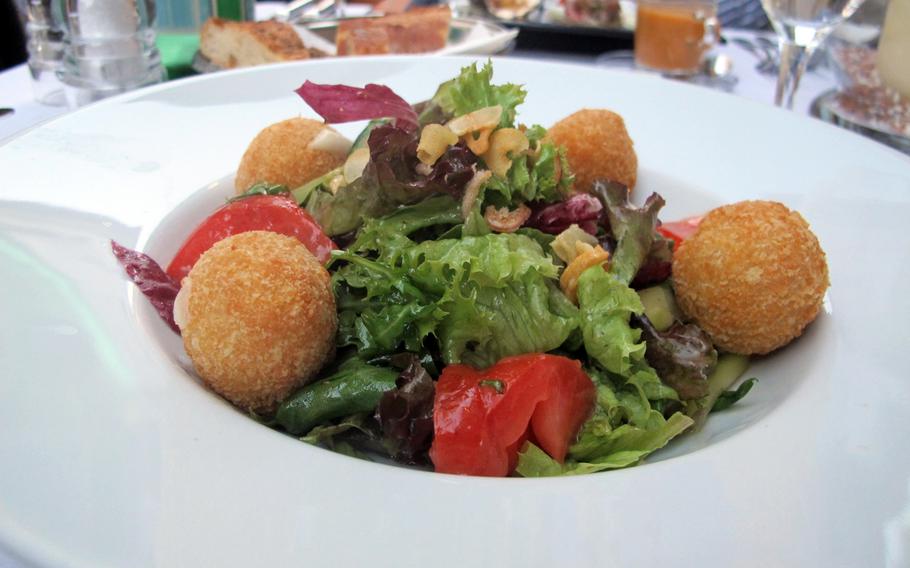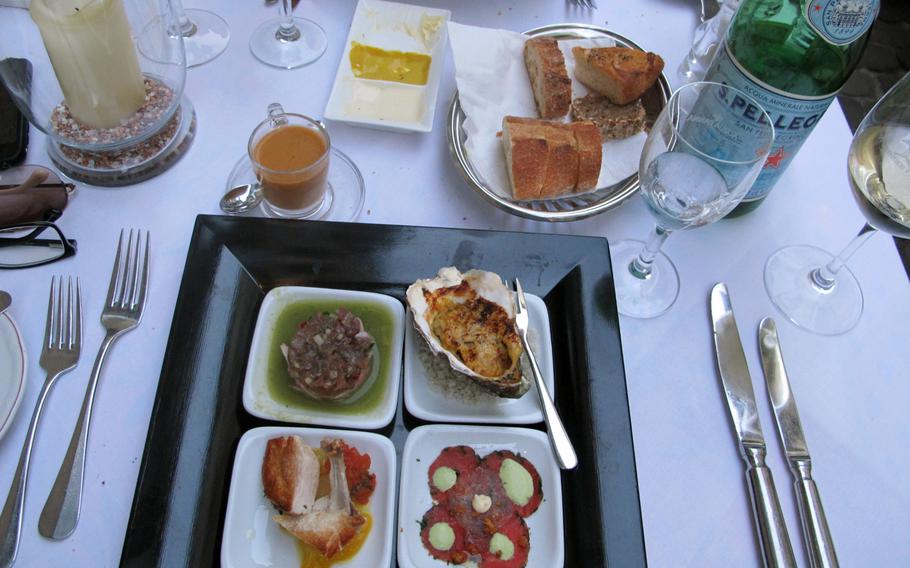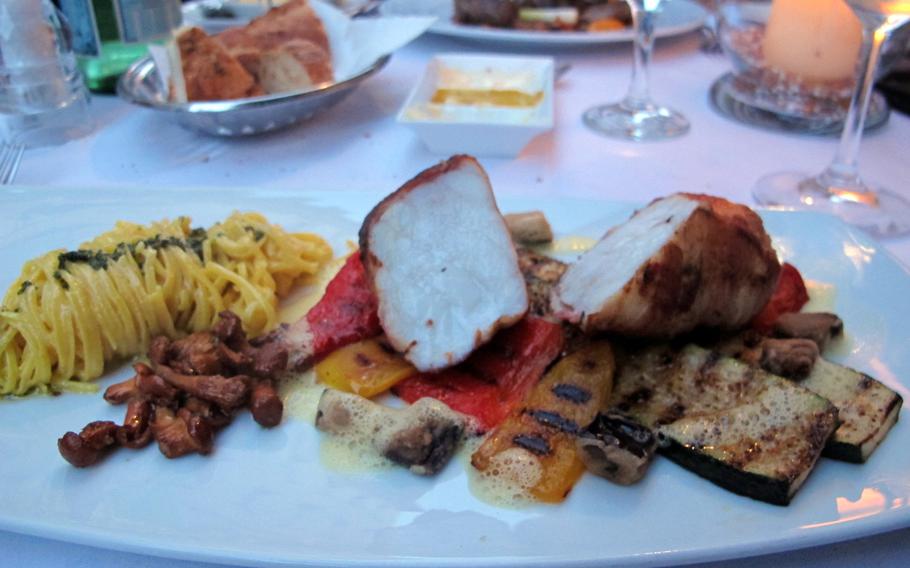 The U.S. Army garrison in Heidelberg, Germany, is a ghost town now, nearly all of its former occupants scattered to Wiesbaden; Kaiserslautern; Killeen, Texas; and elsewhere.
So why was there no place to eat on the city's main street?
Everywhere we checked on an August evening, on and around the main shopping-and-dining pedestrian zone in the ancient city's old town was filled with laughing, chatting al fresco diners hoisting beers, schnitzels, salad and pizza. On a weekday.
We finally found a table inside a trattatoria we frequent so often that I recently asked for an egg to take with me for breakfast the next morning and got it.
We made reservations for the next night at one of the places we couldn't get in, the Weisser Bock. I'd never been to the hotel-restaurant with its emblem of a rearing billy goat despite its attractive outdoor location. Tables and chairs sit on a cobblestone side street that opens into a small plaza with a fountain on one end and the Neckar River in view at the other end.
I was sorry I had never dined here before. On a warm Friday evening in August, I doubt there was a better place to be.
We started with prosecco and ordered the appetizer assortment, a salad, monkfish and venison. But first, the brisk, friendly wait staff brought us a tiny cup of pale green wasabi soup and bites of tuna carpaccio with avocado. They also brought a basket of breads with three kinds of spreads: butter, aioli and curry. It was hard to stop eating the bread.
The appetizer assortment — gazpacho, an oyster, tuna carpaccio — comprised a lot of different flavors and was a hit — and 19.50 euros. The summer salad, despite the surprisingly large balls of deep-fried goat cheese, was … salad.
The entrees made us sit up straighter and pay attention. My 28.50-euro monkfish had been wrapped in bacon and roasted to the perfect degree of moist firmness.
Normally I think bacon, like hot fudge, improves everything it's added to. But they used to call monkfish the "poor man's lobster," and it turns out I like it best the same way I like lobster best: steamed, then drenched in butter. I took some of the monkfish home but ate all of the pasta with basil-pesto.
One of the side dishes with the 26.90-euro venison was among our favorite dishes of all.
"This is fabulous," my companion said. "Whatever it is — it's fabulous."
It was stuffed pasta, and I think I identified the slightly sweet, exceedingly delicious ingredient: mascarpone cheese.
We'd asked our waitress for a wine recommendation and she'd expertly steered us to a dry riesling from the state of Baden-Württemberg. It was wonderful, plus no doubt medicinal: The label read "Dr. Heger."
It was a leisurely dinner, enjoyed by all of our senses. The views were beautiful, the air soft and warm. We didn't want it to end. So we ordered dessert.
We never order dessert. But why turn down molten chocolate cake? We scooped it up with ice cream and it did not disappoint — along with excellent coffee.
We might be fatter, our wallets were definitely leaner, but we were content.
montgomery.nancy@stripes.com Weisser Bock
Weisser BockLocation: Grosse Mantelgasse 24, D-69117 Heidelberg 06221/90 00 0
Hours: Open daily from 11:30 a.m. to 11 p.m., according to the website. A breakfast buffet runs 7-10:30 a.m.
Prices: Expensive.
English menu: No
Clientele: International
Dress: Casual or business
Reservations: A must in August
Information: phone: (+49) (0) 6221-90000; website: www.weisserbock.de; email: info@weisserbock.de
---
---
---
---