After Hours: Weisser Bär Hotel and Restaurant, Mülheim, Germany
---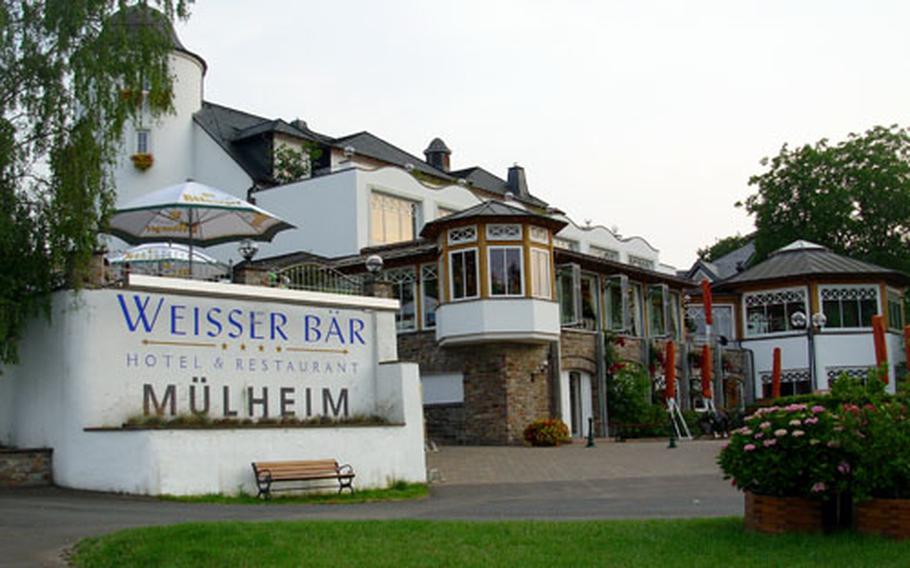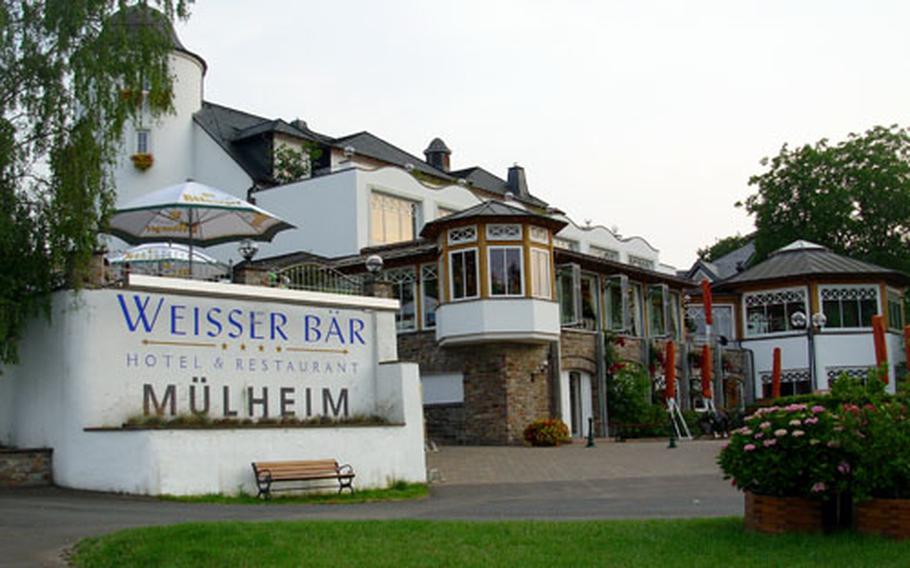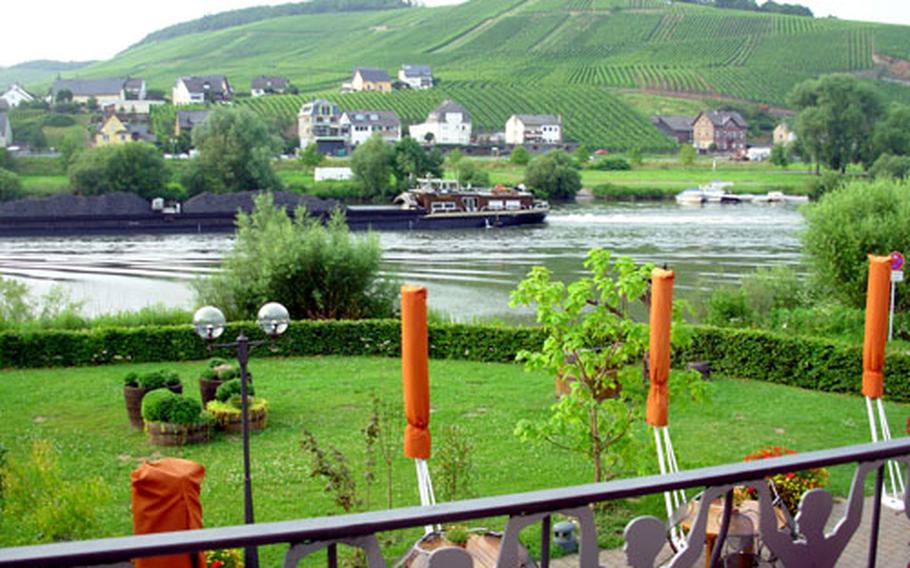 While I was dining on the terrace of the Weisser Bär, which overlooks the Moselle River, a barge floated past. Diners leapt from their meals to snap photos of it.
The industrial barge — heaped with stacks of coal — is normally not a thing of beauty, but in this case it only enhanced the majestic scene of steeply sloping hillsides covered with vineyards, turning shades of green in the setting sun.
The view of the river alone would make a trip to the restaurant in the German town of Mülheim worthwhile, but the food and wine are what make it truly spectacular. The Weisser Bär restaurant, or white bear, serves a long list of Moselle wines, particularly Rieslings, and many are available by the glass or a .2 liter carafe, which makes it easy to split and taste multiple wines during dinner.
Local winemakers are so familiar around here that, asked for a wine recommendation, the server pointed to one vintner on the menu, saying "he's a nice guy."
The house Riesling, a semi-sweet Spätlese, is a safe bet for a starter and perfect with one of the inventive appetizers. I had a ring of grilled ricotta cheese, served with roasted peppers and greens.
The menu is as mercifully brief as the wine list is long, changing frequently depending on the season. It consists of many classic German dishes, but also includes surprises, such as a special Thai soup, Thom Yam Gang. For a starter, the kitchen staff tossed out a seasonal freebie, a delicious large smoked shrimp on greens.
The trout — which I ordered — is freshly caught each morning by the cook. When the restaurant runs out, the cook will sometimes wade into the river and try to catch some more, the server said, swearing that it was true. The trout was cooked whole with a sauce of almonds and butter, and a side of parsley potatoes.
Both the fish and a rich dish of lamb, beans and rosemary-scented gnocchi were delicious, and the server's wine suggestion, a local Spätburgunder, paired perfectly with the lamb. The wine, made from a German clone of the pinot noir grape, is not frequently exported but it is artfully made, delicious and is said to be to German reds what riesling is to whites: the cream of the crop.
The restaurant's desserts were familiar but inventive, including a panna cotta (cream pudding) with apricot sauce, and homemade sorbets.
Prices of entrees vary from 15 euros to 25 euros, and my dinner for two, with wine and a shared appetizer, came to about 57 euros.
A much cheaper, and still elegant alternative to the formal restaurant, is the outdoor bar, where the same regional wines are served, as is a proprietary Weisser Bär beer, and a German-style barbecue, or Schwenker, turns out grilled specialties. The view of the river and the wine country is as good or better.
And if you are adventurous and seek to come by boat, or inflatable raft, you can tie up at the dock.
Weisser Bär Hotel and RestaurantLocation: Moselstrasse 7, Mülheim, Germany
Directions: From Spangdahlem, take Autobahn 60 and merge onto A1 toward Trier/Saarbrücken. Take exit 127, Salmtal, head toward Piesport/Klausen and turn left onto L47. After about 10 miles, take the ramp for B53, which goes over the Moselle river, and then turn left onto Moselstrasse. The hotel and restaurant is a large white building on the left.
Hours: The restaurant is open daily, with lunch served from noon to 2 p.m. and dinner from 6 to 10 p.m. During summer months, there is a Sunday brunch from 11 a.m. to 2 p.m.
Food: German dishes prepared with fresh ingredients, along with a few surprise culinary offerings from the chef, depending on the season. Local wines from the Moselle region and a few fine imports from various places, including South Africa.
Clientele: Vacationers and professionals staying at the hotel and local Germans meeting for a drink at the nearby beer garden.
Prices: The average entrée costs between 15 and 25 euros, and a .2 liter carafe of wine costs about 6 euros. The nearby beer garden has less-expensive grilled offerings for about 10 euros.
Telephone: 06534-9477-0
Web site:www.hotel-weisser-baer.de
---
---
---
---