After Hours: Visione in Ramstein, Germany
by
Joshua L. DeMotts
March 30, 2012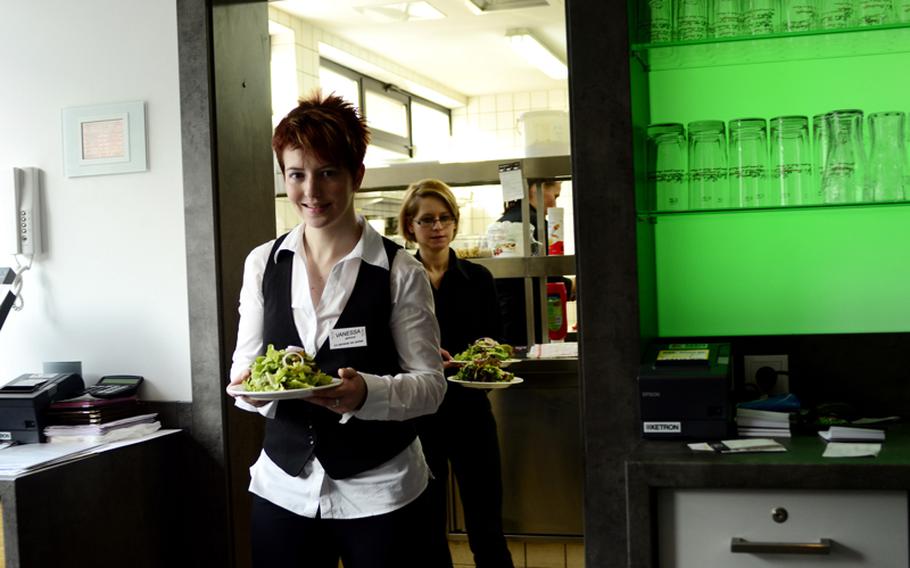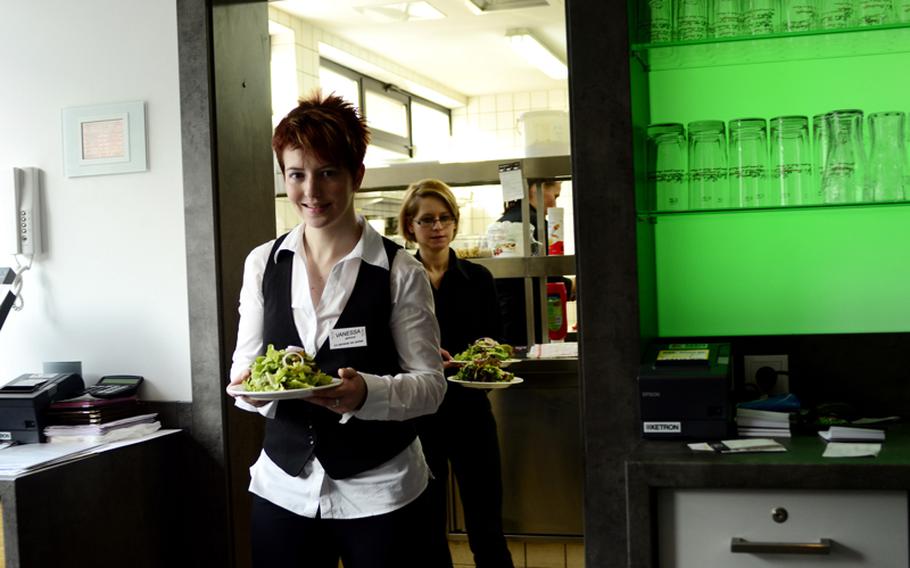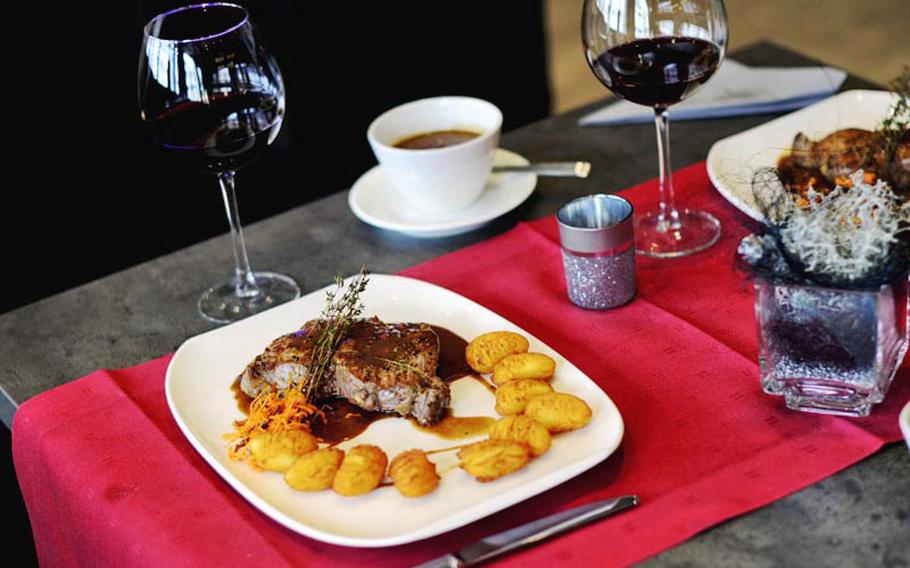 The restaurant Visione has brought charm and style back to the village of Ramstein with high-quality food and a warm, elegant ambience.
Visione is located in the Haus des Bürgers, a short walking distance from the Ramstein train station in the center of town. The space it occupies has been renovated to give life to its formerly dark, dreary environment. The restaurant walls now spotlight local artists' work with rotating exhibitions that add to its fresh atmosphere.
Not only does Visione offer excellent food and service, but its origins and purpose also are inspiring. A group of teachers and parents of disabled children started the restaurant with the purpose of training and hiring disabled people.
"The atmosphere is very nice, the service is always good and the food is always good," said customer Fedra Mosley, a dental assistant at Ramstein Dental Care. "And they tend to hire people with disabilities. I think that is really cool."
Currently, 10 out of Visione's 29 staff members are disabled. They operate on a partner system that functions nearly flawlessly. Every disabled employee is teamed with an able partner so that they can work and learn from each other.
"We give them a chance. It's not just a business; it's more," said Jurgen Lorenz, one of Visione's managers. " ... we find a job for the people instead of finding people for the job."
According to Richard Schmidt, a teacher at Ramstein American High School, Visione functions not only as a service to the community and to local artists but also helps disabled people become independent, contributing members of their community.
An assortment of half-pound Argentinian steaks, with wine included, anchor Visione's menu, which consists of German and Mediterranean dishes. Its menu also features specials that change every week to keep the offerings fresh. The restaurant doubles as cafe/bistro with a colorful bar where one can enjoy a drink in the glow of its mood-enhancing lights.
As a bonus, on the last Thursday of every month, Visione complements its romantic side by featuring guitarist and singer/songwriter Ewe Forsch, who plays his own music as well as James Taylor tunes.
There are two restaurants under the Visione name in the Ramstein-Kaiserslautern community. The original restaurant is located in downtown Kaiserslautern near the north end of the pedestrian zone.
Visione is a restaurant for everyone. It's a classy, stylish place with fair prices, yet it maintains a casual demeanor.
"The staff says we are family," Lorenz said. "It's business, but it's a lot of things from the heart."
VISIONELocation: in the Haus des Bürgers, am neuen Markt 4, 66877 Ramstein-Miesenbach
Directions: Visione restaurant is a short drive from Ramstein Air Base. From the west gate, take the first right off of the big traffic circle toward Ramstein-Miesenbach. Head straight through the next traffic circle and follow the main road into the town center until you see the signs for Haus des Bürgers.
Hours: 11:30 a.m. to 2 p.m. and 5:30-11 p.m. Monday through Saturday. Closed Sunday.
Food: German and Mediterranean
Prices: Steaks range from 17.90 euros to 20.90 euros with a glass of wine included. Menus available in English.
Clientele: Local residents and Americans
Atmosphere: Casual and friendly with style
Website:www.visione-ramstein.de, in German
---
---
---