After Hours: Variety is the spice of fare at Tokyo's Monsoon Café
by
Juliana Gittler
September 14, 2006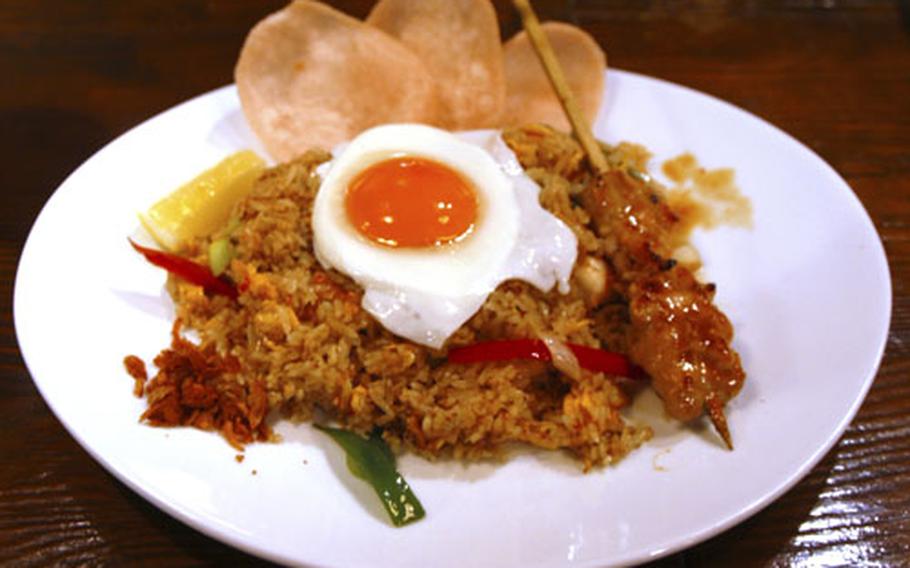 Painted monkeys on the wall, oversized flower petal lampshades and spunky rainforest music set the perfect mood for this tropical Asian restaurant.
But Monsoon Café in Nishi-Azabu, a few minutes walk from Roppongi and the Hardy Barracks Army complex in Tokyo, doesn't hone in on just one type of Asian style or cuisine. The restaurant serves bits and pieces of the best of the region — Chinese, Thai, Phillipines, Malaysian, Vietnamese. And it has been doing so for more than a dozen years — a long time for a Tokyo restaurant.
The restaurant was so popular after opening in 1993 that it spawned a legacy. There are 12 other Monsoon locations in the Kanto area, each with its own personality.
Monsoon strives to recreate vibrant Asian markets into a dining atmosphere, while presenting diners a fun place to relax with friends. The goal, manager Tomonori Bamba said, was to create a resort in the city, a place to go for ambiance, drinks and food, to watch the world go by.
One of the Nishi-Azabu location's highlights is an open-air porch, open in good weather and sealed off with clear plastic otherwise, that offers great people-watching opportunities.
But behind the ambiance is the restaurant's creative menu.
They serve homemade ginger ale and cocktails with names like Hyu-ga-natsu Squash, as well as a variety of Asian beers.
The food runs the gamut across Asia, from rice to noodles to dim sum to curries.
Bamba recommends the Bapamango Colada, a frozen cocktail at 950 yen; Thai shrimp toast (890 yen); Monsoon-style nasi goreng, or Indonesian fried rice (1,200 yen); and chicken satay with peanut sauce (260 yen per stick).
The restaurant also prides itself on extremely chipper servers, Bamba said, and foreigner friendliness. Menus are in English and at least one person on staff at any given time is bilingual.
The full English menu is on the restaurant's Web site along with maps, contact details and photos for each location. The site also features one of Monsoon's other highlights: a party menu for special occasions, with an online reservation system in English.
Monsoon Café
Tokyo, Japan
Drink Prices: 630 to 840 yen for a beer, a little more for the fancier cocktails
Cover: None
Food: Eclectic Asian. Lunch, dinner and party menus
Entertainment: Atmosphere
Dress: Casual
Location: Nishi-Azabu, 2-10-1. From Hardy Barracks, turn right out of gate and then left at the traffic light. When the road forks, turn right onto Gaien-nishi Dori. Monsoon is on the left side of the street after about a five-minute walk. From the New Sanno hotel, head to the Tengenbashi intersection and turn right onto Gaien-nishi Dori. Monsoon will be on your left about 10 minutes after you pass Nishi-Azabu crossing.
Web: www.monsoon-cafe.jp/....