After Hours: Udo-Snack in Stuttgart, Germany
by
David Rogers
April 17, 2012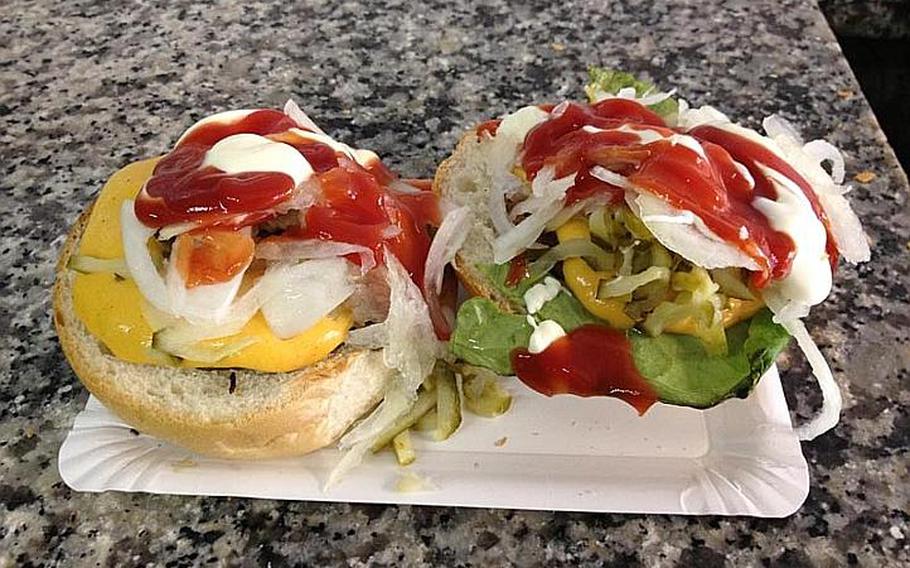 As we stumble out of a club or bar in downtown Stuttgart, Germany, on a Saturday night, the only eateries my friends and I typically can find to quell late-night hunger pangs are the döner kebab shops found so abundantly around every corner that, at night, the whole city seems to smell like a kebab.
While I do enjoy a good döner, I recently craved an alternative to the popular Turkish takeout. I found Udo-Snack, a hole-in-the-wall joint in the heart of downtown Stuttgart that serves a variety of burgers, fries and an assortment of drinks. Since it's open until 1 a.m. on Friday and Saturday, it's a nice alternative to kebab shops.
Udo-Snack opened in 1962 and is regarded by many local residents as the place to find the best burger in Stuttgart. Others claim the service is bad and the restaurant is dirty.
Either way, I decided I needed to check it out, and what I found was a mixed bag.
This small shop can barely contain its lunch crowd of about 15 to 20 customers at any one time. There is a modest number of tables and amount of counter space for eating.
There seemed to be a slight communication issue with me, an English-only speaker, and the woman behind the counter, who's not-so-much an English speaker. But we figured it out.
It seems I was in over my head with the double cheeseburger I ordered. The burger came out with the bun separated — the burger on one half and all the typical burger toppings — lettuce, onion and pickles — not only piled atop the burger but also on the other half of the bun. The toppings were stacked so high I wasn't sure if I should try to assemble the burger for fear it would fall apart in my hands. And it did.
As I bit into the burger, the mess of condiments and toppings oozed out all sides with only a small disposable plate to catch it all. I was given a fork and knife, but I wouldn't dare attempt to eat a classic American food item like the burger in such a manner. The German customers, who mostly stuck to the cleaner, single-patty burger, seemed to agree with me.
The restaurant is too small to feel any sense of personal space. The walls are covered with a collage of dark rock posters, the staff isn't the friendliest and the burgers aren't particularly tasty. It all comes together to create a kind of dingy atmosphere.
But if you're downtown and looking for somewhere to quickly grab a messy burger with fries and be on your way, it makes for a more interesting stop than the typical brand-name, fast-food burger shop.
Udo-SnackLocation: Calwer Straße 23, Stuttgart.
Directions: Udo-Snack can be found just a couple of blocks east of the Stadtmitte underground-train stop and a couple of blocks west of the well-known shopping street of Königstrasse.
Hours: 11 a.m. to 10 p.m. Monday through Wednesday, 1 a.m. to 11 p.m. Thursday, 11 a.m. to 1 a.m. Friday and Saturday. Closed Sunday.
Prices: Burgers range from 2.50 euros to 6 euros.
Phone: 711-226-9894
Website: www.udo-snack.de
---
---
---
---