After Hours: Tsu Bo Hachi, Misawa, Japan
---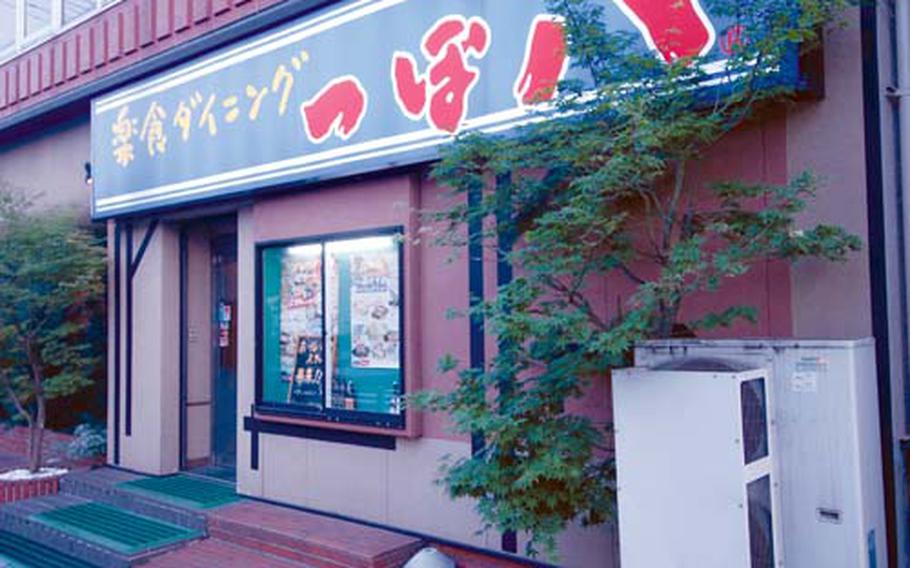 I tend to identify each place I've lived in Japan with a local izakaya — a sort of pub specializing in hot, greasy, salty food and plenty of cold beer.
Growing up outside Milwaukee might have something to do with leaning toward that fare. Finding places like Yoro No Taki in Iwakuni and Tengu in Tokyo helped.
When I moved to Misawa recently, I was happy to find Tsu Bo Hachi. While the chain restaurant is available in other areas of Japan — including my old stomping grounds of Tokyo — I was excited to see what they had to offer.
I wasn't disappointed. Like my other favorite joints, both food and drinks were reasonably priced. And the good thing about the menu — typical for an izakaya — was finding plenty of American-friendly dishes, from the French fries to grilled beef.
And there are lots of choices for the more adventurous, including a whole selection of raw fish, grilled chicken cartilage and a squid omelet.
My counter-space looked like an Iron Chef battle of East versus West. Deep-fried chunks of cheese and ham sat next to soybeans, shrimp sushi and grilled chicken gizzards.
The good thing was that the restaurant was extremely English-friendly, as are most businesses near Misawa. The menu is translated into English, although prices aren't included.
The bad thing was the fact that nearly every person in the place seemed to be smoking. If you're going with family, head there early.
There's plenty of seating, including counters, tables and tatami-mat floors.
If you've never been to an izakaya before, be prepared for a possibly rowdy scene. Places like Tsu Bo Hachi are popular for hosting parties — and even have "set menus," including all-you-can-drink beer and other mixed drinks. It's not uncommon to show up for a quick meal and find yourself next to a large group of people who've taken full advantage of their 90 minutes of cheap beer.
I give Tsu Bo Hachi a strong recommendation, whether you've been eating at Japanese restaurants for years or you're contemplating your first off-base trip.
Just let me know what the chicken cartilage tasted like!
Hours: Monday to Saturday, 5 p.m. to midnight; Sunday, 5 p.m. to 11 p.m.
Prices: Cheap, but small portions. Expect to order a bunch. A sampling: sausage pizza, 550 yen; curry-flavored tater tots, 298 yen; cream cheese spring roll, 380 yen; fried noodles, 430 yen. The biggest mug of beer goes for 780 yen and all the cocktails are under 500 yen.
Specialties: A good majority of the menu is what I would call good beer snacks. Deep-fried, salty, greasy and hot.
English menu: Yes
Dress: Casual
Clientele: Mainly Japanese
Location: Exit main gate, go through stoplight. Turn right at second intersection and continue about ½ mile to the first stoplight. Tsu Bo Hachi is on the right side, and you can't miss the bright blue sign.
Web site:www.tsubohachi.co.jp (Japanese only)
Phone: 0176-52-3338
---
---
---
---