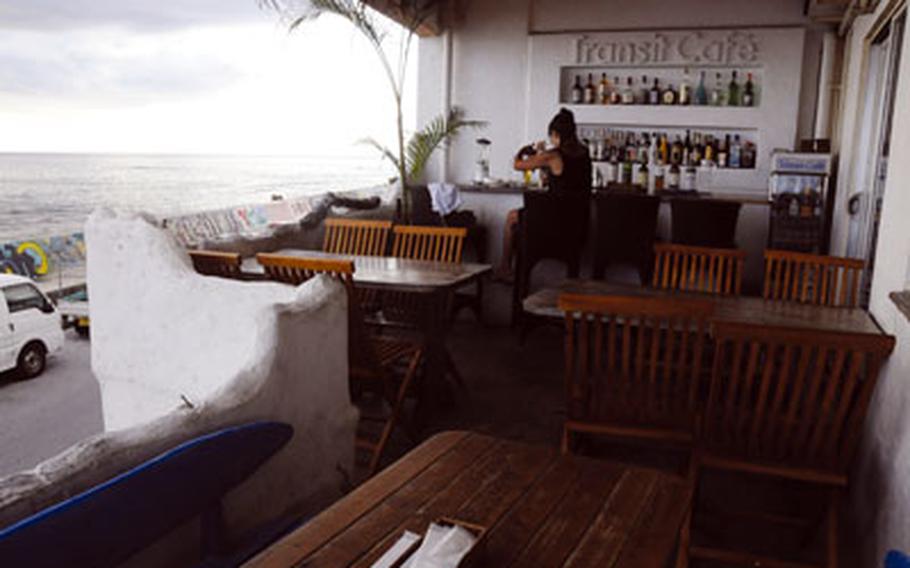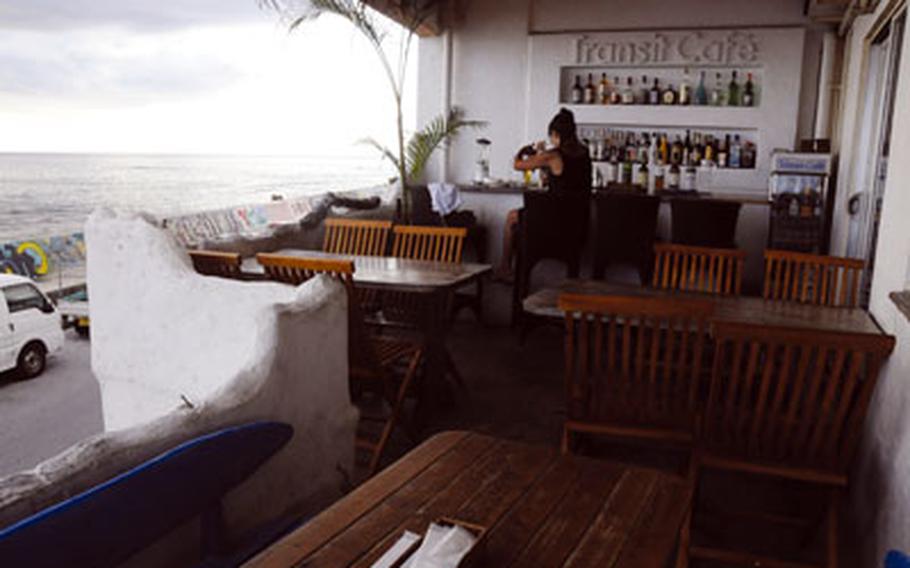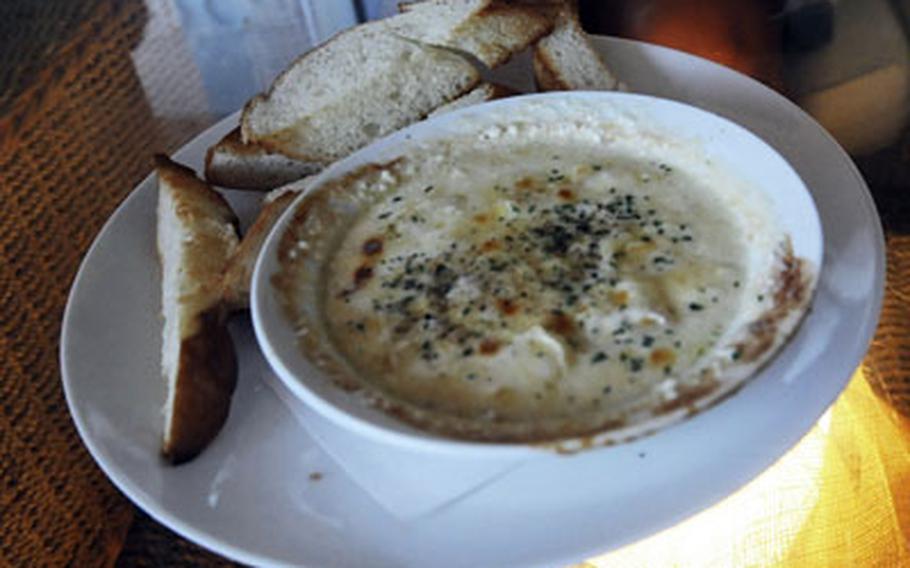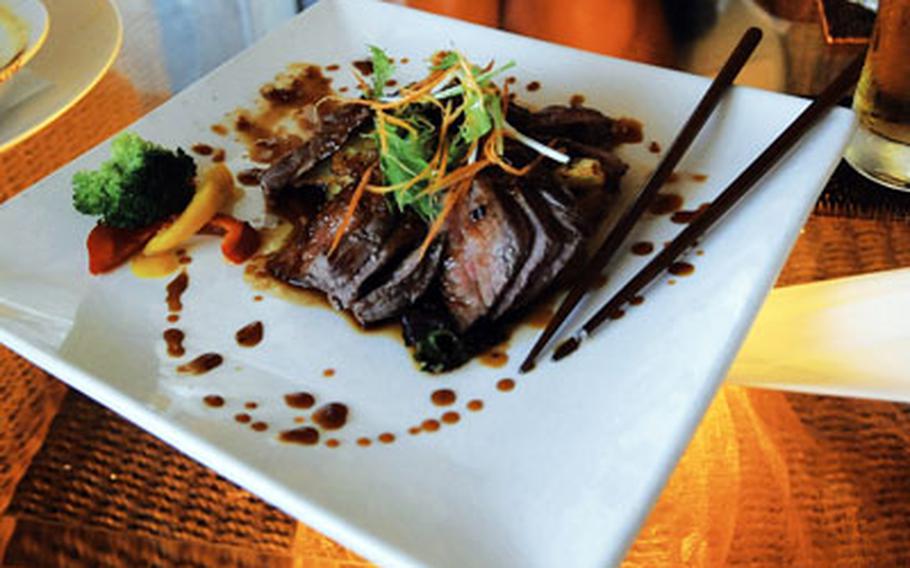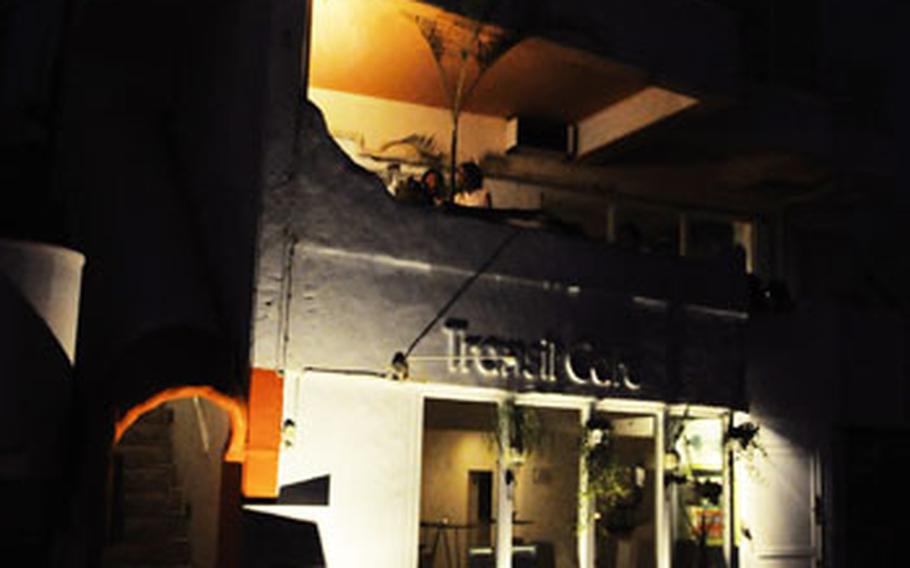 Nestled above dive stores scattered along the sea wall is a tiny bar and cafe that I have to admit my wife and I were so impressed with, we had to share it with everyone.
A narrow staircase leads up to the Transit Café, a little bit of heaven on the Sunabe Sea Wall, five minutes from Kadena's Gate1 entrance.
The soothing sounds of new age jazz greet you as you top the stairs. Greeted by all the staff upon entering, we were politely ushered to our table. An open kitchen with bar seating runs along the far wall to allow customers a view of what is cooking.
We were somewhat taken aback by the coziness of this place. There were only three tables seating eight people and the bar seated eight. Outside was a small balcony with commanding views of the East China Sea, which also had a few tables and chairs at another small bar.
We sat in giant wicker chairs made comfortable with overstuffed cushions. We were handed a colorful menu that included English translations and pictures of the delectable food, which made it even harder to choose.
After deliberating over a cold Sapporo beer and a white wine, we chose a bubbling camembert cheese "fondue" for our appetizer. To our dismay, we ran out of the toasted French bread for dipping in the fondue before finishing it. For entrees, perfectly grilled beef with garlic butter sauce and herb potatoes and a well-seasoned anchovy, stuffed olive and onion pizza. Both plates of food looked like they jumped off the pages of a Food and Wine Magazine. The steak was drizzled in a mouth-watering sauce and peppers and broccoli were placed on the side to add an artistic touch and splash of color to the plate. Not only was the food delightful, the chef wasted nothing on the presentation.
Desserts ranged from simple ice cream sundaes to caramel and chocolate croissant dishes. We decided on a brownie smothered with vanilla ice cream, bananas, and strawberries over a bed of frosted flakes and were not disappointed. It was also as good as the meals that preceded it.
Next time we'll make sure we sit on the balcony and soak up the setting sun's rays or maybe head down for breakfast.
Friends recommended the Transit Café, and we are sure glad they did.
Transit Cafe
Location: Chatan, Okinawa
Hours: Breakfast is 8 a.m.-10:30 a.m., lunch 11 a.m.-5 p.m. and dinner 6 p.m.-1 a.m.
Prices: Beers around 500 yen and cocktails 650-900 yen. Entrees were about 1,300-1,500 yen, appetizers 450-900 yen, and desserts 600-900 yen.
Specialties: The pizza. It is phenomenal. I speak from experience.
English menu: Yes, plus pictures as well.
Dress: Casual
Clientele: Not a place for very small kids. It's a bit small.
Directions: From Gate 1 take a left and then your very first right. Head all the way down to the sea wall and make a right. The cafe will be a couple of blocks down.
Web site:www.transitcafeokinawa.com/transitcafe/main.html (mostly Japanese)
Phone: 098-936-5076
---
---
---
---