After Hours: Tokyo's Las Chicas makes its own rules
---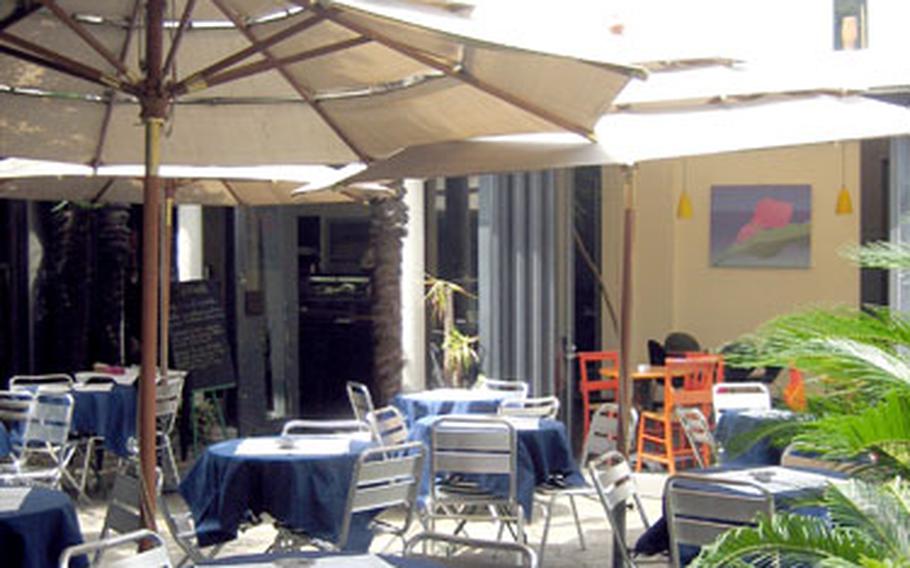 TOKYO — Las Chicas, in the fashionable Tokyo neighborhood of Aoyama near Omotesando, is one of the few places in town with outdoor seating.
In fact, almost everything about the place is uncommon: It has a smoke-free restaurant and features a rotating art gallery to compliment the Asian-European cuisine. The cafe-restaurant and a lounge upstairs called Tokyo Salon occupy a grand building that once was an ambassador's residence.
The restaurant's cuisine is also unusual, almost defying definition.
"It's a mix of Italian, Asian and kind of everything," said manager Maki Minegishi. "The first chef was Australian and designed the menu. Since then we've continued the same style."
The restaurant opened 17 years ago and now features chefs from Australia and New Zealand as well as a head chef from Indonesia.
Food ranges from pizza to lamb. The restaurant last year began offering a steak menu that is quickly gaining popularity, Minegishi said.
The funky Tokyo Salon upstairs opens nightly at 6 p.m. and is mostly for drinks, though patrons can order food from the downstairs menu.
Downstairs, Las Chicas is divided into the smoke-free, finer dining room in the back, with artwork that changes monthly, and the cafe, which includes the outdoor terrace to the front. Smokers can find a haven in the bar.
The artwork, Minegishi said, is a compilation of Japanese and international artists.
On most nights Las Chicas is filled with diners and bathed in candlelight. Minegishi recommends making a reservation, though it isn't mandatory.
Diners with limited Japanese skills, fear not: The staff is bilingual and many hail from across the globe.
For information or to make a reservation, call the restaurant. To find Las Chicas, you'll want to print the online map and have it handy. The restaurant is nestled in a winding spider web of small roads near U.N. University down the road from Shibuya.
It might be a little hard to find, but getting there is like uncovering a hidden treasure in Tokyo.
See After Hours for more reviews of nightclubs and restaurants in Japan.
Las Chicas
Tokyo
Prices: Appetizers range from 600 to 1,700 yen; pizza 1,600 yen; steak, lamb or fish 2,500-2,800 yen.
Specialties: Across-the-board light fare — California cuisine, Asian, Mediterranean, South American.
English menu: Yes, with bilingual wait staff.
Dress: Casual but cool.
Clientele: It's a funky international place with a wide variety of trendy patrons.
Location: 5-47-6 Jingumae, Shibuya-ku. From Omotesando subway station, walk toward Shibuya on the right side of Aoyama Dori. Pass Blenz coffee and turn right at the tiny street after Muji, and before Clistea Coeur. Go three blocks and the restaurant is on the left after a bend, look for the outdoor tables on the terrace. The Web site has a detailed map.
Phone: 03-3407-6865
Web site: www.vision.co.jp/lc/indexe.htm
---
---
---
---