After Hours: Tiffany Thaistyle, Stuttgart, Germany
by
Warren Peace
May 11, 2011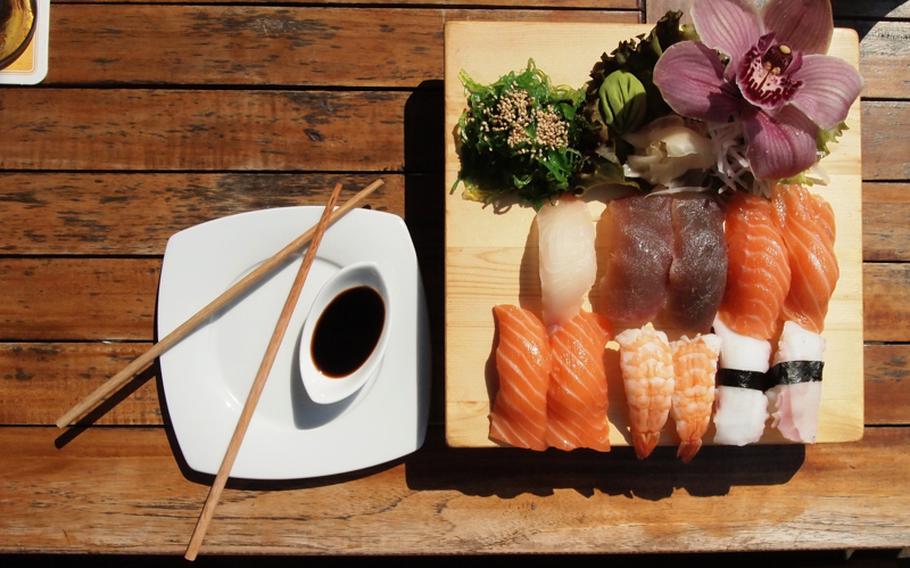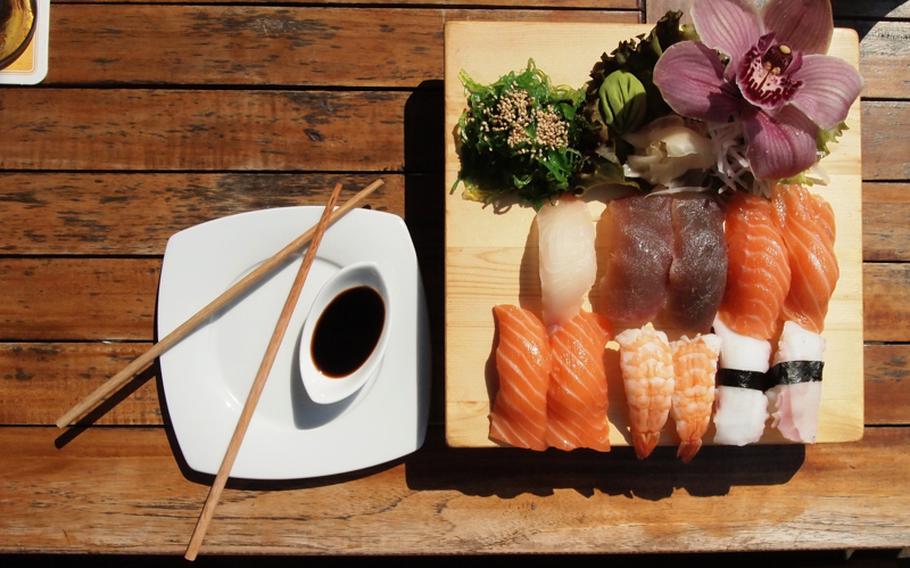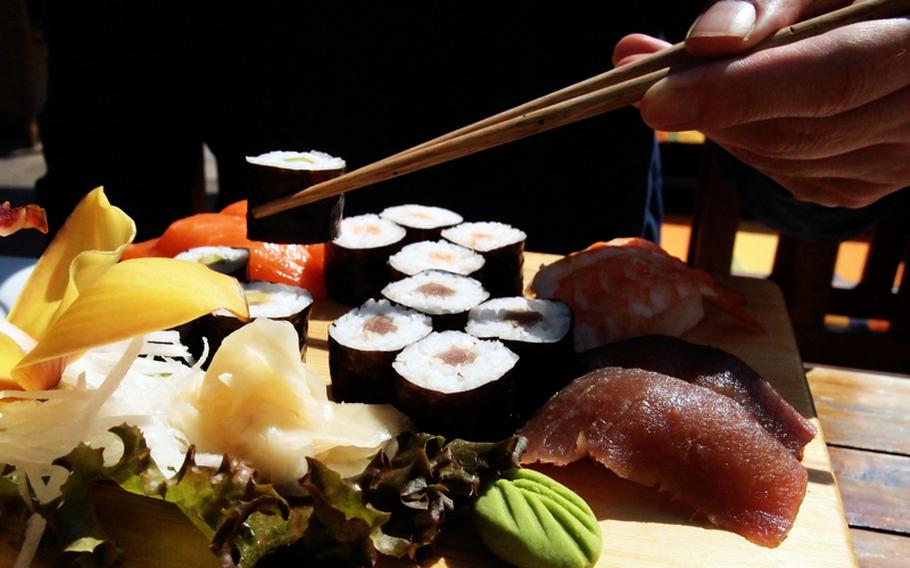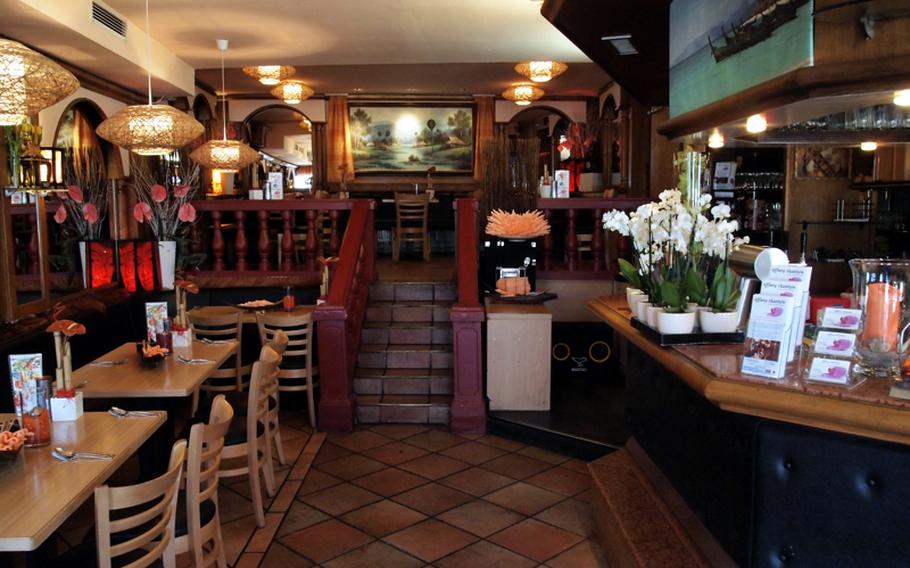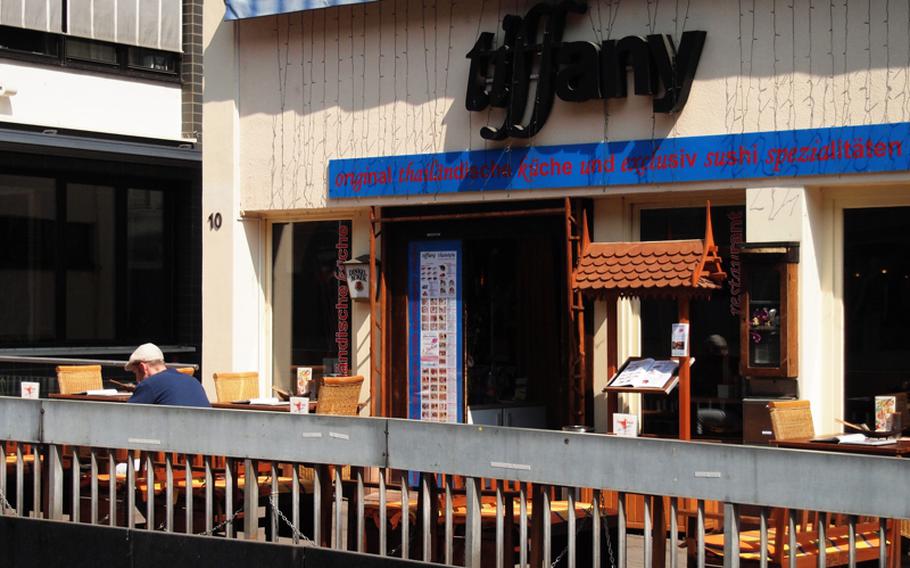 Finding a decently priced sushi restaurant is not always easy, especially in Germany.
But sometimes we find what we are looking for when we quit looking.
Tiffany Thaistyle in downtown Stuttgart, Germany, initially drew me in because I wanted something spicy. Then I noticed their sushi card, and decided to get a nigiri sushi plate.
First thing fellow reporter John Vandiver and I noticed was the size of the pieces of fish on top of the blocks of rice. They were so enormous that the rice was completely hidden.
I was lucky once again when the waiter came to tell me he was out of tamago (egg) sushi. I hate the stuff and was trying to negotiate a trade with Vandiver when the waiter approached us. Negotiations ended since the waiter let me pick two pieces of salmon sushi as replacements.
That says that they weren't prepared, but also that the service was good enough to give me my choice of replacements.
As for the dish itself — it was good. For 16 euros, I couldn't ask for much more. The fish seemed fresh. The rice was cooked just right. The wooden plate was decorated with a freshly picked orchid and other flora. The wasabi was shaped into a leaf well enough for Vandiver to miss it.
Vandiver ordered a nigiri and maki sushi combo dish for about the same price and was also pleased.
"I always feel with sushi, it is about freshness, and I'd give this dish a 7 out of 10 on the freshness scale," he said.
"Would I go back? Yes. The service was great, and the presentation was nice, but next time I will probably try one of the Thai dishes."
The Thai dishes range from baked fish served nearly whole and looking up at you, to curry and other authentic Thai dishes.
The interior of the restaurant is the typical wood and earthy décor you would expect in a Thai place. The outdoor seating is elevated above the street, keeping the traffic around tables to a minimum since the only people walking by are heading to or from the restaurant, or have somehow gotten lost.
On the raised walkways nearby, there are three other Asian eateries: fast-food Chinese; Tokyo-style sushi; and another Japanese restaurant. The area is a collection of Asian outlets surrounded by the big city.
I recommend trying out Tiffany Thaistyle — if you are looking for good sushi and if you aren't satisfied with what you see on the menu, there is another sushi place across the street.
peacew@estripes.osd.mil
Know a restaurant or entertainment spot you'd like to see reviewed in After Hours? E-mail John Taylor at taylorj@estripes.osd.mil.
Location: Schulstrasse 10, 70173 Stuttgart.
Directions: Driving to Tiffany Thaistyle is impossible since it is located in a pedestrian-only section of Stuttgart. The best way to get there is either to take the U-Bahn to Schlossplatz or walk there from a parking garage. Once in Schlossplatz, head south on Königstrasse for about 300-400 yards. Turn left on Schulstrasse. After a block, you should notice stairways heading up. Take them and Tiffany will be on the left.
Hours: 11:30 a.m. to midnight daily.
Prices: Meals range from 8 and 30 euros. Lunch specials, starting at 11:30 a.m. and ending at 3 p.m., start at 7 euros. During happy hour, 6-8 p.m., all drinks are 6 euros.
Website: www.tiffany-thaistyle.de in German only.
Phone: 07112-202762.
---
---
---