After Hours: This Chinese restaurant will leave you satisfied
---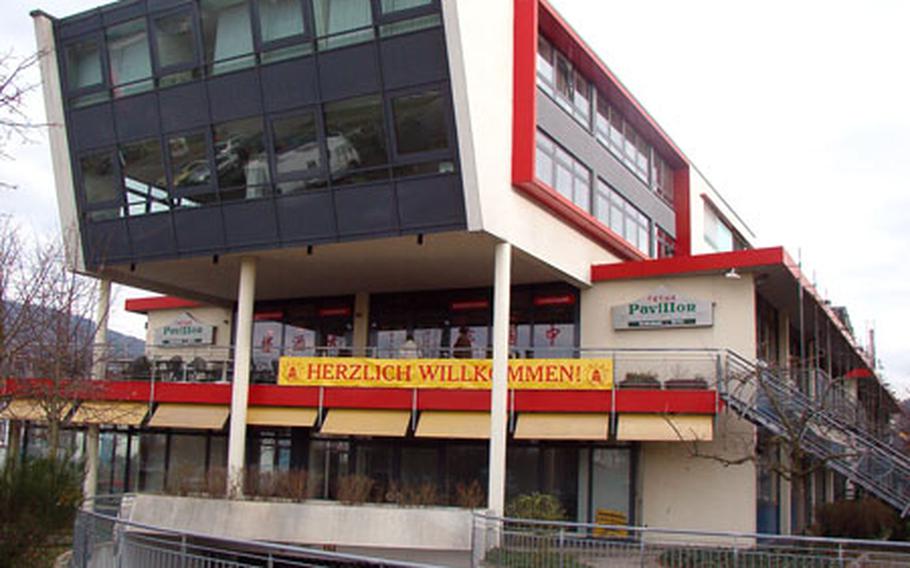 BENSHEIM, Germany — Before you get to the door of the Chinese Restaurant Pavillon, you know the food's good: The parking lot is always full.
Once inside, you'll find out why.
The instant you open the doors, your nose will be filled with wonderful smells of spring rolls, won ton soup and stir fry.
If you don't trip over the kids playing with the koi in the pond to your left, your eyes will be drawn to the two large buffet tables to your right. Under hot lamps you'll find everything your heart — and stomach — desire. There's sweet-and-sour pork, beef and broccoli, fried rice, won ton soup, sweet-and-sour soup, fried pork, fried chicken.
And that's just on one of the tables.
On the other table, you'll find sushi, sashimi and a "variety of different vegetables, meat, fish and sea fruits," according to the restaurant's Web site.
Just pile all the meat, fish and veggies on a plate and hand it to the Wok-waiting staff who will cook up your composition right in front of you. (Well, don't let them cook the sushi)
At 14.80 euros, the all-you-can eat evening buffet is quite a bargain.
But, the Pavillon is no secret. Getting a table at the restaurant — located on the Berliner Ring between Bensheim and Zwingenberg — can be tough.
At 6 p.m. on a recent Saturday evening, all the tables were reserved. But, the kind waiter directed us to a table, making sure that we would be finished before 8 p.m., when that night's owners of the table were set to arrive.
After taking off our coats, we dashed to the buffet for our first serving. A warning for parents: make sure your kids like the fried noodles before they get three spoonfuls, or you'll end up eating them. After a couple of trips, we sat back full and content.
While the evening buffet starts at 6 p.m., the restaurant also offers a lunch buffet for 8 euros a person. There are set menu items, and take out is available for those on the go.
Good luck finding a place to park.
See previous After Hours reviews here.
Pavillon
Bensheim, Germany
Prices: Menu items range from 5 or 6 euros to 17 euros. Lunch buffet is 8 euros. Evening buffet is 14.80 euros.
Specialties: The buffet, which includes cooks waiting to prepare your meal in a wok right in front of you.
Menu: English menu available.
Dress: Casual.
Clientele: Anyone who loves Chinese food. Families are welcome.
Directions: From Heidelberg, take Autobahn 5 toward Darmstadt. Take the Bensheim exit, turning left at the light at the end of the exit. At the next light, turn left onto the Berliner Ring. The restaurant is about three miles on the right-hand side. Look for the place that looks like a Chinese temple.
Web site:www.pavillon-bensheim.de
---
---
---
---