After Hours: The White Horse in Norfolk County, England
by
David Hodge
April 25, 2011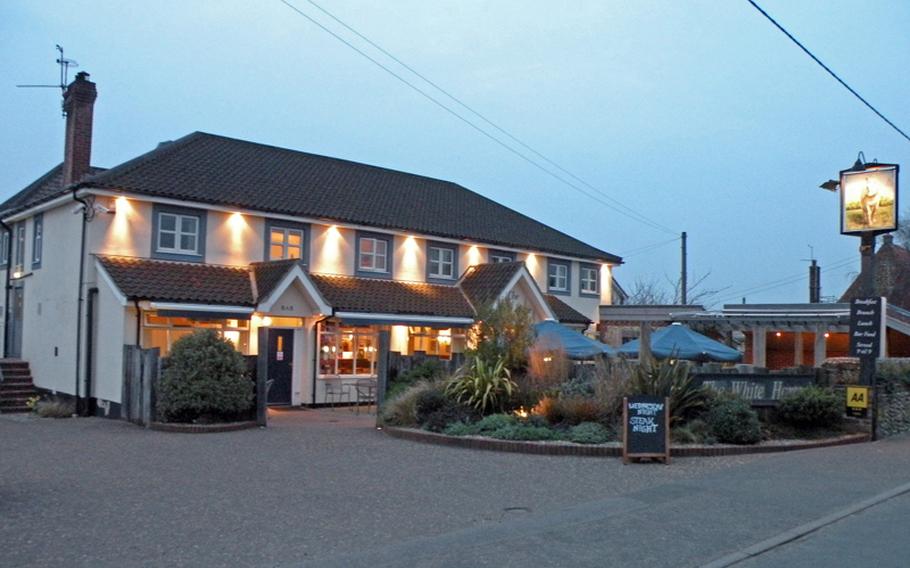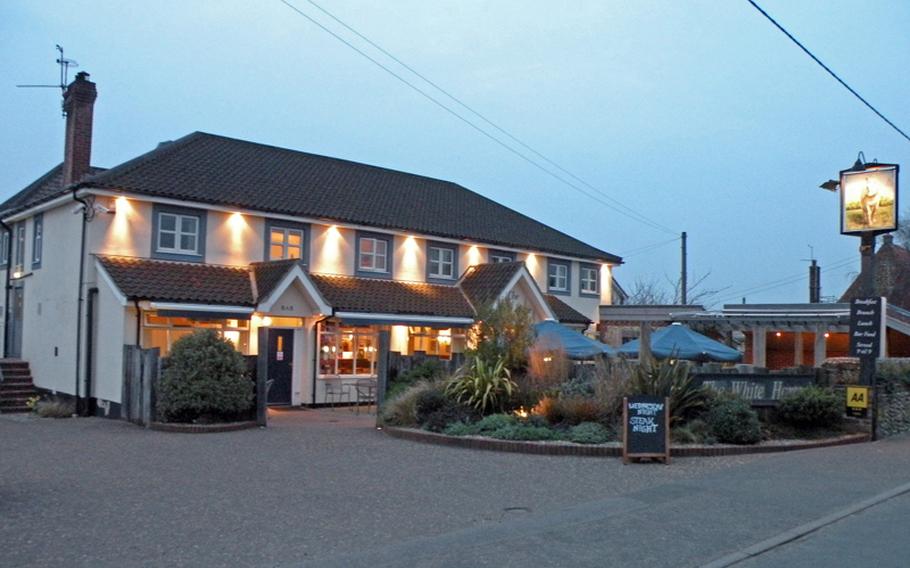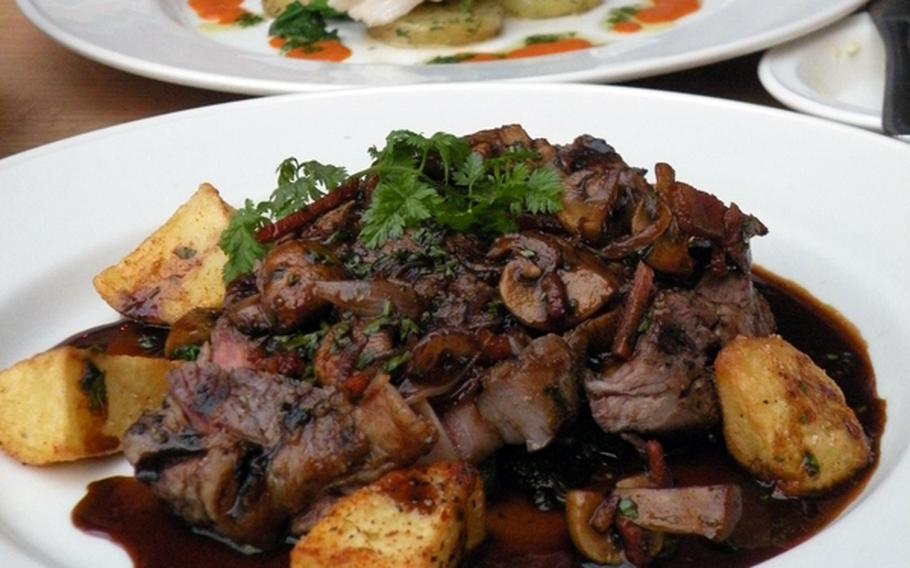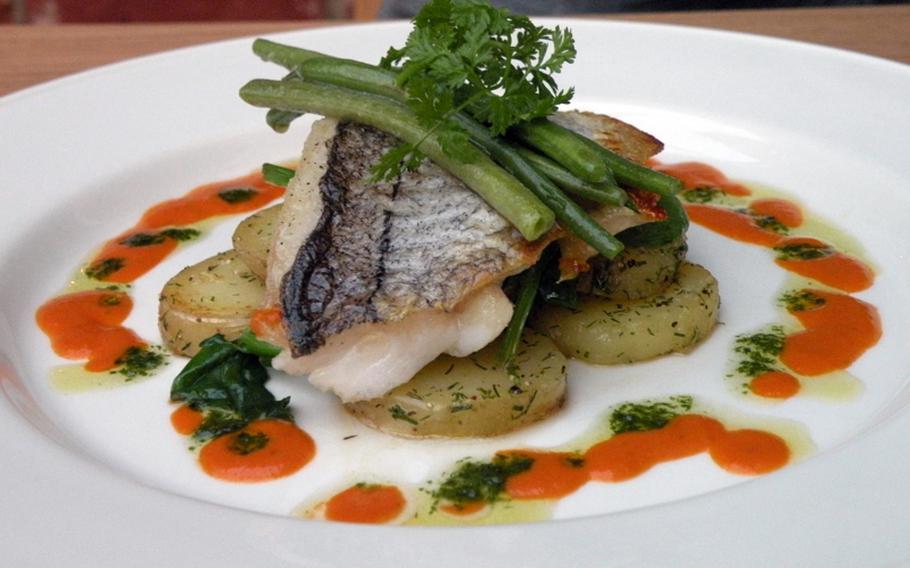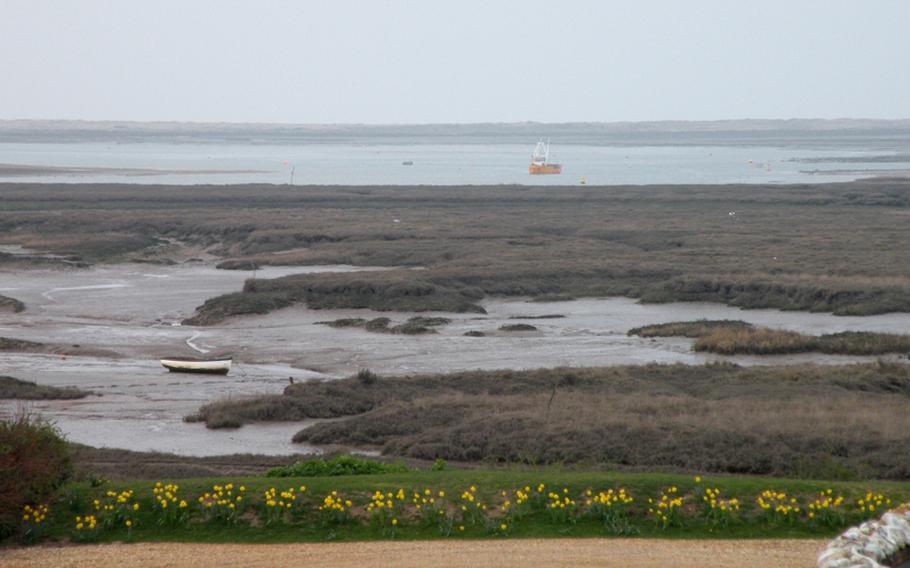 When the sun begins to shine on a spring day in England, I'm reminded of how beautiful and colorful the countryside can be. Winters are long, cold and gray here, and the sun's beams really bring everything to life.
With that in mind, I ventured a little farther than normal to dine at The White Horse — an award-winning establishment that serves as a restaurant, pub and inn on the northern coast of Norfolk county.
The White Horse offers British fare with a modern influence, along with a wonderful view of the tidal marshland and Norfolk Coastal Path from its dining room and sun-deck terrace outside.
We arrived just before the restaurant opens — at 6:30 p.m. — and were the first customers of the evening. Bread, marinated olives and fried vegetable chips were on the table almost immediately, which is always a good way to start the meal.
I'm one to try new things when dining and did so with my appetizer selection. I chose the smoked salmon with lemon and caper dressing and shiso cress. I'd never had smoked salmon, so I had nothing to compare it to, but my wife tried a bite and said it tasted fresh and not fishy like some she had eaten.
Our two main courses — char-grilled rib-eye steak with Cajun-fried potatoes and a bourguignon sauce with mushrooms and tiny pieces of crispy bacon, and baked haddock with dill-sautéed potatoes, buttered spinach and tomato-butter sauce — were complete and tasty.
The portions didn't appear very large to the eye, but were definitely rich with flavor. And when coupled with the starters it seemed to fulfill my American-sized appetite. Everything tasted fantastic.
By the time we finished, there were many occupied tables — especially for a Tuesday. It made me think about something I read on a brochure to describe the place: "tranquil yet bustling."
Although I don't eat shellfish due to an allergy, fresh cockles, oysters and mussels are offered on the menu when in season, and they're supplied by locals from the beds in the nearby marshes. The restaurant's neighbors deliver fresh mussels to the kitchen door, according The White Horse's website. One waiter told us the crab and lobster dishes are among the most popular during the summer months.
Each day, there is a special dinner menu that is dependent on the day's catch from the local fishermen.
Location: Brancaster Staithe, Norfolk, PE31 8BY
Directions: Take A1065 toward Brandon/Swaffham, and continue until you reach A148 at Fakenham. Take the first exit and then turn right on B1355 — the first major right along A148. Follow B1355 for nine miles and veer left on the A149 after the small community of Burnham Market. The White Horse will be on the right after a little more than two miles.
Hours: The restaurant is open every day with lunch service noon to 2 p.m., and dinner 6:30-9 p.m. The bar food menu is available daily from 11 a.m. to 9 p.m. Bookings are advised to ensure a table, especially during the summer.
Prices: Starters range from 5.25 to 7.25 pounds and include fish cakes, sticky oriental pork belly with tempura king prawns and mango bean sprout and cashew salad. Mains range from 9.50 to 17.75 pounds and include several different kinds of fish on the main dinner menu at the time of my visit, including bream, sole and mullet. Other mains include pork, lamb and steak, as well as, moussaka and risotto.
Clientele: Mostly local residents and summertime travelers. Not many servicemembers.
Phone: 0148-5210-262
Website: www.whitehorsebrancaster.co.uk
Know a restaurant or entertainment spot you'd like to see reviewed in After Hours? E-mail John Taylor at taylorj@estripes.osd.mil.