After Hours: The Cure gives Okinawa a dose of eclecticism
by
Megan McCloskey
October 19, 2006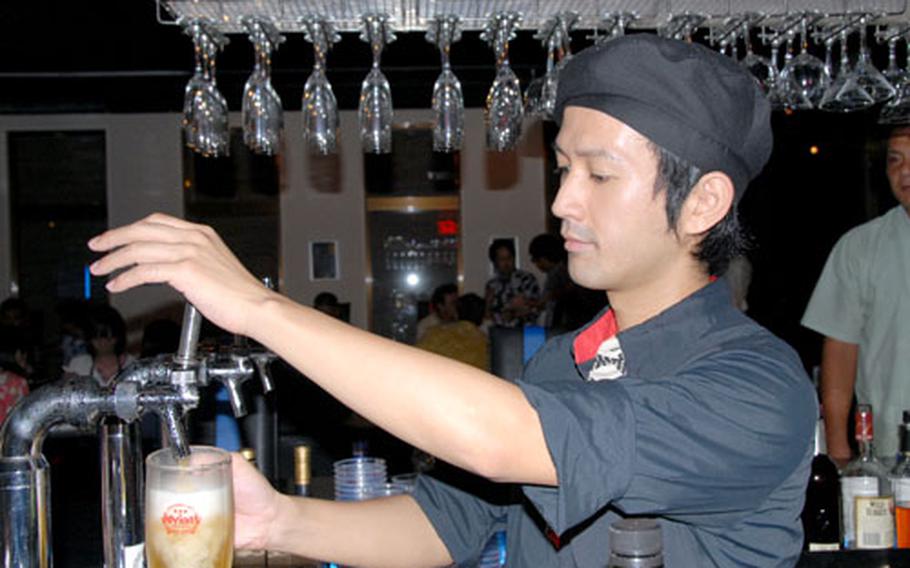 CHATAN, Okinawa — The Cure feels a little more Tokyo than American Village.
The bar is decorated with slick, mod furnishings and the liquor bottles that line the bar glow with blue and green lighting. There's a sense that it's going for a swankier vibe than the usual, casual bar on the island.
On the whole, it's a fairly eclectic place.
The black, high-back leather chairs with red racing stripes down the middle may be reminiscent of England in the 1960s, but the drink menu is more 1950s Hollywood.
On it you'll find a variety of old-fashioned cocktails, such as the Moscow Mule. The crisp mixture of lime, ginger ale and vodka was concocted by the owner of the Smirnoff distillery after World War II as a way to introduce vodka to American taste buds.
You can have your fill of Moscow Mules and other cocktails with Cure's version of happy hour. The bar offers a special menu for an all-you-can-drink hour — any hour you want for 880 yen.
No need to keep track of time. The bartenders and waiters in matching black berets will give you a heads up that your minutes are waning with a little tap of the watch.
The low-lit atmosphere is more bar than restaurant, but they do have a full kitchen with a menu sure to satisfy any taste. There's everything from pizza and pasta to duck meatballs to broiled tuna with avocado, all of which are nicely presented. A standout dish is the paella-black squid Spanish fried rice.
And the assorted dessert plate — scoops of pear and green-tea ice cream, mini puff pastries and tiny cheesecakes — satisfies a midnight sweets craving.
You can eat at the low-sitting bar or at one of the many tables. The seating stretches along a wall with photos of Cirque du Soleil and then wraps behind frosted glass for a more secluded setting.
Cure falls short of sophisticated, but it manages to stand out from many of the other places in American Village.
See our After Hours index for reviews of more restaurants and nightclubs on Okinawa.
Cure
Chatan, Okinawa
Drink prices: 500-900 yen
Cover charge: None
Food: A vast menu with dishes ranging from pasta with chicken and mushrooms in a white wine sauce to more traditional rice-based Japanese dishes. Prices range from 600 yen to 1700 yen.
Entertainment: None
Clientele: Mellow crowd of mostly 35-and-younger Japanese
Dress: Casual
Location: Near the American Village just off Highway 58. From Gate 2 of Kadena Air Base, go right on 85. Then take a left at 58. At the third stoplight take a right. Cure is immediately on the right side of the road.
Web site: None