After Hours: The chicken is meaty at Nick's in Kaiserslautern
by
Gregory Broome
December 13, 2013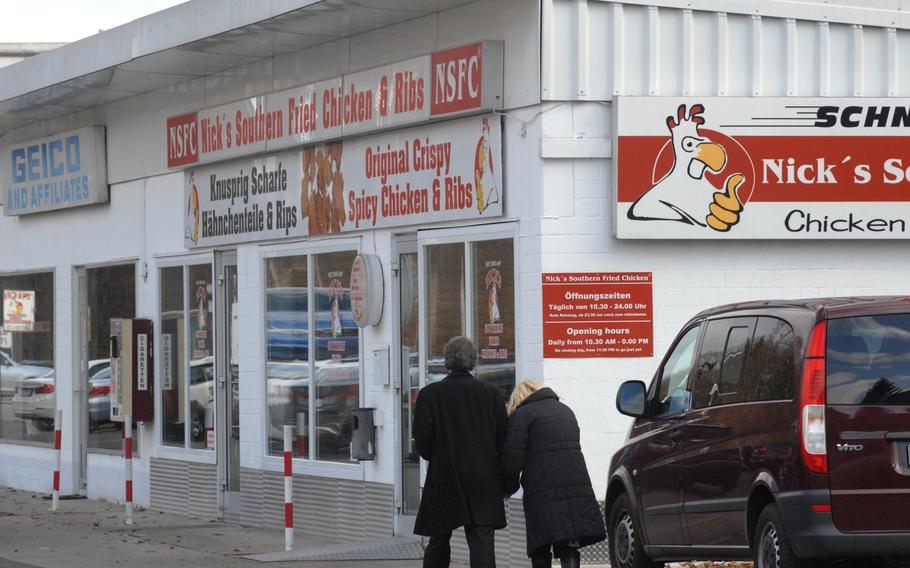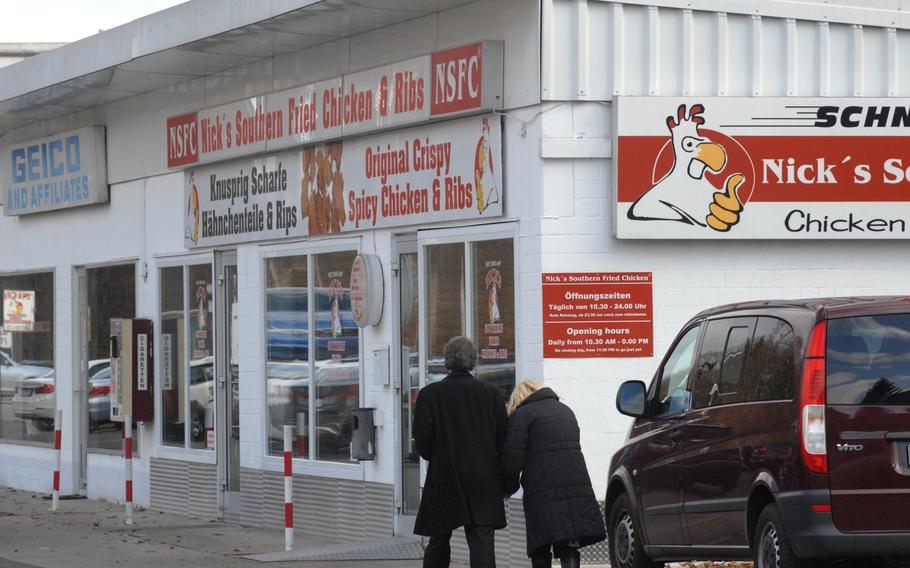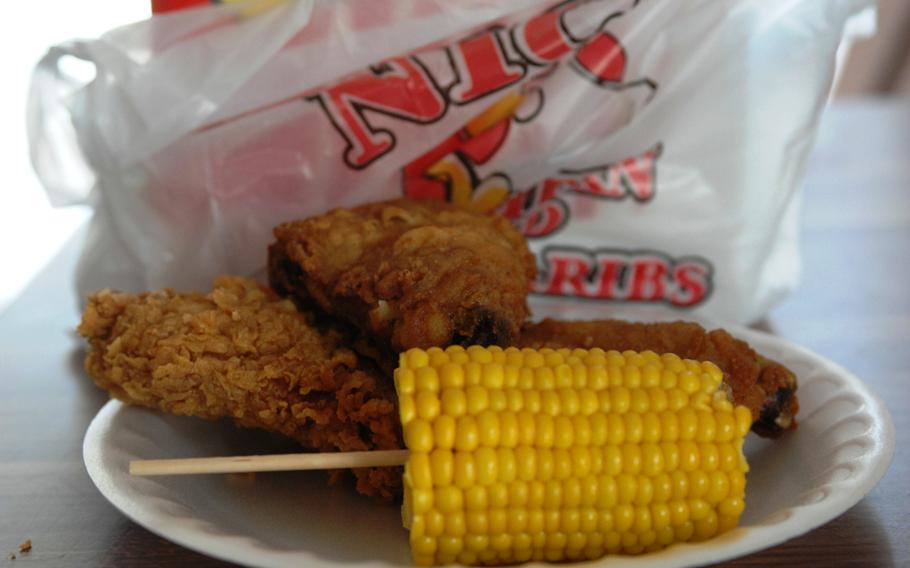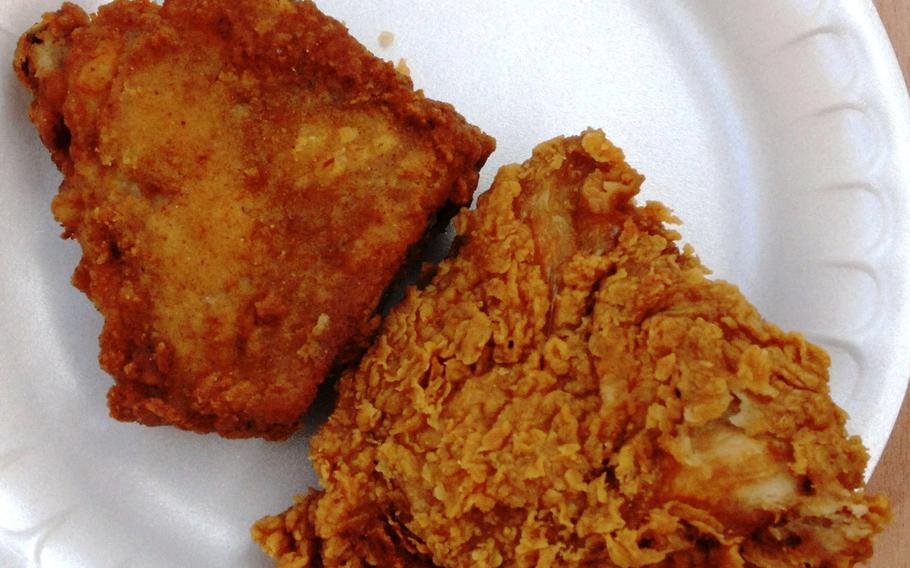 Germany offers so many authentic and memorable dining experiences.
A juicy bratwurst and crispy pommes frites from a bustling downtown Imbiss. A long, leisurely dinner of schnitzel, Spätzel and Pilsener. A cup of Glühwein and a luscious crepe balanced precariously on a tiny table at a Christmas market.
At times, these quintessential European moments are exactly what an American in Germany wants from the dining hour.
At other times, that same worldly-wise expatriate might want a big box of greasy fried chicken from a strip mall.
It's with this latter goal in mind that I ventured into Nick's Southern Fried Chicken in Einsiedlerhof, just outside of Vogelweh Air Base in the Kaiserslautern Military Community.
This visit came at the end of a long Monday. Granted, I am a sportswriter, and my average workday consists of watching and/or chronicling the outcomes of high school games. And on this particular day, my job description expanded to include being paid to eat fried chicken (now a checked-off item on my — pun intended — bucket list).
So I made the crosstown drive to Nick's for a box of chicken and a side or two. Here's the thing about Nick's — it's good. That's the most descriptive adjective I can summon. Thanks again, English degree.
NSFC is good in a comforting, dependable way. It's the ironed T-shirt of Kaiserslautern-area dining establishments. You won't get complimented on it, and it's inappropriate for a lot of situations, but you sure do feel good when you wear it.
That metaphor may have gotten away from me. My point is that a visit to Nick's provides exactly what I always hope it will: a satisfying meal, enough for my family of four, at a reasonable price. The bill for all of us — whether a carry-out order of chicken and sides or four individual combo meals — hovers around the 20-euro (about $28) threshold I often set as a goal for a non-fancy family dinner.
I've spent much of my life in the American South, so I know great fried chicken. And Nick's doesn't reach that standard. But it's the best I've had in Germany, and certainly better than nearby rival KFC. The chicken is meaty and substantial; there are none of those skimpy accumulations of skin and marrow that pass for chicken in some other restaurants. And the mashed potatoes and gravy, potato salad, corn on the cob and French fries are all at or a little north of average.
Best of all, Nick's benefits from a great location. It's just a couple of minutes by car from the far-west Vogelweh gate, on the heavily-Americanized main drag through Einsiedlerhof. I wouldn't suggest Nick's for all occasions. If you have family visiting from the States, roughly anywhere else offers something closer to their preconceived ideal of a German meal. But if you're not trying to impress anyone, Nick's will do the job.
broome.gregory@stripes.com Twitter: @broomestripes
Nick's Southern Fried ChickenLocation: Highway B40 Kaiserstrasse 1, Kaiserslautern-Einsiedlerhof.
Directions: From Kaiserslautern or Vogelweh Air Base, take the B40 west out of Kaiserslautern and just into Einsiedlerhof. It's on the left. From autobahn A6, take the Vogelweh exit onto highway B270 and turn right onto the B40.
Hours: 10:30 a.m. to midnight daily.
Dress: Casual.
Costs: Meals include a pair of sides and range from 3.50 euros for a single piece of chicken to 7.65 euros for two pieces and two barbecue ribs. Family meals with sides range from 16.95 euros for an eight-piece box to close to 30 euros for larger quantities and chicken/ribs mixes. Sandwiches, wraps, nuggets and other chicken specialties are also available. Bottled cold soft drinks and beer are available from about 2 euros.
Information: The menu is in German and English and the staff speaks English. Phone (+49) (0)631-58145; website: www.nsfc-kl.de.