After hours: The Big Emma, Ramstein, Germany
---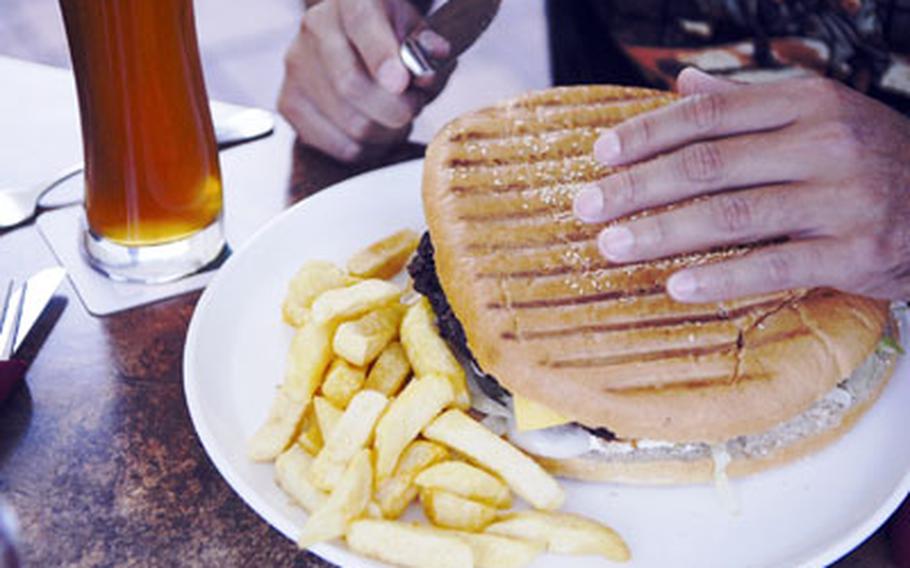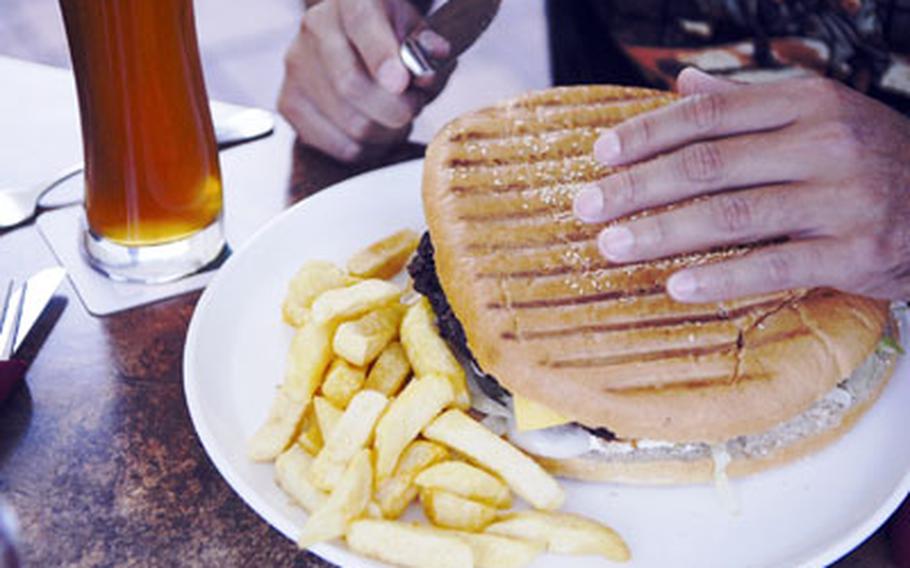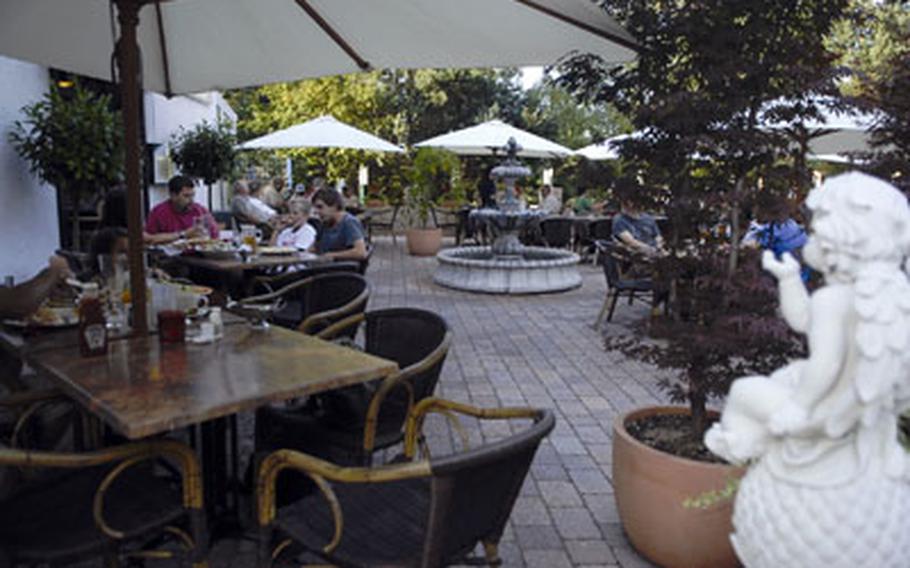 Big Emma's motto is: "Big, how you like it."
It's not what you're thinking.
"Big" at Big Emma's is a 3-inch-thick burger and bun with the diameter of a Frisbee that takes 30 minutes to eat, and longer to digest.
In fact, everything is big at The Big Emma, a popular German restaurant with American appeal in Ramstein village.
Big Emma puts a new twist on "super-size me." The cappuccinos require two hands to steady. Beer can be consumed in 3-liter glasses. A serving of salad could easily make three meals. A mountain of six scoops of homemade ice cream could feed a hungry gaggle of kindergartners.
But it's the hamburgers that provoke the most wide-eyed stares, at least from our table of first-time Big Emma customers. I believe our necks craned a bit impolitely when we spied the waitress carrying out a tray of burgers to neighboring diners. My husband ordered the "1/2" size, which is listed on the restaurant's online menu as 8.27 inches (I'm guessing that must be the diameter). The roll itself was bigger than my husband's hand. The slab of charcoaled beef inside was slathered with ketchup and a mustard-mayo sauce, topped with pickles, tomatoes, iceberg lettuce and onions. A hefty portion of french fries came on the side.
I opted for the chicken salad while my daughter ordered the child's schnitzel.
The grilled chicken on my salad was tasty. And I really liked the sliced beets, a nice surprise. But there was simply too much lettuce and it wasn't particularly crisp. The other vegetables, however — corn, carrots, cucumbers, tomatoes, and peppers — tasted fresh.
My husband called his burger "hearty." Qualitywise, it was "just OK," he said. I'd have to concur. The best part of our meal was the fries and the homemade ice cream. Otherwise, the food was average. I'd go again, but only if I had friends or relatives visiting from out of town, for the novelty of the big portions.
Others may disagree. The place on a Tuesday night was busy, with mostly Americans. My German landlord also spoke highly of the restaurant. The atmosphere was pleasant, with both indoor and outdoor seating. And it was very American-friendly, with an English-speaking staff and English menus.
One drawback: Diners aren't permitted to share. The restaurant's Web site says: "Regrettably, one dish for 2 or more persons is not possible."
Big Emma isn't entirely stingy, however. If you order a "1/2 size" or "1 size" menu item, you get a kid's meal for free. Doggie bags are also OK. And, apparently the one-dish, one-diner rule doesn't apply to dessert, as we saw people sharing a big bowl of ice cream.
The Big Emma
Location: Reichswaldstrasse 1C, Ramstein, Germany.
Directions: Take Exit 13, Ramstein-Miesenbach, from Autobahn 6 and turn left at L363. At the roundabout, take the first exit. At the next roundabout, take the third exit onto Kindsbacherstrasse. In about one-half mile, turn right onto Reichswaldstrasse; the restaurant is down the road on the left, past Hotel American.
Hours: 4 to 11 p.m. Monday to Thursday, noon to 11:30 p.m. Friday to Sunday,
Prices: Moderate — 8.80 ounces of schnitzel with french fries, for example, costs 11.90 euros; a "1/2 size" burger — smallest on the menu — costs 10.90 euros.
English menu: Yes
Dress: Casual
Web site:http://big-emma.com/index.html
Reservations: Call 06371-40-6770, after 1 p.m.
Dress: Casual
---
---
---
---