After Hours: The best of Heidelberg can be found at KulturBrauerei
by
Matt Millham
October 19, 2006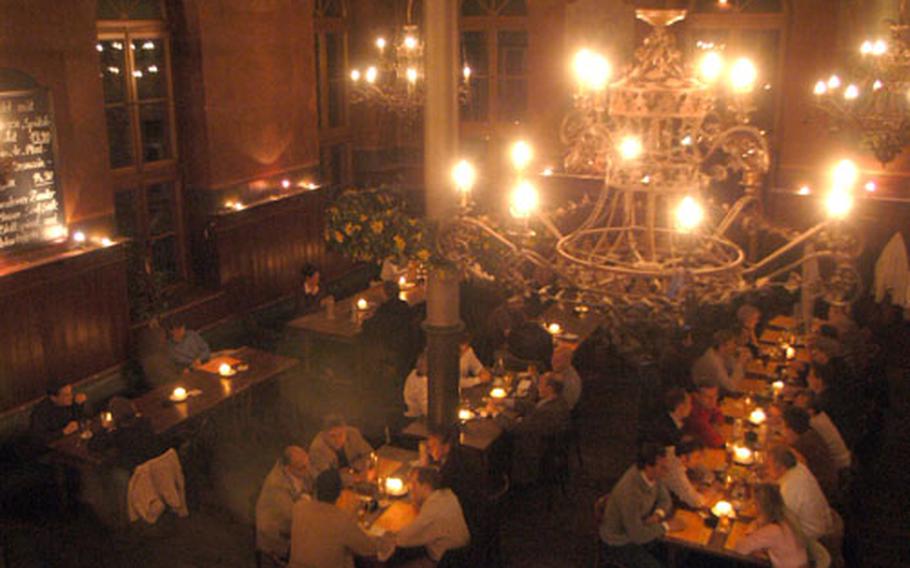 Worshippers of good food and great beer, here is your shrine.
KulturBrauerei Heidelberg, a pre-Renaissance fixture in Heidelberg's old town, is a culinary cathedral with outsized décor.
After tramping under the halberd-bearing stone knight and passing the life-sized bronze of a bare-bottomed girl hugging a figure hidden in a trench coat, you enter the restaurant's main room.
It's a cavernous enclosure, with ceilings roughly 18-feet-high and windows tall enough for Paul Bunyan to strut through.
Atop two columns rests a ceiling that looks like an architectural discovery covered in time-worn frescoes. The building was first mentioned in Heidelberg's historical documents in 1235.
Over the centuries it has changed hands and clientele. Carolin Zimmermann, who has worked as a server at the restaurant for about three months, described the current crop of patrons as an international mixture of locals and travelers looking for a good time. Poor, rich, "all come to our place, and I like it," she said.
Customers dine beneath four forged iron chandeliers, dressed with delicate iron leaves that snake around the arms of the fixtures like vines.
But beer, not striking architecture, has kept the business alive through the years. It's not a surprise, then, that the bar, decked out with some serious hardware that looks more pipe organ than beer tap, is one of the restaurant's most noticeable features. It's from here that the Brauerei's three homemade brews are poured.
Because it's a restaurant, it's not exactly the kind of place to mingle and meet new people, yet with tables the length of aircraft carrier landing decks, sharing space with strangers is almost inevitable. The cacophony of banter, clanging beer steins and mass ingestion comes with a sort of festival atmosphere.
If this all sounds too overwhelming, a loft and two smaller rooms with cozier tables provide seating for another 140 people.
The only thing the customers seem to have in common is an appetite for German food and German beer.
"We actually ate too much," said David Frankavilla, who was laid over in Germany on his way back to the States. He and a friend ate three meals between them, including bratwurst, roast pork and suckling baby pig. The sauerkraut that accompanied the brats was the "best sauerkraut I ever had," Frankavilla said. It wasn't watery, like kraut in the States. "This was sour and sweet and crisp."
Click here for previous After Hours reviews.
KulturBrauerei Heidelberg
Prices: Three brews made in-house range from 3.50 for .5 liters to 2.40 for .3 liters. Wines run from 4.40 to 4.70. Entrees range in price from 9.50 for saumagen to 19.90 for fillet of beef with chanterelles. Desserts are 6.60. Soups range from 4.50 to 6.60.
Specialties: Featuring traditional German cuisine, the three most popular items on the menu are Sauerbraten, Grandmother's roast pork and Palatine-style saumagen, which is similar to haggis.
English menu: Yes
Dress: Nondiscriminating
Clientele: The restaurant and its associated hotel draw an international crowd in all ranges of age and socio-economic status. The restaurant's main room is usually loud, but not rowdy, and is well-suited to accommodate large groups looking for a place to hang out.
Location: Leyergasse 6, just off the Hauptstrasse near its east end, and a few minutes' walk from Heidelberg's old bridge. From autobahn 5, exit at Heidelberg onto the BAB 656. Turn left onto the B37 and drive along the Neckar River toward Neckargmünd/Eberbach. About 300 meters after passing under the old bridge, you will see the main bus stop and tourist information on your right-hand side. Turn right before the bus stop onto Leyergasse. The Kulturbrauerei restaurant and hotel are on the right. Phone: +49 (0)6221-502980
Web site:www.heidelberger-kulturbrauerei.de