After hours: Supersized servings leave no room for seconds
by
Kevin Dougherty
December 11, 2008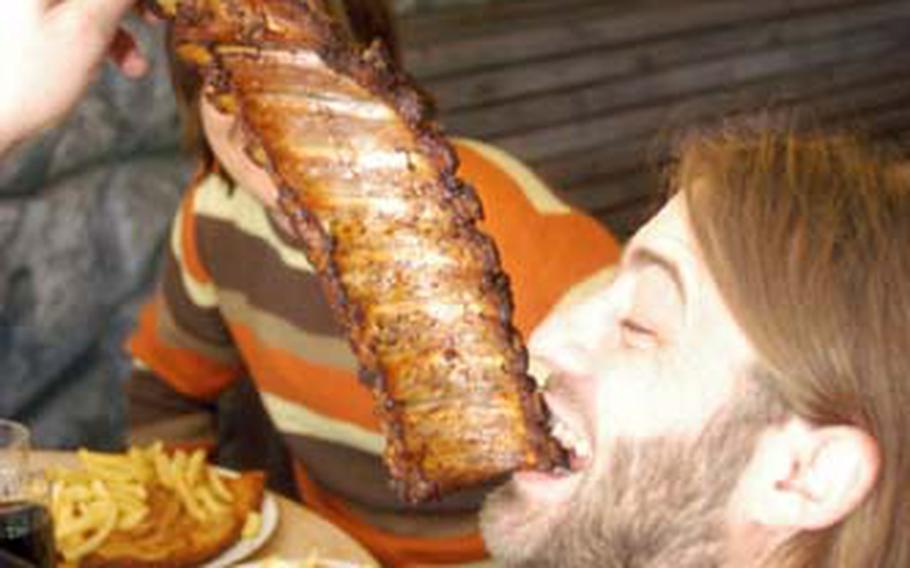 HOFHEIM, Germany — A pair of plates piled high with slabs of baby back ribs arrives at a restaurant table occupied by Paddy Pütz and three of his pals.
"It's like the 'Flintstones,'" said Pütz, referring to the TV cartoon's opening sequence.
But unlike Fred's car at the Stone Age establishment, their table didn't tip over.
Dinosaur ribs aren't on the Waldgeist Restaurant menu, but several of its dishes come in mammoth portions. Consider the three-pound double cheeseburger, or the two-pound schnitzel that hangs off the lip of the plate, or the German sausage that looks like a bloated billy club.
There's been much buzz in recent years about Americans and their bulging waistlines, but Germans appreciate a hearty meal, too. And few places can match the portions the Waldgeist dishes out.
"They want to eat and be entertained," said Dario Golisano, an assistant manager at the Hofheim location, "so they order the big things."
The clientele at the Waldgeist is a mixed plate. You'll see plumbers and punk rockers, men in suits and tourists with cameras, senior citizens and American servicemembers.
"It's a really cool place up in the hills," said Army Capt. Mike Adams, who regularly visits with his family. "You can literally feed a large group for not that much money. And it's not only large, but it's good."
The decision to offer giant-size portions evolved out of a challenge seven years ago between the owner, Christoph Hahl, and some of his friends. They dared him to go large, Golisano said, and "so started the big plate."
When Pütz and his pals bellied up to their table, there wasn't a crowd, partly due to a heavy midday snowfall. On weekends, it's a totally different story, especially at night when a reservation is the surest way to secure a seat.
Amelie Käfer, a waitress, says many customers take the bait to go big. Glancing at the menu, it's hard not to be tempted by a dish that starts with five "Xs" before the word "large" comes into play.
Because very few customers finish their food, the restaurant offers people doggie bags for their leftovers, a rarity in Germany. On a weekend night, Käfer said the kitchen will go through as many as 20 rolls of aluminum foil.
"It was a touch too much," Christian Hahn said after he devoured a plate of ribs, "too much for the body, too much for the brain."
To see previous After Hours reviews, go to: legacy.stripes.com/afterhours.
Waldgeist Restaurant, Hofheim, Germany
Prices: Moderate, considering the size of the portions. A supersized serving of schnitzel cost about $20, but can easily feed a few people. A family of four can eat well for about $45, and leave with leftovers.
English menu: Yes, and the staff speaks English.
Specialties: The XXXXXL dishes, two-liter beers and big bowls of ice cream.
Dress: Appropriately casual.
Location: There are two restaurants: Waldgeist Hofheim, between Frankfurt and Wiesbaden; and Waldgeist zur Eisernen Hand in Wiesbaden-Taunusstein. The Hofheim restaurant is located off of A-66 at the Diedenbergen exit. Drive into Diedenbergen, turn left onto Wildsachsener strasse. Pass Heide Sports Park on the right as you leave town, look for Schlossstrasse and turn right. Eatery will be on the right side adjacent to a tennis club.
Web site:www.derwaldgeist.de. Offers information in German and English.