After hours Sun-Sight easy on the pocket, stomach
by
Mark St.Clair
April 17, 2008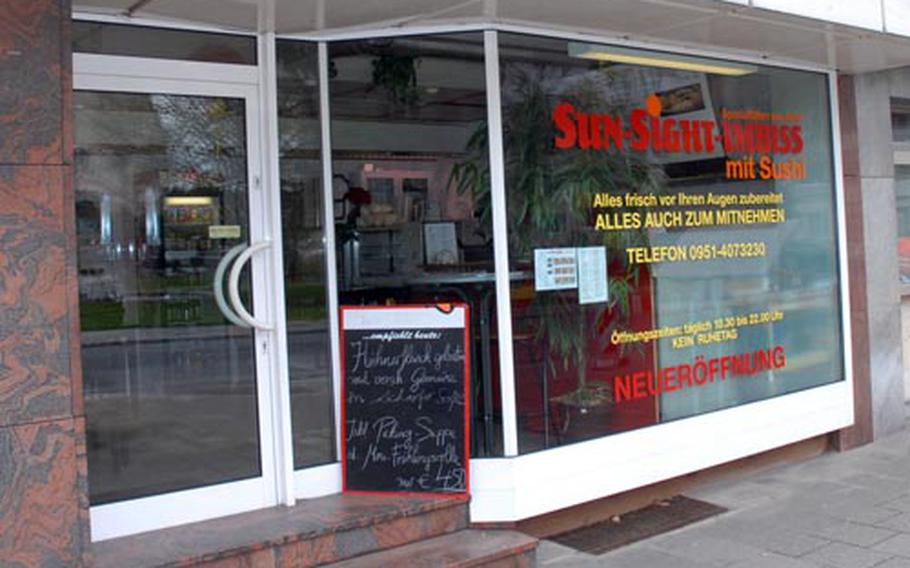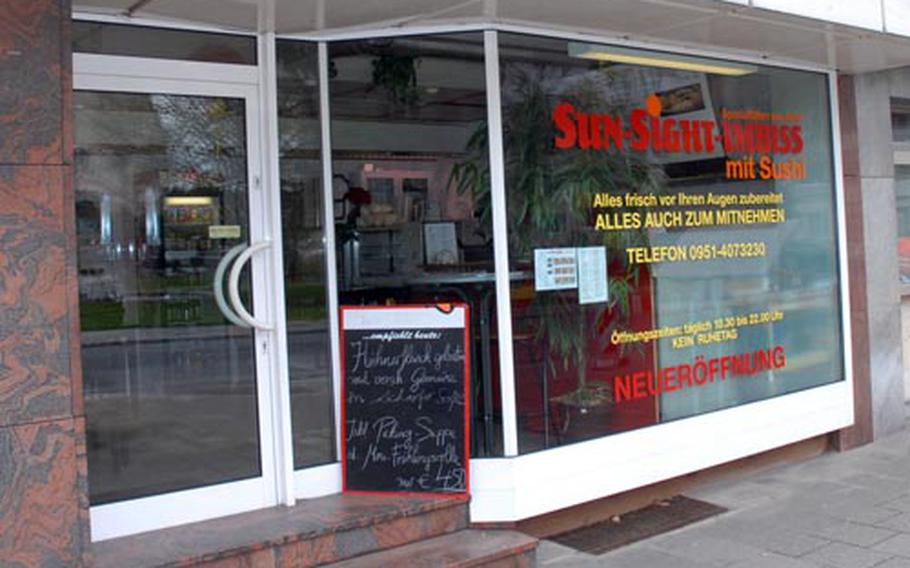 The portions are, in a word, ginormous.
And tasty.
And cheap.
If chop-suey or sushi is a welcome diversion from much heavier German cuisine, try the Sun-Sight Imbiss in Bamberg.
A half-mile from Warner Barracks' main gate, Sun-Sight is easy to find, easy to order from, and easy on the pocketbook.
Open daily from 10:30 a.m. until 10 p.m., Sun-Sight caters to both Germans and Americans and specializes in fast and fresh sushi and Asian takeout, though there are 14 seats on hand for those too hungry to drive home first.
Most items on the menu, which is in both English and German, range from 4 to 7 euros, and feature chicken, beef pork or duck.
Seafood is a little higher, topping out at 7,30 euros for shrimp dishes.
Sushi can be ordered by the piece or from a prepared menu which tops out at 10,90 for a mix of salmon and crab rolls.
Unlike many of the other Asian restaurants in town, Sun-Sight is far from a buffet, with everything cooked to order and nary a heat-lamp-hardened spring roll in sight.
The friendly staff's English is as good as their German, so phone-in orders are a breeze, and parking within a block of the door should not pose a problem, as several spots are usually available along the street.
So if inexpensive, light Asian fare is on your mind, Sun-Sight might be the place, although if you manage to eat everything you pay for, it may not be so light.
See previous After Hours reviews here.
Sun-Sight Imbiss, Bamberg
Hours: Daily from 10:30 a.m. until 10 p.m.
Drinks: Sodas or bottled beer.
Prices: Sushi ranges from 5,90 to 10,90 euros for prepared plates. Other menu items are anywhere from 1,50 to 7,90 euros.
Clientele: Runs the gamut.
Menus: English menus are available.
Specialties: Everything is freshly cooked to order.
Dress: Casual
Address: Hauptsmoorstr. 73, 96052 Bamberg
Telephone: 0951-4073230 or -3017468
Directions: From the main gate on Warner Barracks (gate 3), take an immediate right on to Hauptsmoorstr. Sun-Sight is about half-mile down on the left, across from a small plaza with a fountain.