After Hours: Start your night away from Atsugi with a hint of the tropics
by
Vince Little
September 7, 2006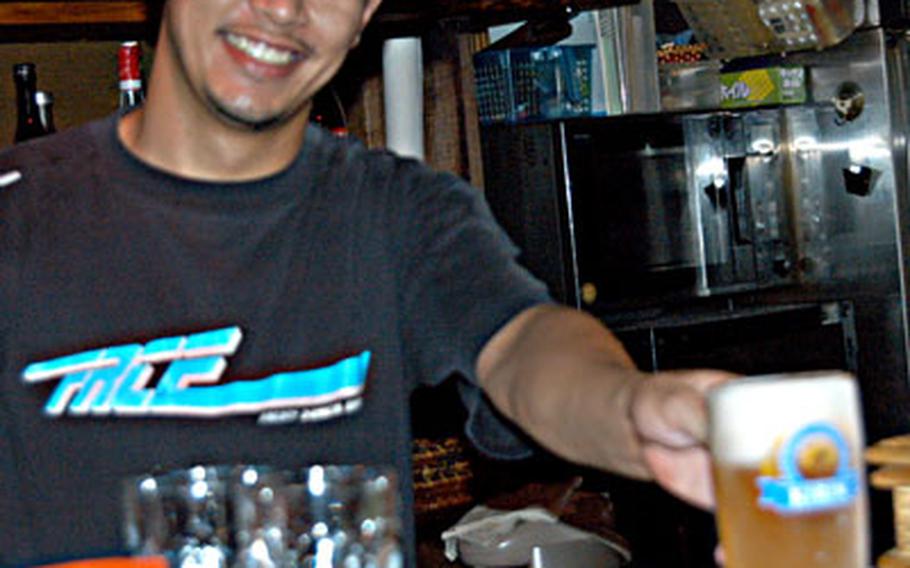 AYASE, Japan — Looking for a tropical setting minus the expensive airfare? Chibi Bar might have your ticket.
A short walk from Naval Air Facility Atsugi's main gate, the place offers a quaint atmosphere and eclectic island-style décor, with tribal wooden masks hanging on the walls and glass-top tables filled with seashells. Of course, alcohol and munchies are plentiful, too. You can even grab a Zima or Corona.
Sipping on a few Kirin drafts recently at the bar, I'll admit to some flashbacks of the 1980s movie "Cocktail." But here, you won't have to worry about bumping into Tom Cruise or any of his Scientology pals.
It reminded me of being back in Daytona Beach, Fla., a former stomping ground until my wife and I made the leap to the other side of the planet four years ago. We kept expecting to hear waves crashing outside.
Chibi opened in 2002. Two years ago, Pathammavong Sounthala, 26, a Laotian born in Thailand and raised in Japan, bought it from his aunt.
Sounthala says his bar isn't a huge servicemember hangout, more like a starting point for a night out in Tokyo: "Many sailors hit and run," he said.
Chibi blends many cultures, featuring artifacts from Hawaii, Jamaica and Thailand. Reggae music plays inside and there's an outdoor patio with tables and barstools overlooking the street.
It might not be the ideal pickup joint, but it's a great spot to throw down a few beers and get some food after work. And come the weekend, it's at least a nice diversion on your way to Sagamino Station for a night of carousing downtown.
As always, if you drink, do so responsibly. Don't drink and drive.
Chibi Bar
Ayase, Japan
Drink prices: Bottled beer is 600 yen, most cocktails and drafts 500. Shochu, soft drinks and juices start at 300 yen.
Cover: None.
Hours: 6 p.m. 'til … — but closed Sunday.
Food: Light menu with limited English translation includes fried chicken, tacos, fried rice, teriyaki chicken on rice, beef jerky and mixed chocolate. Items range in price from 300 to 900 yen.
Entertainment: The Zima and Corona might be enough of a draw, but Hawaiian and Jamaican reggae music enhances the relaxed, tropical setting. Smoking allowed inside and out.
Clientele: Mostly Japanese locals, with sailors from nearby Naval Air Facility Atsugi stopping by occasionally.
Dress: Casual (leis optional).
Location: About 150 yards from Atsugi's main gate. Look for the illuminated green "Pine Tree" sign on the left. Chibi's patio is next door, decked out in white lights.