After Hours: Simplicissimus in Heidelberg, Germany
by
Nancy Montgomery
July 22, 2010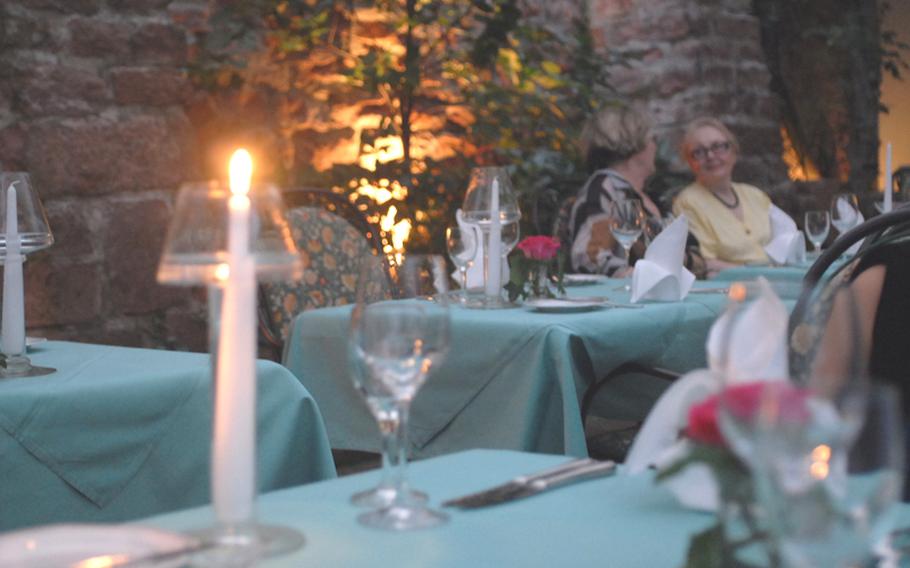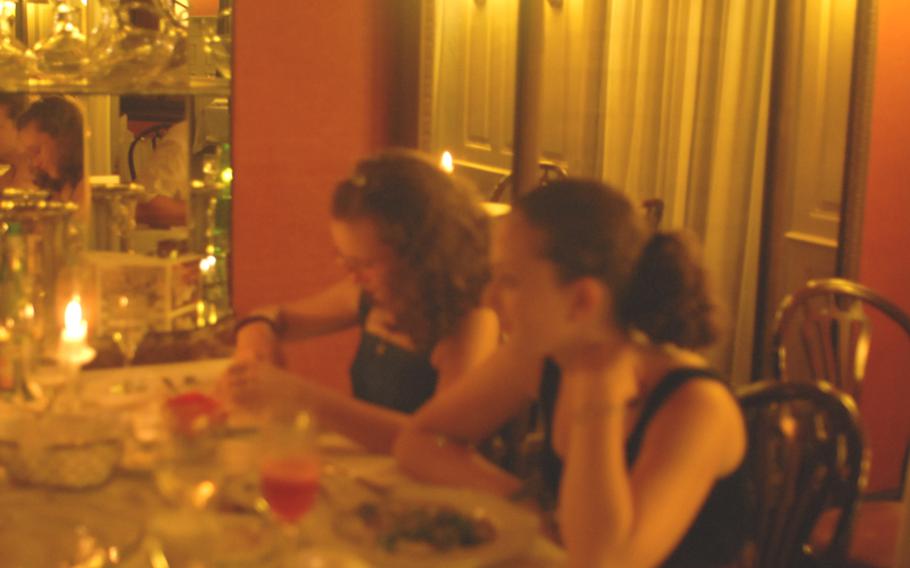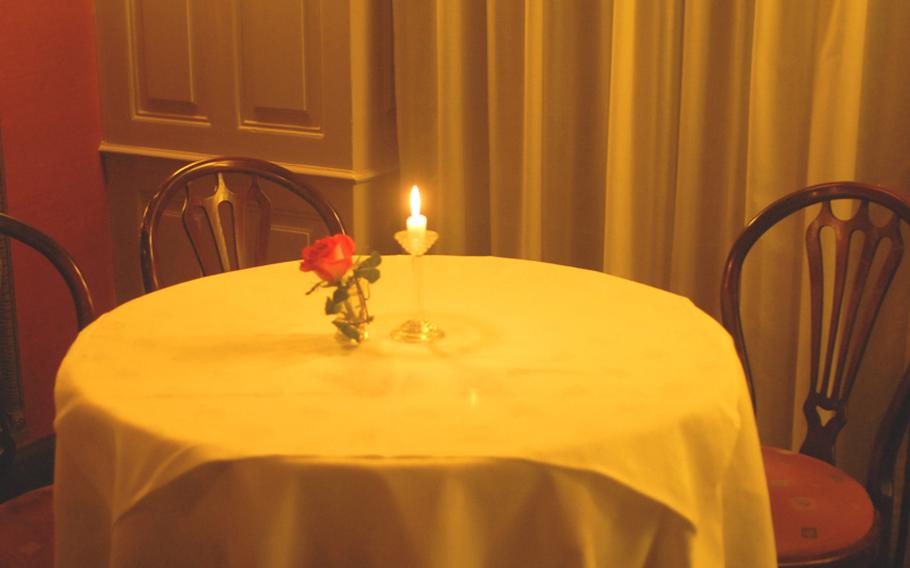 French food in a candlelit courtyard in Heidelberg, Germany, on one of the warmest evenings of the summer. What could possibly go wrong?
A couple of minutes after we'd been seated and were sipping our Sekt, we found out. The sky cracked with thunder and rain started to fall.
We stayed, protected by a big awning. Then the rain got more torrential and the wind picked up.
So did we, and headed inside.
But inside the Simplicissimus restaurant is also lovely, with its art nouveau interior and deep reds, dark woods and mirrors. And the service continued without a hitch.
Simplicissimus, translated from the Latin, means "very easy." It has been run by the same couple, Johann and Melissa Lummer, for 26 years on a small street in the old town. They're practiced in offering French cuisine, particularly that of Provence, an impressive wine list and attentive service.
But I wondered how two of my companions, tween girls who usually stick to pizza and tortellini, would like it.
Everybody got an amuse-bouche, although no one knew how to say it except moi. The free tidbit, literally "mouth amuser," was a tiny tomato parfait and a wee bit of rabbit salad.
"Interesting," the girls said. But they ate it.
I ordered, as a service to readers everywhere, the three-course, 40-euro tasting menu: cucumber parfait with dill, marinated crayfish and grilled scallops; sautéed chanterelles with rabbit; and roast lamb in thyme glaze with arugula pesto, green beans and gnocci.
The appetizer burst with flavor and color: the bright green parfait, the pinky-red crayfish, the creamy scallops. I could see why the Frommer's listing said the chef "paints with food."
It was gorgeous. Then it was gone. The girls, forking down lamb and rabbit and scallops, ate a lot of mine. But then, I also ate theirs.
Colette's salad in a lemon-yogurt dressing was wonderful, plus she picked out the arugula which was, to her, too bitter, but to me, perfect. She did not like her slices of beef with wasabi cream, though, which she ordered as a main course. I did.
But not as much as I liked Clara's main course — beef filet slices in a chanterelle cream sauce with vegetables and mashed potatoes. So creamy, so mushroomy, so fulfilling. Yet so seemingly ethereal and light. Clara cleaned her plate.
The girls' father ordered sea bass, the restaurant's one fish entrée when we were there, with scallops in a saffron sauce with spinach and herbed noodles. "The noodles are amazing," said Clara. His salad, a Provençal vegetable salad with grilled scallops, was likewise.
He also ordered a bottle of Pinot Gris from the voluminous wine list, which I've read focuses on Bordeaux.
When I asked him why, he said, "It was the cheapest one on there."
Location: Ingrimstrasse 16, Heidelberg, GermanyDirections: The restaurant is on a small street that runs parallel to the Hauptstrasse, a block behind the Hotel Ritter. Parking is available nearby in garages P12 and P13.Hours: 6-11 p.m. Tuesday through Saturday; closed Sunday and Monday. Food: French. Prices: Three-course tasting menu is 40 euros. Appetizers are 7 to 15 euros; main courses about 25 euros; desserts 8 to, for an assortment of French cheeses, 13 euros. Visa and Master Card accepted.English-language menu: YesClientele: Prosperous Germans and European and American tourists.Dress: CasualWebsite:www.restaurant-simplicissimus.de includes a menu and a link to make reservations online.Phone: 06221-18-33-36